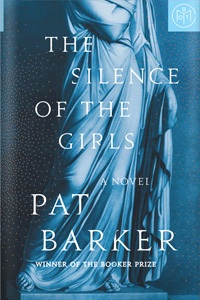 Fantasy
The Silence of the Girls
Quick take
A queen of Troy is caught between Achilles and Agamemnon when she is captured and forced into slavery in this ferocious retelling of The Iliad.
Good to know
Feminist

Famous author

Movieish

Literary
FYI
Themes of sexual violence
Story driven by hardship and suffering
Why I love it
I'm a sucker for a good retelling, especially if it's about the Ancient Greeks. So I admit that I'm the exact right audience for Pat Barker's The Silence of the Girls. And yet, it still exceeded my expectations.
The Silence of the Girls recounts the story of The Iliad as seen through the eyes of Briseis, a Trojan queen taken as a slave by Achilles as his reward for the sack of Lyrnessus. As the years-long battle wages on, Briseis tries to make sense of her new life in the encampments. She bonds with the other women held captive, finds something resembling friendship with Achilles's companion, Patroclus, and soon becomes a pawn between Achilles and King Agamemnon. I knew how it would all shake out from the opening page, but I never understood the story and characters like this.
The story of the Trojan War is often narrated with the presumption that the clashing of men's egos and swords is of the highest honor and import. What I love most about this novel is that Pat Barker strips the story of all that glamorization. There are no true "heroes" here. Instead, we are focused on the humanity of the women caught in the cross fire. Briseis may still be tied up in Achilles's story, but she is no longer silent.
Synopsis
The ancient city of Troy has withstood a decade under siege of the powerful Greek army, who continue to wage bloody war over a stolen woman—Helen. In the Greek camp, another woman watches and waits for the war's outcome: Briseis. She was queen of one of Troy's neighboring kingdoms, until Achilles, Greece's greatest warrior, sacked her city and murdered her husband and brothers. Briseis becomes Achilles's concubine, a prize of battle, and must adjust quickly in order to survive a radically different life, as one of the many conquered women who serve the Greek army.
When Agamemnon, the brutal political leader of the Greek forces, demands Briseis for himself, she finds herself caught between the two most powerful of the Greeks. Achilles refuses to fight in protest, and the Greeks begin to lose ground to their Trojan opponents. Keenly observant and cooly unflinching about the daily horrors of war, Briseis finds herself in an unprecedented position to observe the two men driving the Greek forces in what will become their final confrontation, deciding the fate, not only of Briseis's people, but also of the ancient world at large.
Briseis is just one among thousands of women living behind the scenes in this war—the slaves and prostitutes, the nurses, the women who lay out the dead—all of them erased by history. With breathtaking historical detail and luminous prose, Pat Barker brings the teeming world of the Greek camp to vivid life. She offers nuanced, complex portraits of characters and stories familiar from mythology, which, seen from Briseis's perspective, are rife with newfound revelations. Barker's latest builds on her decades-long study of war and its impact on individual lives--and it is nothing short of magnificent.
Preview
Get an early look from the first pages of Pat Barker's Silence of the Girls.
Member thoughts
Philadelphia, PA

Amazing! This book haunted me. I could not stop thinking about it. I read about 2 other books on trojan war since this was however my favorite interpretation. I loved Barkers writing poignant and heartfelt

A great retelling from a new perspective, showing sides of war and stories that are often forgotten. Quick, easy, engaging read. Some oddities in phrasing here and there but overall incredibly well written

Hermosa Beach, CA

OMG I loved this book!! I couldn't put it down. The story was amazing and the writing was fantastic. I've always loved Greek Mythology, and reading the story from Briseis' point of view was awesome.

This topic interests me in general, but having it written from a woman's point of view made me want to read it even more. It was well written and an overall amazing story. I didn't want to put it down

Pholadelphia , PA

This is a hauntingly beautiful story filled with strong females. It isn't a childish good guy/bad guy narrative, instead it's antagonists are filled with complexity shown through the protaginists eyes

Manassas, VA

This is one of my top reads of 2020 it's a re-telling of the Iliad from a female perspective. It's sooooo engaging and horrifying and well written and you should read it. Its a tear jerker for sure.

Jackson , TN

I knew I hate The Iliad. Almost every man in the book is awful in dehumanizing women. But Briseis is heartbreakingly real. I was furious but I had to finish reading. It's brutal but powerfully written

Linwood, NJ

Just when I thought I couldn't read another retelling related to the Trojan War, this book grabbed me and held on for two days until I finished. Barker's story is original and unforgiving and honest.

Reno, NV

I really enjoyed this book. I know very little about the battle of Troy - it was very interesting to read from the woman's (fictional) point of view and to make assumptions of what may have happened.

Barstow, CA

Hearing a woman's view, of losing everything and everyone they love and hearing a different view of Achilles, from a woman who should have hated him but saw through her pain. Heartbreaking and lovely.

Powell, TN

A different take on Helen of Troy, from a different perspective, with miraculous actions by the gods. The biggest takeaway is the title—silence of the girls is not just a view on slavery but of women.

Loved this book so much! My biggest criticism of the book I go back and forth with. While having the Achillies perspective gave clarity I really wish the story was solely from the women's perspective.

This is a must for fans of historical fiction. As graphic as you would expect the Trojan War to be. Refreshing view of what we already know. You can't help but turn the page to know what happens next.

Truckee, CA

Amazing! The author's writing was so descriptive & thought provoking w/her portrayal of what women endured & suffered during that time. Enjoyed the characters & reading this version of a classic tale

Nipomo, CA

Excellent retelling of the story of Achilles and the Trojan War from the perspective of the "war trophies," that is, the women taken as prizes in war. A unique retelling and worth your attention.

This was like reading the movie "Troy" with Brad Pitt, but from a woman's perspective. It touches on exactly how devastating it was to be a woman in war and how much strength it takes to survive.

I loved this spin on the tale of Troy. Briseis is a fantastic character to follow and it's hard not to love Patroclus and Achilles. Great story. I would definitely recommend it to Greek story lovers.

Brighton , MA

I love a good Iliad retelling. This book is beyond powerful, a story about victims where making the best of a situation substitutes a happy ending. I loved Bresis' perspective, a strong, proud woman.

It took me a while to find a groove with this book, but once I did, I was engrossed in the lives of Briseis, Achilles, and everyone else introduced. Such a wonderful twist on the stories we all know.

Lehi, UT

Loved and hated the book. Full of gruesome and awful things, but the indomitable female strength shown in the face of it all was absolutely beautiful. The author's words painted vivid mental pictures.