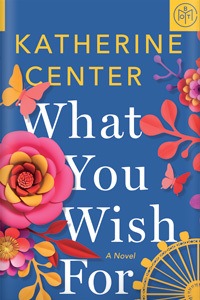 Quick take
Need a pick-me-up? Here's your dose of optimism, served up as a school-staff romance with sugar sprinkled on top.
Good to know
Emotional

Fast read

Happy

Quirky
Synopsis
Samantha Casey loves everything about her job as an elementary school librarian on the sunny, historic island of Galveston, Texas—the goofy kids, the stately Victorian building, the butterfly garden. But when the school suddenly loses its beloved principal, it turns out his replacement will be none other than Duncan Carpenter—a former, unrequited crush of Sam's from many years before.
When Duncan shows up as her new boss, though, he's nothing like the sweet teacher she once swooned over. He's become stiff, and humorless, and obsessed with school safety. Now, with Duncan determined to destroy everything Sam loves about her school in the name of security—and turn it into nothing short of a prison—Sam has to stand up for everyone she cares about before the school that's become her home is gone for good.
Preview
Get an early look from the first pages of What You Wish For.
Member thoughts
Grant Township, MI

I couldn't put it down! Katherine Center hits it out of the ball park again!!! Maybe I'm biased being that I'm a teacher and so it felt very close to home. I read it in one day and just fell in love!

Rotterdam, NY

I loved this story of a school librarian who clashes with her school's principal after the death of the school's beloved founder. The setting is lovely and the characters are endearing and complicated

Whittier, CA

I recieved an ARC copy from Netgalley. I absolutely loved the book so much that I wanted to buy a copy. So happy that BotM has it!! I laughed, cried and cheered on all (well most) of the characters ♥️

Roswell, NM

I adore Katherine Center. This was probably my favorite out of her books. I connected to this book more because I'm a teacher I think. Great story and I adored the characters. She's always a favorite.

Fort Worth, TX

Never miss a chance to celebrate, and choose joy everyday. What amazing mottos to live by! This was my first book by Center and I'm immediately a fan! Read in one sitting, you'll not be able to stop!

Merritt Island , FL

I wish all of Katherine Center's books were also movies because they would be such great comfort watching, and this one is no exception. Feel good lovely writing with a few notable quotes and lessons.

Pittsburgh, PA

All the feels for this one. I was smitten by Sam and Duncan their fun,witty banter and how they learn to allow love heal their fears and cover their flaws.Its about living life with courage and joy.

Netcong, NJ

As always, I loved this Katherine Center book! The characters come to life and make you feel everything they are experiencing. I did think this was a little tamer than her other ones but just as good.

Maplewood, MN

I will ALWAYS pick up a Katherine Center book! I really enjoyed the main character, Sam & fell in love with the way the library was described! Makes me wish I could be a librarian on my fav island too

Harlan, KY

This is a beautiful story about finding joy after tragedy and in the midst of difficulty, and finding the balance between safety and risk so life doesn't become a prison. Also, opening to love & hope.

San Antonio, TX

I got to read an this as an ebook ARC and I loved it so much that I just had to get the physical copy! Such a cute story and it brings up a very real issue in schools yet does not take away from story

Such a heartfelt story featuring characters that have faced challenges but learn to be joyful and celebrate life. Set in a coastal Galvaston town and school with an engaging library. Love the romance!

Woodland , WA

Center does it again with tragically beautiful and comical characters whose world feels just as real as our own! Sam and Duncan's story is super cute, and I love all of the other characters as well!

Chicago, IL

This was the perfect antidote for all of the craziness in the world. It was pure escapist pleasure and a JOY to read! It was just what I needed. I wish I had a Katherine Center book to read everyday!

Huntington, NY

This was a slow start for me but it really picked up at about 75 pages and I didn't put it down until I finished it. The characters were really multi-dimensional and the adorable romance was great!

Apex, NC

It took me a while to get into this novel, but, once I did; I couldn't read it fast enough! The characters are such a delightful group of people. There's also a compelling romance going on. Loved it!

Lewisville, TX

Like her other more recent books (& previous BOTM picks), this is another great Katherine Center book. Her books are comforting in a way because you know what to expect. The girl always gets the guy.

Tuscaloosa, AL

I giggled like a little girl reading this. It was very cheerful & uplifting about how to choose joy. I loved these characters, wished they had been explored more, but the story was amazing & adorable

Lexington Park, MD

I found myself at times wanting more depth to this, and it was slow to get into! However, the ending is so good. Sometimes you just need a feel-good book! This one doesn't disappoint in that area.

Winder, GA

Center has done it again with a gem of a novel. I think the fact I read this book when school was beginning this year intensified my love and appreciation for it even more. Beautiful, touching story!