Quick take
Sometimes when you meet the love of your life, it defies the laws of time and space—literally. Just ask August.
Good to know
400+ pages

LGBTQ+ themes

Nonlinear timeline

Quirky
Synopsis
For cynical twenty-three-year-old August, moving to New York City is supposed to prove her right: that things like magic and cinematic love stories don't exist, and the only smart way to go through life is alone. She can't imagine how waiting tables at a 24-hour pancake diner and moving in with too many weird roommates could possibly change that. And there's certainly no chance of her subway commute being anything more than a daily trudge through boredom and electrical failures.
But then, there's this gorgeous girl on the train.
Jane. Dazzling, charming, mysterious, impossible Jane. Jane with her rough edges and swoopy hair and soft smile, showing up in a leather jacket to save August's day when she needed it most. August's subway crush becomes the best part of her day, but pretty soon, she discovers there's one big problem: Jane doesn't just look like an old school punk rocker. She's literally displaced in time from the 1970s, and August is going to have to use everything she tried to leave in her own past to help her. Maybe it's time to start believing in some things, after all.
Free sample
Get an early look from the first pages of One Last Stop.
One Last Stop
1
Taped to a trash can inside the Popeyes Louisiana Kitchen at the corner of Parkside and Flatbush Avenues.
SEEKING YOUNG SINGLE ROOMMATE FOR 3BR APARTMENT UPSTAIRS, 6TH FLOOR. $700/MO. MUST BE QUEER & TRANS FRIENDLY. MUST NOT BE AFRAID OF FIRE OR DOGS. NO LIBRAS, WE ALREADY HAVE ONE. CALL NIKO.
"Can I touch you?"
That's the first thing the guy with the tattoos says when August settles onto the rubbed-off center cushion of the brown leather couch—a flaking hand-me-down number that's been a recurring character the past four and a half years of college. The type you crash on, bury under textbooks, or sit on while sipping flat Coke and speaking to no one at a party. The quintessential early twenties trash couch.
Most of the furniture is as trash as the trash couch, mismatched and thrifted and hauled in off the street. But when Tattoo Boy—Niko, the flyer said his name was Niko—sits across from her, it's in a startlingly high-end Eames chair.
The place is like that: a mix of familiar and very much not familiar. Small and cramped, offensive shades of green and yellow on the walls. Plants dangling off almost every surface, spindly arms reaching across shelves, a faint smell of soil. The windows are the same painted-shut frames of old apartments in New Orleans, but these are half covered with pages of drawings, afternoon light filtering through, muted and waxy.
Why I love it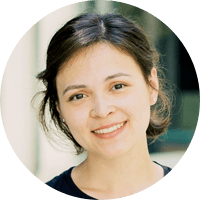 Growing up mixed-race in suburban Minnesota, I always felt painfully different from my Caucasian peers. That feeling didn't entirely go away at home either, because my mom, grandma, older siblings, and enormous extended family were pure Asian. Being neuroatypical didn't help. As a result, I've spent a great deal of my life yearning for a sense of belonging. In Casey McQuiston's One Last Stop, the misfits and outcasts are drawn together because of—not in spite of—their differences, which include sexual orientation, gender identity, religion, and race, among other things, and I didn't want to leave that found family behind when I reached the last page.
An expert in finding missing persons, twenty-three-year-old August moves to New York City to find herself. And ends up finding an unexpected community in her quirky roommates and coworkers and unexpected love from beautiful punk rocker Jane Su, whom she meets on the Q train subway line. Incidentally, the Q is the only place where August can be with Jane because Jane is lost—in time. She's been displaced from the 1970s by mysterious means.
One Last Stop is a sweet love story filled with exquisite yearning and stolen kisses, and like many readers will do, I lost my heart to Jane. But beyond that, there's a complexity to this book as well. An artful touch of science fiction allows history and modern times to literally collide, providing the unique opportunity to pay homage to LGBTQIAP+ activists from the past and illustrate how greatly their work impacted the present.
Member ratings (9,783)
Millersville , PA

Ahh I love this book. The story itself is so unique, the happy ending, it being LGBT+ inclusive. I devoured this book in less than 48 hours, that's how good it was. 10/10 recommend. ♥️♥️♥️♥️♥️♥️

Atlantic City , NJ

August and jane ❤❤❤, that first time jane saw her smelling like pancakes and trying to save billy's as well as holding that seance to figure out she was trapped with the help of Wes , Noah and Myra .

Richmond, VA

I didn't know it was possible for a queer subway time travel romcom to be so realistic and approachable, but McQuiston delivers. A perfect story of representation, found family and defying possibility

San Leandro, CA

This book is exactly what I needed. The characters are beautiful and fun. The romance is sweet and longing. The entire trapped in time premise is extremely fascinating. I didn't want to put it down.

South Glens Falls, NY

LOVED this. Even better than her first novel, One Last Stop is a sapphic, character-driven, time travel tale with themes of found family, community, and music at it's center. Also, amateur sleuthing!