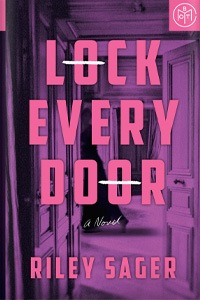 Thriller
Lock Every Door
3peat Author
Riley Sager is officially a 3-time author at BOTM, which is a pretty big deal!
Quick take
From the author of Final Girls and The Last Time I Lied, a horror story about that too-good-to-be-true Craigslist job.
Good to know
Fast read

Scary

Creepy

Whodunit
Why I love it
Let's twist again, like we did last summer: Riley Sager is back with a dark, suspenseful novel about a house-sitting job from hell! It's the must-read summer thriller that will have your little gray cells twerking up a storm!
Jules Larsen is having bad luck. Suddenly jobless and homeless, she's over the moon when she's hired to be an apartment sitter at the Bartholomew, a famously mysterious and ...
Synopsis
No visitors. No nights spent away from the apartment. No disturbing the other residents, all of whom are rich or famous or both. These are the only rules for Jules Larsen's new job as an apartment sitter at the Bartholomew, one of Manhattan's most high-profile and mysterious buildings. Recently heartbroken and just plain broke, Jules is taken in by the splendor of her surroundings and accepts the ...
Preview
Get an early look from the first pages of Lock Every Door.
Read a sample →
See the goods.
All you need to do is create your account.