Thriller
Goodnight Beautiful
Buy 5 audiobooks to earn a free credit!
Quick take
A tense read with characters you're not sure you can believe. No spoilers, but trust us—you won't guess that ending.
Good to know
Psychological

Action-packed

Marriage issues

Suburban drama
Synopsis
Newlyweds Sam Statler and Annie Potter are head over heels, and excited to say good-bye to New York and start a life together in Sam's sleepy hometown in upstate New York. Or, it turns out, a life where Annie spends most of her time alone while Sam, her therapist husband, works long hours in his downstairs office, tending to the egos of his (mostly female) clientele.
Little does Sam know that through a vent in his ceiling, every word of his sessions can be heard from the room upstairs. The pharmacist's wife, contemplating a divorce. The well-known painter whose boyfriend doesn't satisfy her in bed. Who could resist listening? Everything is fine until the French girl in the green mini Cooper shows up, and Sam decides to go to work and not come home, throwing a wrench into Sam and Annie's happily ever after.
Why I love it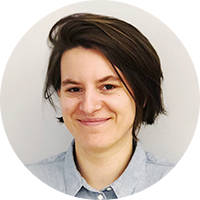 Siobhan Jones
BOTM Editorial Team
The highest praise for a thriller is unfortunately the thing you're mostly likely to hear about any average thriller. You won't see the twist coming, proclaims the marketing copy, even though a voracious reader of the genre will, nine times out of ten, do just that. But here I am saying it: Goodnight Beautiful has so many unusual turns that I think you really will be taken by surprise.
Picture a little town in upstate New York, where Manhattan-based professionals in search of a slower pace might comfortably relocate. That's just what Sam Statler, a handsome therapist, and his wife Annie have done. Annie fills her hours alone, adjusting to their new life, while Sam spends his days receiving clients in need of care. Despite a few secrets Annie and Sam are keeping from each other—and us readers—life proceeds normally until one day when Sam goes missing.
This isn't just a search for a missing person—this is a madcap story that gave me the feeling of wandering through an empty house, afraid to turn a corner for fear of what's lurking down the hall. Aimee Molloy entered the domestic suspense scene a few years ago with a splash, and her second novel does not disappoint. Good luck guessing the ending!