Buy 5 audiobooks to earn a free credit!
Quick take
If Dan Brown played Tomb Raider in a cave while hallucinating about evolution ... he might write something like this.
Good to know
Fast read

Supernatural

Action-packed

Scary
Synopsis
If Indiana Jones lived in the X-Files era, he might bear at least a passing resemblance to Nolan Moore—a rogue archaeologist hosting a documentary series derisively dismissed by the "real" experts, but beloved of conspiracy theorists.
Nolan sets out to retrace the steps of an explorer from 1909 who claimed to have discovered a mysterious cavern high up in the ancient rock of the Grand Canyon. And, for once, he may have actually found what he seeks. Then the trip takes a nasty turn, and the cave begins turning against them in mysterious ways.
Nolan's story becomes one of survival against seemingly impossible odds. The only way out is to answer a series of intriguing questions: What is this strange cave? How has it remained hidden for so long? And what secret does it conceal that made its last visitors attempt to seal it forever?
Why I love it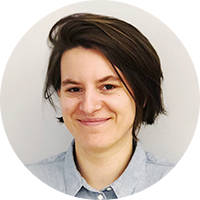 Siobhan Jones
BOTM Editorial Team
One reason I love thrillers is because the diversity of the genre continuously delights me. You've got your British domestic suspense à la The Child, your blue-collar detective novels like Two Girls Down, psychological mindwreckery like Behind Her Eyes … I could go on and on. Is it a stretch to posit that if you grouped and mapped thrillers as Darwin once mapped earth's species on a "tree of life," you'd find an array of fiction as copious as the animal kingdom itself? I think not :)
This month, BOTM is proud to feature a book unlike anything we've ever offered: a paranormal thriller that takes place in the pitch-black depths of the Grand Canyon. When a ragtag group of YouTube-famous archaeologists goes searching for a hidden cavern they assume is mere myth, they don't expect to stumble upon the greatest revelation to ever surface about mankind. But not all of the team is working together to connect an eon's worth of biological dots. Truths emerge, fingers are pointed, and ancient secrets are discovered … secrets, it seems, that not everyone wants found out.
In my humble opinion, we've offered a few good thrillers this year, but this one—which is rich in both evolutionary freakiness and eerie conspiracy theories—takes the cake. If you're looking for smoking guns, a handful of F-bombs, and Jurassic Park-esque chase scenes, look no further than this fast-paced adventure with serious Lara Croft vibes.