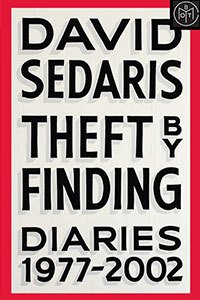 Quick take
A must-read for any Sedaris fan ... the perfect book to catch your eye and tickle your funny bone.
Why I love it
Master of the humorous essay (and Book of the Month Judge), David Sedaris has built a career based on his witty observations about everyday life, and his diaries contain a treasure trove of raw material that shaped his distinctive writing. Theft by Finding is a 24-year spree of notes, recounted conversations (that ear for dialogue as honed as ever!), Christmas lists, overheard jokes, recipes, and straight up hilarity. A must-read for any Sedaris fan, this is the perfect book to flip through at random, looking for a gem of a sentence or two to catch your eye and tickle your funny bone.
Member thoughts
The practice of documenting life in word is so appealing. I found myself thinking about my own life - the big moments we document & small the moments we forget entirely when their is no documentation.

Rittman, OH

I've read all of Sedaris' memoirs, and it was really cool to read them in diary form. This felt more personal, and there was more emotion in it than the memoirs. I also loved the random observations

There is absolutely nothing extraordinary about this. I probably will never reread it, but it's just fun and intriguing stepping into the head of such a fantastic writer even when the topic is mundane

Panorama City, CA

What I expected from a David Sedalia book. Funny with moments of insight and thoughtfulness put out in an off-handed way that makes it even more interesting and funny within the context of the entry.

Thousand Oaks, CA

This intimate look into the mundane, hilarious, and tragic events of Sedaris's life as he built it and found fame is by turns profound, dark, and laugh out loud funny. His voice is strong throughout.

Ive been reading David Sedaris since I was in college and he never disappoints. Much like Hunter Thompson, he has a way of telling stories that are so real, yet so bizarre, and simply draws you in.

Sedaris's humor isn't for everyone, but for those who love him, this book will strengthen that love. More of a diary of observations than deep thoughts, this book still teaches so many life lessons.

I love getting a peek into what people find important enough to write down. Sedaris is funny and his writing taught me a lot that I can improve in my own and his words added to how I see the world.

FREEHOLD, NJ

I was so excited to see that botm had this available! This is probably for true Sedaris fans only as some of the earlier years can be little less interesting but as a fan I absolutely loved it all!

Chicago, IL

I LOVE reading David Sedaris's work. He is a gem and always makes me laugh. The only thing I didn't like was the ending. I want more!! Can't wait to read 2003-2017. Hope it is published soon.

D. Sedaris invited me into his life in this book, it's so personal and non-apologetic. From 1977-2002 you can imagine his struggles, yet his success if effortless. Laughter is the best medicine.

Goshen, NY

I have read almost all of David Sedaris' books and usually love them. I was really excited to read his diary entries. They didn't disappoint. If you enjoy this author then this book is a treat.

Shawnee, KS

Recycled stories but still eternally delightful. I think David Sedaris is the funniest human alive. Depressed? Read Sedaris. Lonely? Read Sedaris. Already happy? Read Sedaris. Get happier.

Durham, NC

I love love love David Sedaris. TBF v.1 is wonderful-- his observations of those around him are poignant, hilarious, and ring true. It made me look at those around me with fresh eyes too.

Asheville, NC

As a huge fan of David Sedaris, I loved seeing how his daily life and thought processes ultimately manifested into his hilarious short stories. He gives every young creative person hope.

Mount Prospect, IL

I love anything by this man, and to be able to read his private journals was nothing less than amazing. He notices everything, even the most mundane, making it all the more fascinating.

Indianapolis, IN

I have always adored David Sedaris; he's one of the few authors where I find myself laughing out loud as I read. Although this was in a new form of diary entry, it was no different!

Before reading, I thought the idea diary entries seemed gimmicky--but it's not. Instead it's a funny read with subtle, thoughtful insights that rewards long-time Sedaris readers.

Sacramento, CA

I LOVE David Sedaris so I was NOT surprised how much I enjoyed this book. This is a good book to always have on hand to read a couple entries. You will literally laugh out loud.

Jersey City, NJ

I've read all of David Sedaris' books and this is by far the most interesting. It's a window into his life. There's nothing I enjoy more than creeping on the lives of others.