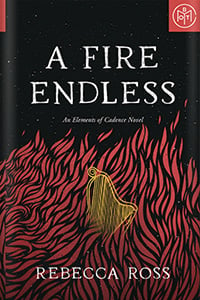 Quick take
In this epic follow-up to A River Enchanted a contest between the forces of good and evil might tear an island asunder.
Good to know
Emotional

400+ pages

Quest

Second in series
Synopsis
East and West. Humans and Spirits. Breccans and Tamerlaines. The Isle of Cadence has always held itself and its residents in a tenuous balance. But now Bane, the spirit of the North Wind, has pushed everyone and everything in his path off-kilter in a bid to claim dominion over all.
In the West, Adaira struggles to adjust to the more brutal, bitter ways of life among the Breccans. Striving to find her place in the clan, she swiftly realizes that it just might be the last role she desires to hold. And while magic blooms effortlessly for the Breccans in the west, the spirits continue to suffer beneath Bane's harsh power, felt in every gust of wind.
In the East, Jack is adrift without Adaira until he sings to the ember-weak fire spirits, acquiring a dangerous mission he never expected. One that is destined to lead him westward. Likewise, Torin and Sidra are consumed by a new mystery as sickness spreads first amongst the crops, and then to the people of the Tamerlaine clan. While Sidra desperately searches for a cure, Torin dares to strike a bargain with the spirits—a precarious folly anytime, but especially now as the days grow darker.
With the island falling further out of balance, humans and spirits alike will need to join together to face Bane, and Jack's gift with the harp will be called upon once more. Yet no one can challenge the North Wind without paying a terrible price, and the sacrifice required this time may be more than Jack, Adaira, Torin, and Sidra can bear to pay.
Free sample
Get an early look from the first pages of A Fire Endless.
A Fire Endless
PROLOGUE
Once, Kae had carried thousands of words in her hands. As a spirit of the wind, she had reveled in the power of it—to cradle things that were both fragile and sharp—and it had always been a delight when she chose to release them. To feel the timbres and textures of those many voices, from deep to airy, from melodious to rough-hewn. Once, she had let gossip and news melt through her fingers and unspool across the hills of Cadence, watching how humankind reacted when they caught the words either like hail or like thistledown.
It had never failed to amuse her.
But that had been when she was younger, hungrier, and uncertain of herself. When the older spirits had relished biting the edges of her wings to make them tattered and weak, eager to override her routes. King Bane had not yet appointed her as his favored messenger, even with frayed wings and mortal voices as her closest companions. Kae could only fully appreciate that simpler era now as she glided over Eastern Cadence, reminiscing.
There had come a moment when things started to shift. A moment that Kae could pinpoint in retrospect, realizing it was a seam in her existence.
Lorna Tamerlaine and her music.
She had never sung for the spirits of the air, although Kae often watched from the shadows as the bard called to the sea, to the earth. Kae had at first been relieved Lorna didn't summon the winds, and yet how often the spirit still yearned for it. To know Lorna's notes were crafted just for her and to feel them thrum in her bones.
That was the moment Kae had ceased carrying words and delivering them elsewhere. Because she knew what Bane would have done to Lorna had he realized what she was doing, playing for earth and water, garnering approval and admiration from those spirits.
Why I love it
Ava Reid
Author, Juniper & Thorn
A Fire Endless returns us to the ethereal, intricately rendered world of its prequel, A River Enchanted. It follows our beloved cast of characters deeper into the proverbial woods. Jack and Adaira are lovers torn apart, while Torin and Sidra are united in their hearts and in their cause, investigating a mysterious illness that threatens the entire Tamerlaine clan.
When we are dropped into this story, a powerful spirit named Bane has arrived on the island to wreak havoc and may just force the East and West that historically have kept to themselves to join forces to protect their home. Rebecca Ross has a true gift for creating worlds that feel both lived-in and mystical, perfectly evoking the Welsh notion of hiraeth, homesickness for a place that cannot be reached or has never been. The isle of Cadence is peopled with characters who feel as familiar as friends, so compelling in all their flaws, follies, and triumphs. I was most deeply moved by the thorny, complex familial and romantic bonds that fill this book's pages.
There is a beautiful grief in leaving behind a world that is so beloved; however, Ross ties up her duology with a splendid, emotional end. This series has earned a place on my shelf of new fantasy classics and I know I will return to Cadence again soon and be richly rewarded for every reread. And I am certain that you, reader, will love A Fire Endless just as much as I do.
Member ratings (4,432)
McKinney, TX

She did it again! Put me through ups and downs falling in love with Cadence even more with every page by sending you through the entire world and it's magic.Sad to say bye to the world and characters.

Boerne, TX

Even better than the first one, and that's hard to do. There is magic here of every kind, but most especially the magic that transports the reader entirely and takes them to other worlds. Delightful.

Herriman, UT

A Fire Endless was even better then the first one, which was also amazing. I was sucked it from the start. I loved every second of this book. I did not want it to stop. Favorite reads so far. Amazing

Manistee, MI

I loved this book so much! I listened to both a Fire endless and A River enchanted on audio and loved them so much I purchased the hard copy to have in my collection. I will revisit these books again

Davie, FL

I didn't know how I would like the ending of this one since it felt as though there was too much to be resolved after A River Enchanted. However, it was so well written! I love it! Very impressive!!