Young adult
Again, But Better
Debut
We love supporting debut authors. Congrats, Christine Riccio, on your first book!
Quick take
When you're a straight-A student, but you're failing at life, sometimes a trip abroad is all you need.
Good to know
Romance

Millennial

Buzzy

Magical
Synopsis
Shane has been doing college all wrong. Pre-med, stellar grades, and happy parents ... sounds ideal—but Shane's made zero friends, goes home every weekend, and romance ... what's that?
Her life has been dorm, dining hall, class, repeat. Time's a ticking, and she needs a change—there's nothing like moving to a new country to really mix things up. Shane signs up for a semester abroad in London. She's going to right all her college mistakes: make friends, pursue boys, and find adventure!
Easier said than done. She is soon faced with the complicated realities of living outside her bubble, and when self-doubt sneaks in, her new life starts to fall apart.
Shane comes to find that, with the right amount of courage and determination one can conquer anything. Throw in some fate and a touch of magic—the possibilities are endless.
Again, But Better
Part 1: 2011
1. Take a Chance
I'm leaving the country because I have no friends.
That's what it comes down to. People can continue along most paths, however unpleasant, if they have at least one good friend with them. Not having one has forced me to consider my path-changing options. Now, I'm thousands of miles over the Atlantic in a giant hollowed-out pen with wings, on my way to a study abroad program that's irrelevant to my major.
My parents don't know about the irrelevant part. Every time I think about it, my hands start shaking.
I grip the armrest nearest to the window. No second-guessing. I fold forward, trying not to bang my head on the seat in front to me, and extract the pen and notebook from my book bag on the floor—writing usually helps. I find it cathartic to pour out my soul via pen and paper. These days all my notebooks are Horcruxes, so I've started titling them accordingly; Horcrux notebooks one through eight are piled up in a Rubbermaid under my bed back in New York.
This new notebook makes a satisfying noise as I pull back the cover and flip it around to view my first entry.
1/1/11
COLLEGE, TAKE TWO: STUDY ABROAD GOALS 1) Kick ass at internship—turn it into a paid summer job. 2) Make friends you like to hang out with and who like to hang out with you.
Why I love it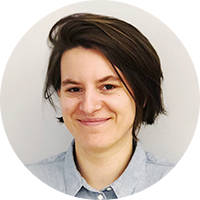 Siobhan Jones
BOTM Editorial Team
"I'm leaving the country because I have no friends." So begins the sweet, honest, and utterly relatable debut novel, Again, But Better. While not all of us have jetted off to a foreign country in hopes of traversing our troubles, we've definitely all experienced those feelings of being adrift and alone.
Meet Shane, a 20-year-old college student who's a wiz in the classroom (pre-med, anyone? oof), but lacking in social skills. Her dating life sucks, she has no friends, and instead of partying it up with her classmates, she spends weekends at home with her parents (womp). Taking matters into her own hands, Shane embarks for London with her eyes on a new internship, a smooch or two, and maybe even a sip of alcohol. Naturally, nothing goes as planned. But maybe that's a good thing??
Readers anticipating this book likely know as much about its author as they do about its synopsis. Christine Riccio is a talented content creator with a fervent YouTube following. She's also been a fierce advocate for reading since she was a very small human, so it's extra exciting to welcome her—and her sparkling, inventive debut novel—to the BOTM YA community. But whether you're reading to keep up with the convo on Twitter, or simply looking for your next favorite romantic comedy, you won't be disappointed. Again, But Better is a knockout.
Member ratings (1,100)
Brainerd, MN

I wasn't so sure about this book at first, but it picked up and I couldn't put it down! Each character is constructed purposefully, and the added element of magic to the plot truly makes it sparkle.

Whitinsville, MA

This brought back so many memories of my own college & study abroad experience. I loved reading about Shane and her brave choices. Tots relatable! Looking forward to whatever Riccio writes next!

Davenport, FL

I loved how this was a story of new beginnings, and new beginnings within that, and second chances within those. This is ultimately a story of finding the courage to go after the things you want.

Ammon, ID

I totally can relate to Shane's college experience and how she acts. I'm an introvert, but an extrovert with friends. I can be awkward. I was that girl in college who did not take chances.

Fort Wayne, IN

Wonderful character arcs with a compelling storyline. I was hooked from the beginning. Many people can relate to Shane. A story of finding love, second chances, & not wasting any opportunity.