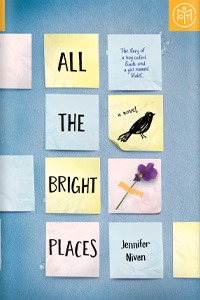 Young adult
All the Bright Places
Quick take
Read the book behind the movie, and get into a quirky, cute romance that's built on some pretty heavy drama.
Good to know
Romance

Emotional

Quirky

Now a movie
Synopsis
Theodore Finch is fascinated by death, and he constantly thinks of ways he might kill himself. But each time, something good, no matter how small, stops him.
Violet Markey lives for the future, counting the days until graduation, when she can escape her Indiana town and her aching grief in the wake of her sister's recent death.
When Finch and Violet meet on the ledge of the bell tower at school, it's unclear who saves whom. And when they pair up on a project to discover the "natural wonders" of their state, both Finch and Violet make more important discoveries: It's only with Violet that Finch can be himself—a weird, funny, live-out-loud guy who's not such a freak after all. And it's only with Finch that Violet can forget to count away the days and start living them. But as Violet's world grows, Finch's begins to shrink.
Member ratings (1,772)
Brooklyn, NY

This book was sad but it told a story about a teenager struggling with mental health - crying out for help & the reality that we sometimes dont realize till it's too late. Violet's loss broke my heart

Waterbury, CT

Heartbreaking read. It was like Finch slowly gave what life he had left to saving Violet. He broke her out of her grief & left her "forever changed". A take on how we process & recover from trauma.

Lansing, MI

This book will make you FEEL. It was relatable for someone who struggles with depression and suicidal thoughts. I am amazed at how perfectly the feelings were described I connected instantly to Finch

Pawtucket, RI

This book talks about the gritty feelings that a lot of people have but don't want to talk about. I felt connected to every chatacter from from big to small, from Finch to Amanda. Expertly written.

Methuen, MA

It was beautiful that a boy who could barely function himself used up all his energy to bring a girl out of the darkness and back into the brightness of the world and help her see all the beauty in it