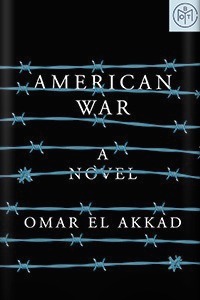 Dystopian
American War
Debut
We love supporting debut authors. Congrats, Omar El Akkad, on your first book!
Quick take
Fair warning: this is not a beach read. Set in a near-future dystopia in which global warming has submerged America's current coastlines, American War is scarily believable.
Why I love it
Maris Kreizman
Author, Slaughterhouse 90210
Fair warning: American War is not a beach read. Not only because the novel is not fluffy and light, but also because it's set in a near-future dystopia in which global warming has submerged the majority of America's current coastlines. Spring Break forever? Not likely.
I hate to use the word 'œtimely' nowadays, especially because I have a habit of making everything from Gilmore Girls to Fifty Shades of Grey about contemporary American politics. But if you're looking for a thrilling read that's way more fast-paced than the endless bickering in your Facebook feed, American War is scarily believable.
Here's what we know about the state of the country in American War: In 2074, America (much smaller than it used to be due to climate change) enters its second Civil War: this time, the North and South face off because the South refuses to give up fossil fuel while the North relies solely on solar and wind energy. The war lasts for nearly twenty years, with unmanned drones and biological warfare and good old-fashioned terrorism making a ruin of the South. To find an anchor amidst all of this horror, American War is told through the lens of one girl's experience as a Southern refugee. We follow along with Sarat Chestnut's trials and watch as the war changes her in all of the terrible ways that war can.
World-building is difficult in novels like these, in which the author must catch the reader up on the mind-bending events of the past fifty or so years. But author Omar El Akkad uses an effective cheat: interspersed with Sarat's story are excerpts from historical documents like newspaper stories and oral history outtakes and memoirs and diary entries that help us envision a specific time in history without too much other exposition.
This astonishing debut benefits from the author's experience as a reporter who covered the Arab Spring and the Black Lives Matter movement, to military trials at Guantanamo Bay. He's a writer who has recorded some of the ugliest moments in recent history, and yet manages to take these terrible building blocks and make something beautiful from them.
Not only are the big overarching plot points of the novel well-imagined, but El Akkad gets the small details right, too, mapping the cultural artifacts that stay with us even as the world burns: the Fiona Apple song that Sarat listens to in a quiet moment, an Alibaba T-shirt, now-exotic oranges, the copious amounts of blankets mailed by aid workers from other parts of the world. It's these glimpses of humanity that ground us in our own cultural moment even as we tremble at the thought of what might come.
Member ratings (3,908)
Huntsville, AL

Months after finishing this novel, I'm still contemplating climate change, coastal erosion, fossil fuels, and civil war—but also, I can't stop thinking about how our circumstances make us who we are.

Hahnville , LA

A well written and continuously intriguing book. I could barely put it down once I started reading. It's story, hauntingly in the realm of possibilities for the future. I would recommend the book 100%

Carlsbad, CA

I'm a very fast reader, devouring books like candy. This novel is not candy. It was a solemn meal to be chewed slowly, without taking anything for granted. I felt I needed to be strong, reading this.

Sunbury, PA

I love a book that spans someone's lifetime. There are places where I would have loved more detail or explanation but I thought it was a well thought out/written book. I look forward to his next book.

Saint Paul, MN

Vivid and gripping, with glimpses of a shattered reality for our country. Through all of that, the fragility of human need and desire shine through. Memory, loss, and the drive to survive devastation.