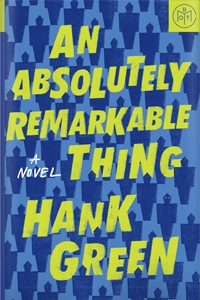 Sci-fi
An Absolutely Remarkable Thing
Debut
We love supporting debut authors. Congrats, Hank Green, on your first book!
Quick take
An ambitious social-media climber captures "an absolutely remarkable thing" and realizes going viral is the least of her worries.
Good to know
Quirky

Unlikeable narrator

Millennial

Buzzy

Snarky
Synopsis
The Carls just appeared.
Roaming through New York City at three a.m., 23-year-old April May stumbles across a giant sculpture. Delighted by its appearance and craftsmanship—like a 10-foot-tall Transformer wearing a suit of samurai armor—April and her friend, Andy, make a video with it, which Andy uploads to YouTube. The next day, April wakes up to a viral video and a new life. News quickly spreads that there are Carls in dozens of cities around the world—from Beijing to Buenos Aires—and April, as their first documentarian, finds herself at the center of an intense international media spotlight.
Seizing the opportunity to make her mark on the world, April now has to deal with the consequences her new particular brand of fame has on her relationships, her safety, and her own identity. And all eyes are on April to figure out not just what the Carls are, but what they want from us.
Free sample
Get an early look from the first pages of Hank Green's An Absolutely Remarkable Thing.
An Absolutely Remarkable Thing
Chapter One
Look, I am aware that you're here for an epic tale of intrigue and mystery and adventure and near death and actual death, but in order to get to that (unless you want to skip to chapter 13—I'm not your boss), you're going to have to deal with the fact that I, April May, in addition to being one of the most important things that has ever happened to the human race, am also a woman in her twenties who has made some mistakes. I am in the wonderful position of having you by the short hairs. I have the story, and so I get to tell it to you the way I want. That means you get to understand me, not just my story, so don't be surprised if there's some drama. I'm going to attempt to come at this account honestly, but I'll also admit to a significant pro-me bias. If you get anything out of this, ideally it won't be you being more or less on one side or the other, but simply understanding that I am (or at least was) human.
And I was very much feeling only human as I dragged my tired ass down 23rd Street at 2:45 a.m. after working a sixteen-hour day at a start-up that (thanks to an aggressively shitty contract I signed) will remain nameless. Going to art school might seem like a terrible financial decision, but really that's only true if you have to take out gobs and gobs of student loans to fund your hoity-toity education. Of course, I had done exactly that. My parents were successful, running a business providing equipment to small and medium-sized dairy farms. Like, the little things you hook up to cows to get the milk out, they sold and distributed them. It was good business, good enough that I wouldn't have had a lot of debt if I'd gone to a state school. But I did not do that.
Why I love it
Jennifer Demieville
BOTM Readers Committee
Who doesn't dream of the transformative powers of fame and fortune? I certainly do, and so does April May, the fiery narrator of Hank Green's debut novel, a rags-to-social-riches-meets-science-fiction hybrid that kept me guessing from start to finish.
It's 3am in New York City when April encounters a giant, armor-cladded sculpture of unknown origin. She dubs this bizarre curiosity "Carl" in a YouTube video that immediately goes viral. Catapulted into the capricious world of internet celebrity, April becomes an unlikely sage in the biggest news story of the world, a trajectory that threatens to unravel her relationships—and life as she knows it.
As a big science fiction fan, I love that this novel is both an intriguing story (where did Carl come from? Is he a threat?) and an exploration of how social media has irrevocably altered our humanity. Hank Green manages to combine deft humor with poignant moments that showcase April's snarky side. This book is a seamless blend of heart, science, and humor—it's easy to fall in love with this absolutely remarkable debut!
Member ratings (5,302)
Long Beach, CA

This book was so different than anything I've read before. I couldn't believe this was a debut book, it was so good! Hope to get more from this author, I prefer his writing over his brother's. Crazy!

Kissimmee, FL

It took me awhile to discover how I felt about this book. I couldn't get myself involved with the characters, but the world Green created was intriguing and thought-provoking. Can't wait for book two!

Randolph, NJ

I'm a sucker for a good ol' sci-fi story and this has all the thrills & chills of classics like The Day The Earth Stood Still. A satisfying roller coaster ride that ends with the possibility of more.

Washington, DC

From the moment I picked this book up I couldn't put it down. Instantly, I related to the imperfect main character and her inability to learn. The writing's great and I was ALWAYS eager to read more.

Searcy, AR

An exciting plot driven by a clever, unique concept and an authentic millennial voice that felt extremely relevant in today's tech- & media-pervaded world. I'd love to see more of Carl in the future.