Contemporary fiction
Apples Never Fall
Quick take
The latest from the author of Nine Perfect Strangers follows a wealthy family whose matriarch goes missing.
Good to know
400+ pages

Family drama

Buzzy

Marriage issues
Synopsis
The Delaney family love one another dearly—it's just that sometimes they want to murder each other . . .
If your mother was missing, would you tell the police? Even if the most obvious suspect was your father?
This is the dilemma facing the four grown Delaney siblings.
The Delaneys are fixtures in their community. The parents, Stan and Joy, are the envy of all of their friends. They're killers on the tennis court, and off it their chemistry is palpable. But after fifty years of marriage, they've finally sold their famed tennis academy and are ready to start what should be the golden years of their lives. So why are Stan and Joy so miserable?
The four Delaney children—Amy, Logan, Troy, and Brooke—were tennis stars in their own right, yet as their father will tell you, none of them had what it took to go all the way. But that's okay, now that they're all successful grown-ups and there is the wonderful possibility of grandchildren on the horizon.
One night a stranger named Savannah knocks on Stan and Joy's door, bleeding after a fight with her boyfriend. The Delaneys are more than happy to give her the small kindness she sorely needs. If only that was all she wanted.
Later, when Joy goes missing, and Savannah is nowhere to be found, the police question the one person who remains: Stan. But for someone who claims to be innocent, he, like many spouses, seems to have a lot to hide. Two of the Delaney children think their father is innocent, two are not so sure—but as the two sides square off against each other in perhaps their biggest match ever, all of the Delaneys will start to reexamine their shared family history in a very new light.
Free sample
Get an early look from the first pages of Apples Never Fall.
Apples Never Fall
Prologue
The bike lay on the side of the road beneath a gray oak, the handle-bars at an odd, jutted angle, as if it had been thrown with angry force.
It was early on a Saturday morning, the fifth day of a heatwave. More than forty bushfires continued to blaze doggedly across the state. Six regional towns had "evacuate now" warnings in place, but here in suburban Sydney the only danger was to asthma sufferers, who were advised to stay indoors. The smoke haze that draped the city was a malicious yellow-gray, as thick as a London fog.
The empty streets were silent apart from the subterranean roar of cicadas. People slept after restless, hot nights of jangled dreams, while early risers yawned and thumb-scrolled their phone screens.
The discarded bike was shiny-new, advertised as a "vintage lady's bike": mint green, seven-speed, with a tan leather saddle and a white wicker basket. The sort of bike you were meant to imagine riding in the cool, crisp air of a European mountain village, wearing a soft beret rather than a safety helmet, a baguette tucked under one arm.
Four green apples lay scattered on the dry grass beneath the tree as if they had spilled and rolled from the bike's basket.
A family of black blowflies sat poised at different points on the bike's silver spokes, so still they looked dead.
The car, a Holden Commodore V8, vibrated with the beat of eighties rock as it approached from the intersection, inappropriately fast in this family neighborhood.
The brake lights flashed, and the car reversed with a squeal of tires until it was parked next to the bike. The music stopped. The driver emerged, smoking a cigarette. He was skinny, barefoot, and bare-chested, wearing nothing but blue football shorts. He left the driver's door open and tiptoed with balletic, practiced grace across the already hot asphalt and onto the grass, where he hunkered down to study the bike. He caressed the bike's punctured front tire as if it were the limb of a wounded animal. The flies buzzed, suddenly alive and worried.
Why I love it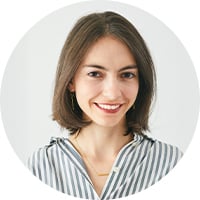 Brianna Goodman
BOTM Editorial Team
If you've spent any time with the sneaky mothers of Big Little Lies, or the wellness retreaters of Nine Perfect Strangers, or any of the other characters that populate Liane Moriarty's novels, then you know by now that Moriarty has a knack for writing about complicated, flawed people in ways that are oh-so-fun to read. And in Apples Never Fall she's done it again with the Delaneys: an outwardly successful family whose dirty laundry comes tumbling out when one of their own goes missing.
Stan and Joy Delaney have retired from their days running a prestigious tennis academy and are looking forward to their years as empty nesters. From the outside, their marriage seems solid. But when Joy abruptly goes missing, the police, the community, and even the Delaneys' own children start to wonder if things weren't as happy as they seemed. Is it possible that Stan could have harmed his wife? And what ever happened to that mysterious stranger that showed up bleeding at the Delaneys' door all those months ago?
In true Moriarty fashion, as the novel unfolds, the pieces of the puzzle fall expertly into place. But what really kept me turning pages is the way Moriarty can turn mundane, often frustrating experiences in life—family feuds, long-held resentments, misunderstandings—into moments of warmth, humor, and compassion. Part mystery, part family drama, this book is a reminder that although things often don't go the way we've planned, we're not alone in trying to figure out the best way to live this thing we call life.
Member ratings (11,991)
Mooresville, NC

I have read all of Liane Moriarty's books! This one didn't disappoint. I loved her examination of the complexities of marriage and family—the complexities of loving and being human. It will stay w/ me

Littleton , CO

I wavered between wether I was going to "like" this book or "love" it until about the last 20 pages. The characters are so richly written, their lives unfolding in a messy uncomplicated, relatable

bridgewater, MA

Real in depth look at complexities of marriage while still feeling sort of light and easy to read. Definite "where'd you go Bernadette" vibes. All details were revisited and wrapped neatly with a bow

Clover, SC

One of the most well thought out books I've ever read. Even the most insubstantial seeming details eventually are shown to be significant. So very well developed, one of her best-and I've liked them a

Austin , TX

As usual, Liane Moriarity provides a great read with complex yet believable characters and a plot with surprising twists. I have shared this book with several friends and we all agree—it's excellent.