Historical romance
Atomic Love
Quick take
This isn't your typical romance. This is a badass, Cold War, Russian spy romance that throws you into all the drama.
Good to know
Romance

Forbidden love

Puzzle

Love triangle
Synopsis
Chicago, 1950. Rosalind Porter has always defied expectations—in her work as a physicist on the Manhattan Project and in her passionate love affair with colleague Thomas Weaver. Five years after the end of both, her guilt over the bomb and her heartbreak over Weaver are intertwined. She desperately misses her work in the lab, yet has almost resigned herself to a more conventional life.
Then Weaver gets back in touch—and so does the FBI. Special Agent Charlie Szydlo wants Roz to spy on Weaver, whom the FBI suspects of passing nuclear secrets to Russia. Roz helped to develop these secrets and knows better than anyone the devastating power such knowledge holds. But can she spy on a man she still loves, despite her better instincts? At the same time, something about Charlie draws her in. He's a former prisoner of war haunted by his past, just as her past haunts her.
As Rosalind's feelings for each man deepen, so too does the danger she finds herself in. She will have to choose: the man who taught her how to love... or the man her love might save?
Free sample
Get an early look from the first pages of Atomic Love.
Atomic Love
Chicago, 1950
Chapter One
The hot touch of the city still on her, Rosalind unfastens her stockings and drops them in the bathroom sink with a handful of washing soda. A habit from the war years. She made it through 1942 to 1944 with two stalwart pairs because she treated them like rare orchids. Jesus. She knew girls who had to draw lines up the backs of their legs because they'd torn their last pair and couldn't buy new. Lines that by two p.m. were smeared like lipstick after a desperate kiss.
One didn't lose the feel of the war, the rationing, the terror of opening the newspaper each morning and seeing the worst. Rosalind would never forget the sting in her throat watching the man next door weep as he changed the blue star on his Sons in Service flag to gold. There were no sons in her family, but she and Louisa did their bit. For a while Louisa polished torpedoes in a defense plant. And what Rosalind did one might say ended the war altogether. But she knows it will haunt her until she dies.
***
These days she stands behind the Used and Antique Jewelry counter at Marshall Field's department store, sorting and selling. There are lives entwined in the artifacts she peddles: tucked behind an oval of glass on the back of a Victorian brooch, a perfectly braided plait of silver hair from someone's mother. A ring glittering with a row of gems—a ruby, emerald, garnet, amethyst, another ruby, and a diamond—the first letters of each spelling "regard." Georgian men gave these rings to women they loved but couldn't marry. Rosalind can't help wondering about a woman who'd wear evidence of love she could never fully possess.
Why I love it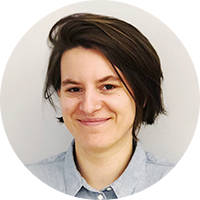 Siobhan Jones
BOTM Editorial Team
When I was young, I spent a lot of time thinking about spies (like all kids who spend more time with books than with friends, I had a lot of niche fixations). Many of the nonfiction accounts of spying tried to dispel the idea that the job isn't nearly as sexy as the movies make it out to be. Well. All I have to say about that is that while I begrudgingly accept this claim, it won't stop me from wholeheartedly enjoying suspenseful Cold War stories full of double agents, stolen secrets, and lies.
Rosalind Porter is a brilliant woman who has been wronged. One of the Manhattan Project physicists who helped work on the atomic bomb, her career was ruined and her heart was broken by war's end. Five years later, she's living a nondescript life in Chicago when an FBI agent taps her to help figure out who could be leaking nuclear secrets to the Russians. Then, a former colleague and old flame gets in touch, forcing her to reckon with old demons even as her present fills up with shadowy new ones.
This is a suspenseful, character-driven story that is just as much about Rosalind's life as it is about espionage. We get the spy stuff in spades—there's wire-tapping, covert operations, and people who aren't who they say they are—but there's also romance with a capital R. Imagine a vintage James Bond thriller, except the hero isn't a playboy in a tux but a savvy young woman thrown into perilous circumstances in the gritty McCarthy era. Doesn't that sound fun?
Member ratings (14,036)
Harrison Twp, MI

⭐️⭐️⭐️⭐️⭐️! I love this book! Read it in one sitting! Loved the strong female character that finds herself in a love triangle between a former flame/Russian spy and the FBI agent trying to catch him!

Westminster, CO

Thoroughly enjoyed this book! I loved the depth of characters and a smart, strong female lead all wrapped into a nice love story. I also enjoyed the 50's era in a Chicago setting. 4 and a half ⭐️'s...

Skillman, NJ

This book incorporated so many different genres in one. I loved the mystery that was "weaved" ???? throughout the book, the two different romances going on, and the very descriptive historical contexts.

Las Vegas , NV

It's a nice to read a book set in the post WWII era that centers on a woman's life and successes OUTSIDE of being the typical 1940's housewife. This book is a wonderful mix of suspense and romance.

Redmond, WA

I read it in about 24 hours. While on family vacation at Cannon Beach. I loved the plot, the writing. I also loved how the main character didn't 'end up happily married' but the promise of a future.