Quick take
This devastating account of a Cherokee woman's life is an ode to the beauty and power of storytelling.
Good to know
400+ pages

Social issues

Family drama

Sad
Synopsis
Born in a bathtub in 1954 to a Cherokee father and white mother, Betty Carpenter is the sixth of eight siblings. The world they inhabit is one of poverty and violence—both from outside the family, and also, devastatingly, from within. The lush landscape, rich with birdsong, wild fruit, and blazing stars, becomes a kind of refuge for Betty, but when her family's darkest secrets are brought to light, she has no choice but to reckon with the brutal history hiding in the hills, as well as the heart-wrenching cruelties and incredible characters she encounters in her rural town of Breathed, Ohio.
But despite the hardship she faces, Betty is resilient. Her curiosity about the natural world, her fierce love for her sisters, and her father's brilliant stories are kindling for the fire of her own imagination, and in the face of all she bears witness to, Betty discovers an escape: she begins to write. She recounts the horrors of her family's past and present with pen and paper and buries them deep in the dirt—moments that has stung her so deeply, she could not tell them, until now.
Content warning
This book contains mentions of assault.
Free sample
Get an early look from the first pages of Betty.
Betty
Prologue
I thank my God upon every remembrance of you. —Philippians I:3
I'm still a child, only as tall as my father's shotgun. Dad's asking me to bring it with me as I go out to where he is resting on the hood of the car. He lifts the shotgun out of my hands and lays it across his lap. When I sit next to him, I can feel the summer heat coming off his skin like he's just another tin roof on a hot day.
I don't mind that the tomato seeds, left over from his afternoon lunch in the garden, drop off his chin and land on my arm. The tiny seeds cling to my flesh and rise above it like Braille on a page.
"My heart is made of glass," he says as he starts to roll a cigarette. "My heart is made of glass and if I ever lose you, Betty, my heart will break into more hurt than eternity would have time to heal."
I reach into his pouch of tobacco and rub the dry leaves, feeling each as if it were its own animal, alive and moving from fingertip to fingertip.
"What's a glass heart like, Dad?" I ask because I feel like the answer will be greater than I can ever imagine.
"A hollow piece of glass shaped like a heart." His voice seems to soar above the hills around us.
"Is the glass red, Dad?"
"It's as red as the dress you're wearin' right now, Betty."
"But how is a piece of glass inside you?"
"It's hangin' in there from a sweet little string. Within the glass is the bird God caught all the way up in heaven."
Why I love it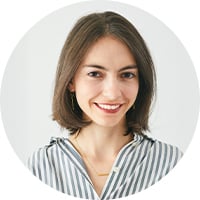 Brianna Goodman
BOTM Editorial Team
What kind of quarantine reader are you? Throughout this pandemic, I've been vacillating between extreme reading moods. Some days I reach for something light and happy to give me hope. Others I reach for an otherworldly story to escape into something new. And some days I want something dark, probing, and real—something that articulates all that is beautiful and tragic about being a human, at a time when we mostly experience one another's humanity through screens.
It was during one of those latter moods that I read Betty, a lyrical and—in full disclosure—heartbreaking novel inspired by the life of the author's mother. Betty is the daughter of a Cherokee father and a white mother. Born into a family burdened by poverty and by a dark past, Betty finds solace in writing. Through her stories, we learn about her love for the Appalachian landscape, her loyalty to her sisters, and the cruel realities of life in her community and her home.
This is not an easy read. Betty's life is marked by violence and hardship as much as it is by love. If you're looking for a fun escape, you won't find that here; but what you will find is a moving, detailed portrait of a woman, rendered in sentences so lovely you might find yourself underlining every other phrase. Betty is a tribute to the author's mother, but it's also a tribute to the power of story. And at a time when books are keeping us company where our fellow humans cannot, what message could be more resonant?
Member ratings (2,858)
New Britain, CT

This book blew me away. The description and Betty's story is one that will stick with me for a while. Cried at several parts just because the writing was so strong. One of my favorite reads. Betty ❤️

Springfield, MO

This might be my favorite book. It's rare that you get a coming of age story with a female lead that feels as amazing as this one. The writing is beautiful and I'm so happy to have found this book.

Knoxville , TN

This book was heartbreaking, but also one of the best books I've read! I loved Betty and her father's relationship. There were some parts that were hard to read, but would recommend this one overall!

Chicago, IL

Betty is a sweeping family saga that chronicles the titular character's coming-of-age in Ohio. There's plenty of cruelty and pain, but there's also strength and hope to be found in the foothills.

Salem, OR

I seriously could not put this book down. It's probably one of the best books I have read. The story telling is exceptional. I loved Betty from the moment she arrived in the story. ❤️❤️❤️