Romance
Bringing Down the Duke
Debut
We love supporting debut authors. Congrats, Evie Dunmore, on your first book!
Quick take
A little feminist, a little romantic, but mostly just fun—and downright dirty on top of that. Yes, please.
Good to know
Feminist

Light read

Forbidden love

Salacious
Synopsis
England, 1879. Annabelle Archer, the brilliant but destitute daughter of a country vicar, has earned herself a place among the first cohort of female students at the renowned University of Oxford. In return for her scholarship, she must support the rising women's suffrage movement. Her charge: recruit men of influence to champion their cause. Her target: Sebastian Devereux, the cold and calculating Duke of Montgomery who steers Britain's politics at the Queen's command. Her challenge: not to give in to the powerful attraction she can't deny for the man who opposes everything she stands for.
Sebastian is appalled to find a suffragist squad has infiltrated his ducal home, but the real threat is his impossible feelings for green-eyed beauty Annabelle. He is looking for a wife of equal standing to secure the legacy he has worked so hard to rebuild, not an outspoken commoner who could never be his duchess. But he wouldn't be the greatest strategist of the Kingdom if he couldn't claim this alluring bluestocking without the promise of a ring ... or could he?
Locked in a battle with rising passion and a will matching her own, Annabelle will learn just what it takes to topple a duke....
Free sample
Get an early look from the first pages of Bringing Down the Duke.
Bringing Down the Duke
Chapter 1
Kent, August 1879
"Absolutely not. What an utterly harebrained idea, Annabelle."
Gilbert's eyes had the rolling look of a hare that knew the hounds were upon him.
Annabelle lowered her lashes. She knew it would look demure, and demure placated her cousin best when he was all in a fluster. Of all the types of men she had learned to manage, the "ignorant yet self-important" type was not exactly the most challenging. Then again, when her very fate lay in the hands of such a man, it added insult to injury. Gilbert would snatch the chance of a lifetime from her here in his cramped little study and go straight back to admiring his freshly pinned butterflies in the display case on the desk between them.
"What would be next," he said, "joining the circus? Standing for Parliament?"
"I understand that it's unusual," she said, "but—"
"You are not going to Oxford," he bellowed, and slapped his hand down on the desk.
Her father's old desk. Left to Gilbert in her father's will rather than to her. The dignified piece of furniture did nothing for her cousin: age-worn on four carved lion paws, it would have bolstered the authority of any man throning behind it, but Gilbert was still fluffed up like a startled chicken. Well. It was understandable that he felt ambushed. She had surprised herself. After five long years as Gilbert's maid for everything, she hadn't expected to feel a yearning urge ever again.
Why I love it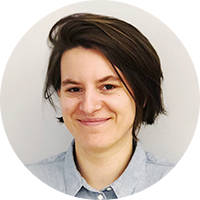 Siobhan Jones
BOTM Editorial Team
When I started at BOTM, I was a professed literary snob—and probably flaunted that term with pride (cue eye roll). I never read romance books because I assumed they were too cheesy and poorly written to be considered worthy of my time. Years later, dozens of romance books devoured, I'm so happy to report that, on that score, I was wrong.
Set in turn-of-the-century England, this is the story of Annabelle Archer, a plucky woman with the opportunity to become one of the first female graduates at the prestigious University of Oxford. Upon entering college, she becomes an advocate for the women's suffrage movement, which is how she first encounters the Duke of Montgomery—an influential, ill-tempered political adversary whom she must convince into becoming an ally. A clash of two strong-willed, sharp-tongued enemies? Sounds hot ;)
Bringing Down the Duke gives us the best that the romance genre has to offer: light-hearted fun, steamy sex scenes, and lots of brooding, read-between-the-lines dialogue. It also serves up a few additionally tasty accoutrements, including royals, a heroine with a feminist agenda (Suffragism! Get involved, people), and witty repartee that make for a very entertaining read. FYI, this is not a book that takes itself seriously—but I think you'll agree the result is serious fun. Cheers!
Member ratings (21,465)
Palm bay, FL

I absolutely loved my first book from BOTM! Bringing down the duke is an amazing mix of genre while sinking in to the women suffrage movement of 1879. You will not put it down! ⭐️⭐️⭐️⭐️⭐️

Houston, TX

Y'all I haven't read a romance novel in a while but this one was ???? It was hot and spicy ???? and set in the 1800s —even better! At first you are annoyed by the hott duke but then you fall madly in love

West Chester, OH

It honestly took me a while to love this book. Once the plot gets going though, it pulls you in hard. Full of unexpected feelings, heartbreak, and the innerworkings of nobility. ⭐️⭐️⭐️⭐️⭐️

Whittier, CA

I don't often read historical romance & was surprised @ how much I liked this book. I really liked all the characters and the story was good. 5♥️ Another BotM book I'm glad I picked & liking the books

brentwood, TN

I loved every part of the story, Dunmore's writing is vivid and kept me flipping pages well into the night. Might be the best "romance" book I've ever read. Like Pride + Prejudice but with more life.