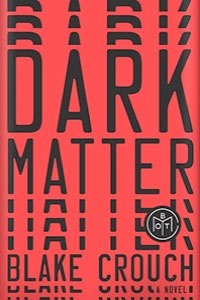 Sci-fi
Dark Matter
BOTY FINALIST
Each year thousands of members vote for our Book of the Year award—congrats to Dark Matter!
Quick take
The author doesn't just build a world: he builds a whole multiverse, with a very singular love story at its core.
Good to know
Emotional

Action-packed

Nonlinear timeline

Unsettling
Synopsis
"Are you happy with your life?"
Those are the last words Jason Dessen hears before the masked abductor knocks him unconscious.
Before he awakens to find himself strapped to a gurney, surrounded by strangers in hazmat suits.
Before a man Jason's never met smiles down at him and says, "Welcome back, my friend.'"
In this world he's woken up to, Jason's life is not the one he knows. His wife is not his wife. His son was never born. And Jason is not an ordinary college physics professor, but a celebrated genius who has achieved something remarkable. Something impossible.
Is it this world or the other that's the dream? And even if the home he remembers is real, how can Jason possibly make it back to the family he loves? The answers lie in a journey more wondrous and horrifying than anything he could've imagined—one that will force him to confront the darkest parts of himself even as he battles a terrifying, seemingly unbeatable foe.
Dark Matter is a brilliantly plotted tale that is at once sweeping and intimate, mind-bendingly strange and profoundly human—a relentlessly surprising science-fiction thriller about choices, paths not taken, and how far we'll go to claim the lives we dream of.
Why I love it
Maris Kreizman
Author, Slaughterhouse 90210
In science fiction, world building is key—the best books are the ones in which the author creates a convincing setting, where there are exact rules and ways of behaving that make sense unto itself, no matter how far-fetched the overall concept. In Dark Matter, Blake Crouch doesn't just build a world: he builds a whole multiverse in which various versions of the world exist simultaneously, with a very singular love story at its core. Crouch makes you feel as smart as a scientist, even though you may remember almost nothing from high school physics. With his clear, crisp prose, you might even grasp enough quantum mechanics theory that you won't ever have to open up Google to fully understand. And, with your science knowledge up to speed, he takes you on an incredibly action-packed and winding journey that doesn't let up for a second.
Dark Matter is the story of Jason Dessen, an intensely devoted family man with a lackluster career. One day he's abducted by a mysterious stranger, and every assumption he'd had about his life is yanked away. He finds himself in a disorienting world both similar and different from his "real" life. But the power of love is so strong that Dessen is willing to endure a long, strange quest to find his way home and rejoin his family.
Paced like a thriller, Dark Matter is also surprisingly philosophical; at its core is this question: "If you strip away all the trappings of personality and lifestyle, what are the core components that make me me?" The scope of the novel can seem infinitely huge, but Crouch's protagonist remains relatable and reachable even as the story twists and turns to mind-bending extremes. The action barely stops, but the conclusion remains immensely satisfying even after you've caught your breath and returned back to our own universe.
Member ratings (22,421)
Castle Rock, CO

Dark Matter is an especially clever sci-fi with just enough twists & turns to really pull you in. The eeriness towards the second half of the book was right up my alley. I highly recommend! ⭐️⭐️⭐️⭐️⭐️

Albuquerque, NM

Oh my goodness this book!!! If you've ever thought the grass might be greener, do yourself a favor a pick this book up. It's filled with fascinating twists and turns, with a heart-warming baseline. ❤️

Lexington, KY

I absolutely can't say enough good things about this incredible book. I've never read anything like it and really couldn't put it down. I found myself thinking about it for weeks after. READ THIS!

Manvel, TX

This book was not what I was expecting and unlike anything I've read. Thriller. Sci-Fi. Romance. It's twisted, nerdy, and amazing. I finished it in one day because I was completely entranced. READ IT

Billings, MT

Wow! Dark Matter is a mix of sci-fi, thriller, suspense, and a love story, but it's ultimately about the choices we make, how they shape our lives, and what matters most. I couldn't put it down! 10/10