Historical fiction
Enchanted Islands
Quick take
The author has re-imagined one of the stranger episodes of Galapagos history as something of an intelligence race, an ex-spy's tell-all.
Why I love it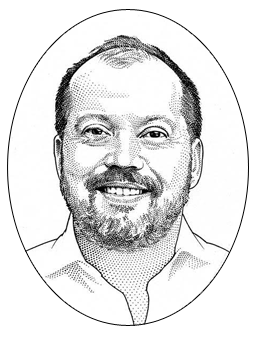 Alexander Chee
Author
The website of the Galapagos Conservancy contains this curiously understated comment: "In the 1930s, a small group of people tried to colonize the island but ultimately failed. Their story is told in the book The Enchanted Islands: A Five-year Adventure in the Galapagos by Ainslie and Frances Conway."
But what if the Conways were more than just failed colonists? What if they really were spies, as has been rumored? What if their seemingly hapless mission in fact a part of something more dangerous? This is the subject of Allison Amend's new novel, in which she has re-imagined one of the stranger episodes of Galapagos history as something of an intelligence race, an ex-spy's tell-all. The book is also the memoir of a lifelong friendship and a compelling account of the experience of a Jewish Eastern European immigrant woman in America just before World War II.
The result is a novel that reads like the prequel I have always hoped for to one of my favorite Hitchcock films, The Lady Vanishes in which the title character, a seemingly kind old woman, turns out to be a veteran spy.
When we meet Frances, the hero and narrator of Enchanted Islands, she is a salty retiree in a nursing home where she lives with her best friend from childhood, Rosalie. After Rosalie is honored for her "work during the war," Frances, chafing with jealousy, heads off down the halls of memory, recounting her life from a childhood with Rosalie through the real account of what she did for her country on the Galapagos many decades before.
Frances is not a terrific spy, but she is determined, and she also has a great love for the Galapagos, which at the time was a barren and desolate part of the world. The mission involves her adapting to a land with no arable farmland and no culture except that which she brings with her. Populated with a handful of survivalists, the Galapagos colony is visited infrequently by ships bringing supplies, mail, news of the impending war in Europe, and classified communications. Frances and Ainslie have been dispatched to keep an eye on a few Germans who – it is suspected – might be sending information back to the Nazis about the Galapagos' viability as a stopover point between Japan and the U.S.'s crucial but relatively undefended territory in the Panama Canal. Frances' initial excitement about the mission – keeping the Galapagos out of the hands of the enemies and preserving it as a potential American base – is quickly subsumed by the everyday hardships of surviving on an island with almost no resources.
The mission also strands her in an arranged marriage with a handsome man about a decade younger than her. But they learn to make do, and soon enough, fall into an "arrangement" that suits them and their mission both. Frances is a fascinating character, a woman society otherwise had no use for, who finds a way to become essential, first to herself, then to others. By turns funny, moving, and suspenseful, it is an adventure of several kinds set at the edge of the world with an unforgettable heroine.
Member ratings (777)
Henrico, VA

The story takes its time unwinding, but somehow never feels slow. Maybe that's because Frances is such a delightful narrator. Her sly humor and self-awareness make for an unexpectedly emotional read.

Houston, TX

Beautifully written. I'm not sure of just how much of the book was historical vs how much was fictional, but it left me wanting to know more about Frances and Ainsley Conway. Truly captivating story.

campbell, CA

There is a reflective quality to this book. It made me think about the relationships in my life. I loved that it was partially set in the Bay Area - I kept wanting to retrace the character's steps.

Chambersburg, PA

Yes! I just loved this story and the characters. Frannie is one fierce role model but not in an obvious way. I fell in love with her instantly. Loved different relationships explored in this book!

Richmond, VA

Even though this book was slow, it felt like a really rich cup of coffee. The descriptions, the characters, and even the story that was over the course of so many years. This book was stunning.