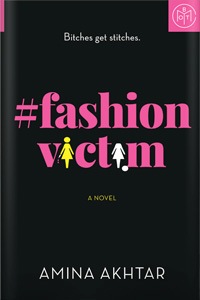 Thriller
#FashionVictim
Debut
We love supporting debut authors. Congrats, Amina Akhtar, on your first book!
Quick take
A murderously clever send-up of the fashion world and the girls who will kill to rule it.
Good to know
Heavy read

LOL

Creepy

Unlikeable narrator
Synopsis
Fashion editor Anya St. Clair is on the verge of greatness. Her wardrobe is to die for. Her social media is killer. And her career path is littered with the bodies of anyone who got in her way. She's worked hard to get where she is, but she doesn't have everything.
Not like Sarah Taft. Anya's obsession sits one desk away. Beautiful, stylish, and rich, she was born to be a fashion world icon. From her beach-wave blonde hair to her on-trend nail art, she's a walking editorial spread. And Anya wants to be her friend. Her best friend. Her only friend.
But when Sarah becomes her top competition for a promotion, Anya's plan to win her friendship goes into overdrive. In order to beat Sarah … she'll have to become her. Friendly competition may turn fatal, but as they say in fashion: One day you're in, and the next day you're dead.
Free sample
Get an early look from the first pages of Amina Akhtar's #FashionVictim.
#FashionVictim
Two years ago
Elmer's glue sticks changed their formula. They used to smell better, more toxic. More likely to get you high. I bet a bunch of fifth graders used to sniff and lick the shit out of them, and their mommies complained, so the company had to dial it down. They were barely usable now, but I still liked them; they were good for mood boards. Some people like to use pins for mood boards, but where was the dedication in that? The commitment? If you want to have a fucking mood, own it. Put some elbow grease into it.
I cut carefully along the photo, making sure to get her hair in. Her perfect fucking hair. I wanted hair like that. Long, cascading, blonde. My hair wasn't like that—it was just below my shoulders and dark brown. Too thick, too wavy. She had extensions in this shot. I know because I've sneaked into the same parties as her just to catch a glimpse. Her eye makeup sparkled; her lips were ultraglossy. She wore Gucci boots and supertight jeggings and carried a comically large bag by Ce?line. She wore her hair at different lengths during the week, courtesy of extensions. Later, I copied that look to a T. It was amazing what those bags could carry.
My mood board was filled with shots of Sarah out partying, going to fashion shows, beaming at the camera. She was an associate editor at La Vie, and she was perfect. Her family was rich, she was gorgeous, and her closet would make you cry. She was the opposite of me. I didn't have photo spreads in magazines. I didn't have summer houses and beach cottages. I had barred windows as a kid and a paper cup full of pills. Now I had a small apartment, but it wasn't as nice as Sarah's. (There were photos online.)
Why I love it
Have you ever thought about sticking a shard of glass into someone's chest and kicking them while they're bleeding out? Yeah, me neither. But you might, after reading #FashionVictim. I'm in the entertainment industry, and I've had my fair share of insufferable comments and shade. But I've never met anyone as daunting as the backstabbing (yes, I mean that literally) coterie of girls in this delicious parody about the fashion world's most ruthless social climbers.
Anya's fixation on her co-worker Sarah Taft borders on the psychotic. Stylish and stunningly hot, Sarah's rise to the top of the fashion influencer game seems practically pre-ordained. Anya's just looking to cling to her coattails—but when a promotion is announced that they both want, her little obsession becomes, well, lethal.
I sustained a few papercuts tearing through this book, but they were all worth it. Not only is this story of millennial schemers in designer clothes compulsively readable, but Anya's voice—she's a sociopath, don't forget, and the judgiest mean girl ever—is as cutting as a sharpened stiletto. This is an inside account of the fashion world from a debut author who has been there and seen it all.
Member ratings (2,747)
GREEN BAY, WI

Seriously, if Dexter were a woman who loved fashion — you'd have Anya St. Clair. She's 100 percent diabolical and someone you do NOT want to cross. Think of her as a totally unhinged Carrie Bradshaw

Iowa City, IA

Perfect mix of popular girl cattiness, Dexter style problem solving and a good sense of humor. Anya's character was fantastic. She's very relatable, aside from being a murderer. Amazing debut novel!

spokane, WA

I thought for sure that I wouldn't like this book, but I absolutely adored it! It's darkly hilarious, and almost feels like if a teen fashion rag and Hannibal had a baby. I love love love this book.

JERSEY CITY, NJ

OMG this was one of October best read! Me and my buddy read was so hooked. We couldn't stop reading it at all. I finish this awesome book in 2 days. Hope to see more books from this author. ????????????

Waco, TX

Obsessed with this book! You love to hate the main character as you get invested in her "unique methods" of rising to the top and bypassing any viewed as competition. Joe Goldberg if he was a woman 🤣