Romance
Georgie, All Along
Quick take
A love letter to anyone who's struggled to find their way, this is a swoon-worthy reminder to always bet on yourself.
Good to know
Emotional

Buzzy

Salacious

Underdog
Synopsis
Longtime personal assistant Georgie Mulcahy has made a career out of putting others before herself. When an unexpected upheaval sends her away from her hectic job in L.A. and back to her hometown, Georgie must confront an uncomfortable truth: her own wants and needs have always been a disconcertingly blank page.
But then Georgie comes across a forgotten artifact—a "friendfic" diary she wrote as a teenager, filled with possibilities she once imagined. To an overwhelmed Georgie, the diary's simple, small-scale ideas are a lifeline—a guidebook for getting started on a new path.
Georgie's plans hit a snag when she comes face to face with an unexpected roommate—Levi Fanning, onetime town troublemaker and current town hermit. But this quiet, grouchy man is more than just his reputation, and he offers to help Georgie with her quest. As the two make their way through her wishlist, Georgie begins to realize that what she truly wants might not be in the pages of her diary after all, but right by her side—if only they can both find a way to let go of the pasts that hold them back.
Free sample
Get an early look from the first pages of Georgie, All Along.
Georgie, All Along
Chapter 1
Georgie
Well, well, well.
If it isn't yet another reinvention.
From the sweat-damp bucket seat of my old Prius, I stare in disbelief out my windshield at a storefront I hardly recognize. The last time I came to Nickel's Market and Deli, the red-orange sign above the door had read "N el's M et & D i" and the front window had been haphazardly adorned with white posterboard signs, each crookedly hung rectangle bearing a red-markered message about the week's sales on six-packs or pork rinds or paper towels.
In fact, that isn't just what it looked like the last time I came here.
That's what it looked like every time I came here. All throughout my childhood, all throughout my adolescence.
But Nickel's now is a different story, clearly—its once-dingy brick façade charmingly whitewashed, its new sign artfully vintage-looking and hung perfectly straight above the sparkling-clean front window. Instead of posterboard signs, there's an Instagram-worthy display of seagrass baskets, each filled with fresh produce and rustic-looking loaves of bread, Mason jars full of jewel-toned preserves and jams.
"What the heck," I mutter to myself, even though I shouldn't be surprised. For months, it's exactly this sort of thing that Bel has been banging on about—the various transformations in our once-unremarkable, slightly shabby hometown of Darentville, Virginia. The shops, the tourism, the redevelopment of land along the river—they've all drawn my best friend back here for her own brand of reinvention: city to small town, childfree to mom-to-be, in-the-office workaholic to remote-work part-time consultant.
Why I love it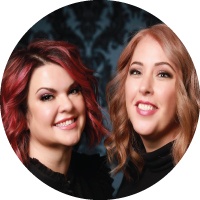 As a Kate Clayborn mega fan, I found myself in the enviable position of reading Georgie, All Along as it was being crafted. Kate is a preternaturally gifted writer who strings together some of the most beautiful sentences in romance today, and this is her most playful, ambitious book yet. I have been waiting impatiently for over a year to sing its praises!
When Georgie Mulcahy finds herself suddenly unemployed, she is a mess. And while she might finally have an opportunity to chase her dreams, she doesn't know what those are, exactly. Back in her hometown she's met with constant reminders of her childhood reputation as a flaky ne'er-do-well, which she fears, deep down, she really is.
Then Georgie finds her old 'friendfic' notebook full of dreams drafted with her childhood best friend. She hopes to find direction by retracing her teenage steps to remember what once inspired her. Georgie recruits an unlikely ally in town hermit and unexpected hot roomie, Levi Fanning (strong contender for Best Book Boyfriend of 2023). In fact, every character rises vibrantly from these pages, inviting readers into this charming but complicated town, where Georgie, with Levi at her side, discovers the grit and love she's carried inside all along.
This book perfectly captures what I love about romance—the heat, humor, wisdom, friendships, and sweet satisfaction of "happily ever after"—and it's hard to find words to do it justice. But one thing is for certain: Georgie, All Along is the book I'll recommend above all others in 2023.
Member ratings (16,812)
Crozet, VA

"The way I love you- that's the sort of love I don't ever want to contain." Georgie and Levi find a love that is for themselves and their own rules. A love that is restricted. So a good love story.

Orlando, FL

Such a cute book. I love to read about a character who is unapologetic about who they are. The character development was wonderful and I truly enjoyed getting to know Georgie ⭐️⭐️⭐️⭐️⭐️

Elko New Market, MN

I loved the raw, realness of Georgie. I really like how she remained the main character with Levi's support, and didn't melt into whatever he wanted. An overall very sweet and "aww" worthy story.

Cando, ND

This was such a sweet book that I could put down! Georgie and Levi definitely had a romcom vibe, but it was perfect for the start of summer! It'll drive you crazy like any good romcom but you'll love!

Norwich, CT

I didn't move for hours because I couldn't stop reading and finished the book in one go. The characters are so relatable it felt real, and the chemistry between the leads made me unable to put it down