Literary fiction
Hello Beautiful
Quick take
We all may contain multitudes but sometimes it takes the help of friends and found family to see beauty in our layers.
Good to know
Emotional

Inspirational

Underdog

Siblings
Synopsis
William Waters grew up in a house silenced by tragedy, where his parents could hardly bear to look at him, much less love him. So it's a relief when his skill on the basketball court earns him a scholarship to college, far away from his childhood home. He soon meets Julia Padavano, a spirited and ambitious young woman who surprises William with her appreciation of his quiet steadiness. With Julia comes her family; she is inseparable from her three younger sisters: Sylvie, the dreamer, is happiest with her nose in a book and imagines a future different from the expected path of wife and mother; Cecelia, the family's artist; and Emeline, who patiently takes care of all of them. Happily, the Padavanos fold Julia's new boyfriend into their loving, chaotic household.
But then darkness from William's past surfaces, jeopardizing not only Julia's carefully orchestrated plans for their future, but the sisters' unshakeable loyalty to one another. The result is a catastrophic family rift that changes their lives for generations. Will the loyalty that once rooted them be strong enough to draw them back together when it matters most?
Free sample
Get an early look from the first pages of Hello Beautiful.
Hello Beautiful
William
FEBRUARY 1960 – DECEMBER 1978
For the first six days of William Waters's life, he was not an only child. He had a three-year-old sister, a redhead named Caroline. There were silent home movies of Caroline in which William's father looked like he was laughing, a sight William never saw again. His father's face looked open, and the tiny redhead, who pulled her dress over her face and ran in giggling circles in one of the movies, was apparently the reason. Caroline developed a fever and a cough while William and his mother were in the hospital after his birth. When they came home, the little girl seemed to be on the mend, but the cough was still bad, and when her parents went into her room to get her one morning, they found her dead in her crib.
William's parents never mentioned Caroline while William was growing up. There was one photograph of her on the end table in the living room, which William traveled to occasionally in order to convince himself that he'd actually had a sister. The family moved to a navy-shingled house on the other side of Newton—a suburb of Boston—and in that house, William was an only child. His father was an accountant who worked long hours downtown. With his daughter gone, the man's face never opened again. William's mother smoked cigarettes and drank bourbon in the living room, sometimes alone and sometimes with a female neighbor. She had a collection of ruffled aprons that she wore while preparing meals, and she became agitated whenever one became stained or messy.
"Maybe you shouldn't wear the aprons while you cook," William said once, when his mother was red-faced and on the verge of tears over a dark blotch of gravy on the fabric. "You could tuck a dish towel in your belt instead, like Mrs. Kornet does."
His mother looked at him as if he'd spoken in Greek. William said, "Mrs. Kornet, who lives next door? Her dish towel?"
Why I love it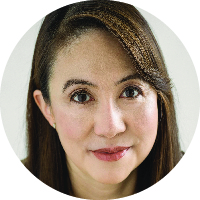 In Dear Edward, Ann Napolitano gave us an amazing story about resilience and building a new life with hope, grace, and love. She works that magic again in Hello Beautiful, a profoundly moving story about the power of human connection and family loyalty, and a gorgeous modern tribute to Louisa May Alcott's classic Little Women.
The story begins in the 1960s with William Waters, a neglected, broken boy who escapes his loveless home by earning a basketball scholarship to Northwestern. There, he meets Julia Padavano, the oldest of four sisters who are remarkably close, and becomes part of her loving, boisterous family. Maybe it's because I'm an only child, but I've always wanted a big family like the Padavanos—the chaos, the constant drama, the messy, loud fights and even messier, louder reconciliations , and through it all, a seemingly unbreakable bond. But can William truly become part of a family so unlike his own? And what happens when tragedy strikes and threatens—perhaps even severs—that bond of loyalty?
There's so much to love and admire about this book: the way Napolitano masterfully captures the defining moments in two families' lives over a span of 50 years, the sensitive exploration of the impact of mental illness, fascinating insights on the role of women in business in the 1980s, and even action-packed basketball scenes! (A huge plus for me, putting on my mom-of-three-basketball-crazed-boys hat.) Hello Beautiful is a book to treasure and share with friends and loved ones.
Member ratings (6,282)
Warrington, PA

⭐️⭐️⭐️⭐️⭐️ BEAUTIFULLY written, well-developed story following sisters through their intertwined lives and the bonds of family. I loved the characters and couldn't stop reading to learn their fates.

Ithaca, NY

Written in various voices throughout several decades it is rich, complex, filled with the emotion of a messy family. Marriage and child rearing are complicated and don't come with an owner's manual.

Grandville, MI

Hello Beautiful indeed! At times, while I was reading it, I thought, I can't recommend this. It felt so sad, heavy. But if you're willing, the painful parts are worth it, just like Life. 5 stars.

Oceanside, CA

This was one of the best books I have read. The sadness of a boy who was unloved, and how it was the undercurrent throughout most of his life . It ended on a hopeful note, which was his breakthrough.

Bay City, MI

This book had a lot of character development! I almost quit the book after 200 pages but I couldn't leave one of the main characters, William. I am glad I stuck with it! Second half fast!Incredible!!!