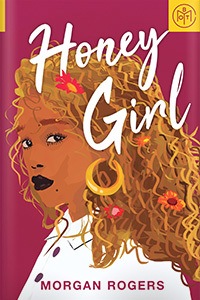 Contemporary fiction
Honey Girl
Debut
We love supporting debut authors. Congrats, Morgan Rogers, on your first book!
Quick take
When a classic Virgo gets spontaneously married, she starts reexamining her life—and what it is she truly wants.
Good to know
LGBTQ+ themes

Quirky

Female friendships

Millennial
Synopsis
With her newly completed PhD in astronomy in hand, twenty-eight-year-old Grace Porter goes on a girls' trip to Vegas to celebrate. She's a straight A, work-through-the-summer certified high achiever. She is not the kind of person who goes to Vegas and gets drunkenly married to a woman whose name she doesn't know…until she does exactly that.
This one moment of departure from her stern ex-military father's plans for her life has Grace wondering why she doesn't feel more fulfilled from completing her degree. Staggering under the weight of her father's expectations, a struggling job market and feelings of burnout, Grace flees her home in Portland for a summer in New York with the wife she barely knows.
In New York, she's able to ignore all the annoying questions about her future plans and falls hard for her creative and beautiful wife, Yuki Yamamoto. But when reality comes crashing in, Grace must face what she's been running from all along—the fears that make us human, the family scars that need to heal and the longing for connection, especially when navigating the messiness of adulthood.
Free sample
Get an early look from the first pages of Honey Girl.
Honey Girl
Prologue
In Las Vegas, they sell cheap replicas of the love locks from the Parisian bridge for twenty-five dollars. You can buy them on your way out of a chapel, drunk and giggly and filled with champagne bubbles. There is someone on your arm, a girl whose name you cannot remember, or perhaps never knew.
She says, "Let's get one of these," and points to the locks. Their shiny surfaces barely echo the originals, but a pretty girl asks, and you say yes.
It's the second time you've said yes, but you don't remember that yet. So, you say yes to this, to this replica lock in a replica city.
In your hazy, champagne-pink reality, you find somewhere for these locks. You won't remember where later, but now—But now.
This place is sacred. This place has two people, bound together by ceremony and glittering bands around their left ring fingers. This place has roses that bloom purple and pink and red that can be seen even at night. This place has links in a fence, and the lock clicks into place with finality.
Why I love it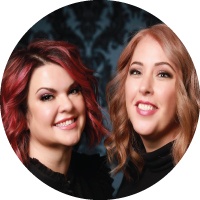 When you crack open Morgan Roger's Honey Girl, the first thing you'll notice is the power of her voice. Evocative, playful, inventive—this debut novel sings. And while Honey Girl lured us in with the powerhouse writing and an addictive married-in-Vegas trope, it was the story of Grace Porter tumbling into adulthood and learning to find herself that kept us turning the page.
Queer and Black in a world that expects her to be twice as good as everyone else just to get by, Grace has never had a lazy day in her life. With her PhD finally in hand, it's time for all that hard work to pay off—just like she'd planned. But when Grace gets drunk, marries a girl she just met, and doesn't get the job for which she'd been recommended, she registers that she needs to take space to breathe and pick herself back up. It's these moments of stark self-awareness, combined with Roger's visual and emotive storytelling, that provide the oomph in this story, and its most heartfelt throughline: that life doesn't always go to plan, and that's okay.
Honey Girl is about the journey of growing up, the importance of prioritizing mental health, and the beauty of found family. This debut speaks to the girl inside all of us who wants to be perfect, and—through bare-knuckled grit and hard-won perspective—realizes that, flaws and all, she is.
Member ratings (11,432)
Janesville, WI

I cried multiple times with this one. I wanted to learn more about every character and I connected with being in my late 20's-early 30's and feeling stuck, lost, and unsure of your place in the world.

Brooklyn, NY

Loved this book! It was nice to revisit the feeling of infatuation when getting to know someone new, and the awkwardness of modern dat— marriage! I loved learning about Grace and Yuki's interests, too

Yonkers, NY

I love queer romances, and I love multiracial love stories - particularly because that's my life and representation matters. What I loved even more was a relationship between two NON white characters!

Glendale, AZ

This book took me much longer to get through than I expected, but I'm so glad I took my time with it. The story and characters were beautifully written and it felt so real, and made me feel less alone

Carson, CA

I really enjoyed this book. I related to Grace so much and I have thought about this book every day since I've read it. I loved the conversations surrounding expectations and perfectionism. 5/5 stars!