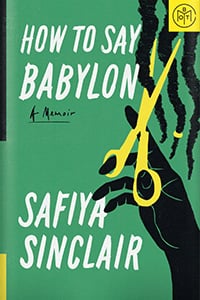 Quick take
A gifted poet reveals how books helped her find a voice in a patriarchal Rastafarian household that sought her silence.
Good to know
Social issues

Cerebral

International

Literary
Synopsis
Throughout her childhood, Safiya Sinclair's father, a volatile reggae musician and militant adherent to a strict sect of Rastafari, became obsessed with her purity, in particular, with the threat of what Rastas call Babylon, the immoral and corrupting influences of the Western world outside their home. He worried that womanhood would make Safiya and her sisters morally weak and impure, and believed a woman's highest virtue was her obedience.
In an effort to keep Babylon outside the gate, he forbade almost everything. In place of pants, the women in her family were made to wear long skirts and dresses to cover their arms and legs, head wraps to cover their hair, no make-up, no jewelry, no opinions, no friends. Safiya's mother, while loyal to her father, nonetheless gave Safiya and her siblings the gift of books, including poetry, to which Safiya latched on for dear life. And as Safiya watched her mother struggle voicelessly for years under housework and the rigidity of her father's beliefs, she increasingly used her education as a sharp tool with which to find her voice and break free. Inevitably, with her rebellion comes clashes with her father, whose rage and paranoia explodes in increasing violence. As Safiya's voice grows, lyrically and poetically, a collision course is set between them.
Content warning
This book contains scenes that depict child abuse.
Free sample
Get an early look from the first pages of How to Say Babylon.
How to Say Babylon
Prologue
Behind the veil of trees, night's voices shimmered. I stood on the veranda of my family's home in Bickersteth in the small hours after midnight, on the lonely cusp of womanhood, searching for the sea. My birthplace, a half speck of coastline hidden by the tangled forest below, was now twenty miles away in the dark. When I was a girl, my mother had taught me to read the waves of her seaside as closely as a poem. There was nothing broken that the sea couldn't fix, she always said. But from this hillside town fenced in by a battalion of mountains, our sea was only an idea in the distance. I pressed my face into the air's chill and listened.
Out here was the bread and backbone of our country. The thick Jamaican countryside where our first slave rebellion was born. These mountains tumbling far inland had always been our sanctuary, hillsides of limestone softened over time, pockets of caves resembling cockpits overgrown with brush, offering both refuge and stronghold for the enslaved who had escaped. Echoes of runaways still hung in the air of the deepest caves, where Maroon warriors had ambushed English soldiers who could not navigate the terrain. The English would shout commands to each other, only to hear their own voices bellowing back at them through the maze of hollows, distorted as through a dark warble of glass, until they were driven away in madness, unable to face themselves. Now more than two centuries later, I felt the chattering night wearing me mad, a cold shiver running down my bones. A girl, unable to face herself.
The countryside had always belonged to my father. Cloistered amidst towering blue mahoes and primeval ferns, this is where he was born. Where he first communed with Jah, roaring back at the thunder. Where he first called himself Rasta. Where I would watch the men in my family grow mighty while the women shrunk. Where tonight, after years of diminishment under his shadow, I refused to shrink anymore. At nineteen years old, all my fear had finally given way to fire. I rebuked my father for the first time, which drove him from the house in a blaze of fury. What would happen to me once he returned, I did not know. As my siblings and mother slept inside, frightened and exhausted by the evening's calamity, I paced the dark veranda, trying to read the faint slip of horizon for what was to become of me.
Why I love it
Jerrod MacFarlane
BOTM Editorial Team
Memoirs can offer us a unique and exhilarating opportunity to connect intimately with lives and cultures quite unlike our own. Safiya Sinclair's lyrical memoir How to Say Babylon is a beautiful and moving addition to the genre, taking readers deep into the singular Rastafarian family and community she was raised in.
The oldest child of a fast-growing brood, Safiya grows up curious and inquisitive. But she must be careful. Her father, a reggae musician and devotee of a militant sect of Rastafarianism, is a mercurial and controlling force. He fears that what he refers to as "Babylon," malignant outside western influences, will sully Safiya and her sisters. Thus he tightly manages every aspect of their lives from dress to education. But in the shadow of his paranoid and controlling behavior, Safiya's mother sneaks her daughters books. In these books, Safiya begins to find a voice and wider view of the world. One where she might set her own path. This eventually puts her on a tumultuous but necessary collision course with her father and his expectations.
Crafted with the precise language of a poet, How to Say Babylon is more than just the story of a turbulent family history or artist's coming of age. Deftly interweaving personal and societal, it captures the long tendrils of colonial history that thread through every dimension of Jamaican society. Pick this special memoir up if you are ready to encounter a powerful new literary voice and have your sense of the world enlarged!