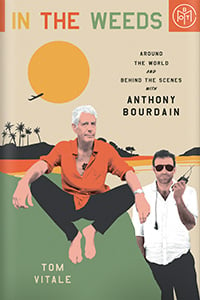 Narrative nonfiction
In the Weeds
Debut
We love supporting debut authors. Congrats, Tom Vitale, on your first book!
Quick take
An up-close and personal behind-the-scenes look at the culinary and cultural adventures of Anthony Bourdain.
Good to know
Emotional

Action-packed

Drug & alcohol use

Quest
Synopsis
In the nearly two years since Anthony Bourdain's death, no one else has come close to filling the void he left. His passion for and genuine curiosity about the people and cultures he visited made the world feel smaller and more connected. Despite his affable, confident, and trademark snarky TV persona, the real Tony was intensely private, deeply conflicted about his fame, and an enigma even to those close to him. Tony's devoted crew knew him best, and no one else had a front-row seat for as long as his director and producer, Tom Vitale.
Over the course of more than a decade traveling together, Tony became a boss, a friend, a hero and, sometimes, a tormentor. In the Weeds takes readers behind the scenes to reveal not just the insanity that went into filming in some of the most far-flung and volatile parts of the world, but what Tony was like unedited and off-camera. From the outside, the job looked like an all-expenses-paid adventure to places like Borneo, Vietnam, Iran, the Democratic Republic of Congo, and Libya. What happened off-camera was far more interesting than what made it to air. The more things went wrong, the better it was for the show. Fortunately, everything fell apart constantly.
Free sample
Get an early look from the first pages of In the Weeds.
In the Weeds
Author's Note
I don't know if my life ended or if it began when I started working with Tony. Whatever the hell I did for a living was so vivid and spectacular, it all but consumed me. Then, without warning, it was over forever, reduced to nothing more than a memory.
In my case the old cliché that life has a funny way of turning the tables when you least expect it rang uncomfortably true. Each two-week shoot contained a lifetime's worth of adventures, and there'd been so many trips, I'd lost count. Accustomed to the adrenaline rush of making split-second decisions with far-reaching consequences, I now found myself unemployed, with nowhere to go and poorly suited to handling simple everyday tasks. I still wrote 2006 on checks. I still wrote checks, for Christ's sake. Even more disorienting, I went from the comfortable position of hiding behind the camera to struggling to articulate my own story.
And by struggling to articulate, what I really mean is that I found every excuse not to write this damn book. I grew a pandemic mustache. I consolidated, then organized, my extensive matchbook collection. I researched the nesting habits of a threatened species of birds that I didn't have the heart to evict from my chimney. I learned how to make mulberry jam. The one thing I didn't do was write.
Why I love it
Jon Reiss
Author, Look At Me!
It's rare for a relationship to warrant a book, let alone a relationship with a famous person everyone thinks they already know. But in the case of Tom Vitale's adventures alongside chef and raconteur Anthony Bourdain as his longtime producer and director, a book was not only warranted, it was a necessity. By turns compelling, inspiring, and often humorous, Vitale's memoir portrays the iconic cultural figure with a level of depth previously unseen. In the Weeds captures Bourdain and crew in full, messy realism.
In the wake of his passing, much has been written and said about Bourdain but rarely with anything resembling the candor that defined his own work. In the Weeds bucks the hagiographic trend, offering us insight into a far more complex figure—a man that could be as cruel as he was brilliant, whose approval is described by the author at one point as "cutthroat affection." Bourdain is often portrayed as lighthearted and humorous in his interactions with Vitale and the rest of the crew, albeit with a masochistic streak that is never far from the surface. The same man whose immense empathy and passion helped to produce incisive and profound portrayals of maligned and often ignored communities can also be seen pressuring his trusted producer/director to murder a chicken while traveling through Congo. Despite these difficult moments, Bourdain seems to engender unyielding respect and loyalty from Vitale and company through his passion and brilliance.
In the Weeds takes the reader on adventures across the globe with heaping portions of steaming delicacies at every turn. The crew's journeys often feel like those of a dysfunctional rock band but pervaded with a fierce sense of loyalty and camaraderie. And Bourdain's brilliance can not only be felt, but shines through brightly under the author's honest and roving gaze.
Member ratings (3,240)
Providence, RI

I wasn't sure how I'd like this since I really love Bourdain's writing. But - I thought it was GREAT! It was hilarious, heartbreaking, riveting. I read this book in like 2 days - couldn't put it down!

Weatherford, TX

My favorite BOTM ever. I love Anthony Bourdain's books and I appreciated this story showing not just what everybody thought of Anthony Bourdain but the ugly, gritty parts too. I'm sad I've finished.

Atlanta , GA

They warn you to never meet your heroes, but they don't say anything about reading them. I'm glad that this book held my hand and took me along on the adventure that was too painful to return to. ????

Chico, CA

Things that made this a gripping read for me: behind-the-scenes on a groundbreaking travel show, a new perspective on Anthony Bourdain, the real-time grappling with grief. Like nothing else I've read.

Perkasie, PA

This is like nothing I have ever read before, in the best way possible. I did not want to put the book down from the very first page and regret starting to read it on a Sunday night. The was amazing!!