Quick take
When bodies begin to appear on the pages of her book as well as in Liza's 'real' life, will she be able to distinguish between what is actual reality and what is fiction?
Synopsis
Sometimes the truth is darker than fiction.
Liza Cole has thirty days to write the thriller that could put her back on the bestseller list. In the meantime, she's struggling to start a family with her husband, who is distracted by the disappearance of his best friend, Nick. With stresses weighing her down in both her professional and her personal lives, Liza escapes into writing her latest heroine, Beth.
Beth is a new mother who suspects her husband is cheating on her while she's home alone caring for their newborn. Angry and betrayed, she sets out to catch him in the act and make him pay for shattering the illusion of their perfect life. But before she realizes it, she's tossing the body of her husband's mistress into the East River.
Then the lines between fiction and reality begin to blur. Nick's body is dragged from the same river and Liza's husband is arrested for his murder. Before her deadline is up, Liza will have to face up to the truths about the people around her, including herself. If she doesn't, the end of her heroine's story could be the end of her own.
Lies She Told
From chapter one:
It is hard to believe that a man is telling the truth when you know that you would lie if you were in his place. '"Henry Louis Mencken, A Little Book in C Major
I don't know this man. Fault lines carve his cheeks from his gaping mouth. His brow bulges above narrowed eyes. This man is capable of violence.
'œDid you think I wouldn't find out?' Spittle hits my face as he screams. Fingers tighten around my biceps. My bare heels leave the hardwood. He's lifting me to his level so that there's no escape, no choice but to witness his pain. 'œDid you think I wouldn't read it?'
I feel my lips part, my jaw drop, but the sheer volume of his voice silences me. His grip loosens enough for my feet to again feel the floor.
'œAnswer me.' He whispers this time, the hiss of a kettle before the boil.
'œI didn't do anything.' Tears drown my words.
'œWhy, Liza? Tell me why he had to die.' His speech is measured. I wish he would swear, call me names. If he were out of control, I could calm him down, negotiate, maybe even convince him that everything has been a misunderstanding. But he's resolved. His questions are rhetorical. There's a gun on the dining table.
'œPlease.' Sobs fold me in half. I press my hand to the wall, seeking leverage to stand. 'œI don't know.'
He yanks my arm, forcing me from the corner. My knee slams against the jutting edge of the bed as he pulls me toward the oak writing desk and open laptop. The offending document lies on the screen. I'm pushed down into the desk chair and rolled forward.
'œYou expect me to believe this is a coincidence?' His index finger jabs the monitor.
'œIt's a story,' I plead. 'œIt's only a story.'
Why I love it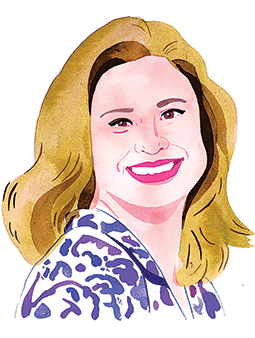 Stacey Armand
"You Be the Judge" Winner
Great authors 'œwrite what they know.' But when an author writes about murder, things can get a bit squirrely. In Lies She Told, the protagonist seeks to revive her literary career by writing a hot new thriller. But as the plot she writes begins to blur with her own life, the reader is left to sort out what's true, and what are lies. After all, who doesn't love a 'œbook within a book''"especially when they're both thrillers.
It has been years since Liza Cole has known success in the literary world, and her publisher has given her one more shot at redemption. Meanwhile, Liza's personal life is also falling apart. After multiple failed fertility treatments, she and her husband David find themselves cracking from the emotional strain. David's answer is to drown himself in his work at the law firm while Liza puts her last hope for a baby on a controversial hormone experiment. With her book deadline looming and the hormone treatment causing alarming side effects, Liza starts to slowly unravel.
Lies She Told is also an interesting examination of a writer and her craft. Holahan delves into the writing process and explores where author inspiration comes from and how creating a story can often take on a life all its own. I absolutely loved the dynamic between Liza and her protagonist, and how both their stories are packed with crazy plot twists. The writing is smart, and the way the stories blend together is a testament to Holahan's own skill as an author. Liza's notion that to be a writer is to be a 'œcon artist' and 'œa life thief' was never far from my mind as I began to wonder how much of her story was indeed a con and how much was truth.
Pour a glass of wine and immerse yourself in the parallel worlds of Liza and Beth. Pay attention, dear reader, as the two stories merge into one. When bodies begin to appear on the pages of her book as well as in Liza's 'œreal' life, will she be able to distinguish between what is actual reality and what is fiction? Will you?