Short stories
Lot
Debut
We love supporting debut authors. Congrats, Bryan Washington, on your first book!
Quick take
A young black Latino comes of age in Houston, Texas.
Good to know
Social issues

LGBTQ+ themes

Literary

No quotation marks
Synopsis
In the city of Houston—a sprawling, diverse microcosm of America—the son of a black mother and a Latino father is coming of age. He's working at his family's restaurant, weathering his brother's blows, resenting his older sister's absence. And discovering he likes boys.
Around him, others live and thrive and die in Houston's myriad neighborhoods: a young woman whose affair detonates across an apartment complex, a ragtag baseball team, a group of young hustlers, hurricane survivors, a local drug dealer who takes a Guatemalan teen under his wing, a reluctant chupacabra.
Bryan Washington's brilliant, viscerally drawn world vibrates with energy, wit, and the infinite longing of people searching for home.
Free sample
Get an early look from the first pages of Lot.
Lot
Lockwood
1.
Roberto was brown and his people lived next door so of course I went over on weekends. They were full Mexican. That made us superior. My father found every opportunity to say it, but not to their faces. So Ma took it upon herself to visit most evenings. She still didn't have many friends on the block—we were too dark for the blancos, too Latin for the blacks.
But Roberto's mother dug the company. She invited us in. Her husband worked construction, pouring cement into Grand Parkway, and they didn't have any papers so you know how that goes. No one was hiring. She wasn't about to take chances. What she did with her days was look after Roberto.
They lived in this shotgun with swollen pipes. It was the house you shook your head at when you drove up the road. Ma brought over yucca and beans from the restaurant, but then my father saw and asked her who the fuck had paid for it. Javi, Jan, and I watched our parents circle the kitchen, until our father grabbed a bowl of rice and threw it on the tile. He said this was what it felt like to watch your money walk. Maybe now Ma'd think before she shit on her familia. And of course it didn't stop her—if anything, she went more often—but Ma started leaving the meals at home; instead, she brought me and some coffee and tinned crackers.
Roberto had this pug nose. He was pimply in all the wrong places. He wore his hair like the whiteboys, and when I asked why that was he called it one less thing to worry about. His fam couldn't afford regular cuts, so whenever they came around the barber clipped off everything. I told him he looked like a rat, like one of the blanquitos biking all over town, and Roberto said that was cool but I was a fat black gorilla.
Why I love it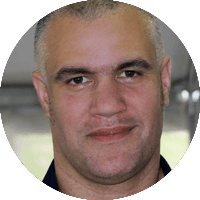 Mat Johnson
Author, Pym and Loving Day
I'm the greediest kind of fiction reader, because I want it all. I want a book that grabs me in a headlock and won't let me put it down without a fight. I want a book with characters and conflicts that pull me in. I want a book that haunts me long after I've read its final page. I want it to let me see the world in a fresh way that's been there the whole time yet has eluded me so far. And I got all this, and more, from Bryan Washington's Lot.
Lot is a linked collection of stories that reads like a novel. Connected largely by a central, unnamed young man who carries the reader on his shoulders, it's a portrait of the far back corner of Lockwood, a diverse, working-class neighborhood in Houston, Texas. A place where families struggle with how to be their true selves and survive at the same time. But Lot's so much more than that.
The best way I can describe this book is that it's alive. You don't read Lot: It speaks to you, through a voice on the page so real, so intimate, you can almost hear it breathing in your ear. Debut author Bryan Washington is already a master storyteller, and this is just one of the many truths Lot shares with us.
Member ratings (1,908)
Munster, IN

This was an interesting book. It was a novel with every other chapter being a short story to give a better idea of the area of houston it's set in. It was a great story that I loved reading. LGBTQIA+

Greenville, SC

Thought provoking book. I didn't always understand the parts that were written in a Latino voice, but I think that was a part of the total impact - how I got to peek into a world different than mine.

Ithaca, NY

Incredible; an almost surreal journey. An emotional read, for sure, but is absolutely worth it to take your time to go through. Washington's style is bold and conversational yet abstractly beautiful.

chicago, IL

I wanted this book to be longer! Each story was interesting & painted a picture of Houston's brown & queer communities. I loved that the book could be a/b any major city. I didn't want the book to end

Evanston, IL

Very real and raw perspective. Each story was so full, it felt like I needed to pay attention the whole time or I'd miss something. I think it would be best to read each story in a separate sitting.