Narrative nonfiction
Maybe You Should Talk to Someone
Quick take
A sneak peek into the life of a therapist, as told by another therapist.
Synopsis
One day, Lori Gottlieb is a therapist who helps patients in her Los Angeles practice. The next, a crisis causes her world to come crashing down. Enter Wendell, the quirky but seasoned therapist in whose office she suddenly lands. As Gottlieb explores the inner chambers of her patients' lives—a self-absorbed Hollywood producer, a young newlywed diagnosed with a terminal illness, a senior citizen threatening to end her life on her birthday if nothing gets better, and a twenty-something who can't stop hooking up with the wrong guys—she finds that the questions they are struggling with are the very ones she is now bringing to Wendell: about desire and need, guilt and redemption, meaning and mortality, loneliness and love.
Free sample
Get an early look from the first pages of Maybe You Should Talk to Someone.
Maybe You Should Talk to Someone
1
Idiots
Patient reports feeling "stressed out" and states that he is having difficult sleeping and getting along with his wife. Expresses annoyance with others and seeks help "managing the idiots."
Have compassion.
Deep breath.
Have compassion, have compassion, have compassion ...
I'm repeating this phrase in my head like a mantra as the forty-year-old man sitting across from me is telling me about all of the people in his life who are "idiots." Why, he wants to know, is the world filled with so many idiots? Are they born this way? Do they become this way? Maybe, he muses, it has something to do with all the artificial chemicals that are added to the food we eat nowadays.
"That's why I try to eat organic," he says. "So I don't become an idiot like everyone else."
Why I love it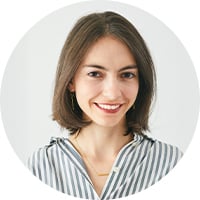 Brianna Goodman
BOTM Editorial Team
Growing up, I didn't know anyone who went to therapy—by which I mean, I didn't know anyone who talked about going to therapy. Like sharing your weight or how many days it'd been since you'd last washed your jeans, admitting that you visited a therapist was pretty much taboo. It wasn't until I moved to NYC—where, to quote Sex and the City's Stanford Blatch, "even the shrinks have shrinks"—that I learned just how common and not-scary going to therapy can be. If I could hit my younger self over the head with a copy of Maybe You Should Talk to Someone, I would have learned this lesson a lot sooner.
In short chapters that are as funny as they are compassionate, Lori Gottlieb gives readers an inside look at a phenomenon that's often kept hidden: what goes on behind a therapist's closed doors. We watch as she counsels a man who blames all his problems on the "idiots" who surround him. We learn of the newlywed who's just been diagnosed with cancer. And we sit beside Lori herself who, after a less than spectacular breakup, takes her turn on the couch across from her therapist, Wendell.
Like all good therapists, Lori is probing and empathetic, and it is both a comfort and revelation to spend time with her words. Part-memoir, part-psychology, and with a sprinkling of self-help, this book is an entertaining portrait of humanity at its best—and most ludicrous. Whether therapy is on your list of topics to avoid, or you're someone who uses the phrase "my therapist says..." with regularity, I think you'll find Maybe You Should Talk to Someone to be rife with insight, packaged up in delightful and relatable vignettes.
Member ratings (3,587)
Nashville, TN

The book drew me in right away. In writing about her patients' struggles and her own, Gottlieb is able to provide insightful advice about a range of subjects — mortality, meaning, love, and loss. 5⭐️s

Saint Paul, MN

Gottlieb's honesty, humanity, and humor makes for a memoir that's as real as they come. She doesn't hide from the parts of her life that aren't pretty, and tells her story and others with compassion.

Winston Salem, NC

From the beginning of I knew Lori Gottlieb would take me on a roller coaster of emotions. From laughing to crying, hitting me in the feels and reminding me that we are human while sharing nuggets of wisdom

Fort Worth, TX

"I choose neither". This book shows you that you can break through your barriers and choose the life that you want to live. Truly a great book that causes you to self reflect in the best way possible!

Birmingham, AL

I've been going through a difficult time in my life, and this book has been so helpful. It's interesting seeing things from the therapist side, but also seeing her human side trying figure things out.