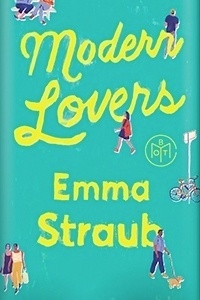 Contemporary fiction
Modern Lovers
Quick take
"The fun in this family drama is watching their lives unspool and wondering if they can be knit back together."
Why I love it
I recently moved out of my mother's home, and it's impossible not to wonder about what she is doing now that my sister and I have left. Although this story is based in Brooklyn and my mother is in New Jersey, I felt immediately pulled into Straub's proposition: What happens when adults are left to focus on themselves while their children are trying to grow up and away? Adulthood is one hell of an experience and no one gets it "right."
The story revolves around three old college friends, now in their late 40s. Zoe and her wife have a restaurant, a home and a daughter together and once monotony sets in, they both wonder if those things are worth staying together for. Down the street, Elizabeth and Andrew, friends turned band mates turned spouses, reach a breaking point in their marriage when one of their band's cult classics may or may not mean new money and revived notoriety. Meanwhile, the daughter and son of these respective couples forge their own relationship, out from underneath the watchful eye of their parents. These characters' situations are special, but the characters themselves are still very accessible. I gravitated to them for their wit and most of all, their vulnerability.
Straub writes in a way that made me feel as though she were gossiping about other families in the neighborhood over a glass of wine and a cheese plate. The characters are relatable and funny, and Straub allowed me to eavesdrop on their lives, as she takes us along their journey, inside their bedrooms, cars, and restaurants. Their neuroses, fears, and coping mechanisms (kombucha and yoga, anyone?) are laughable, both for their absurdity and for their familiarity.
Modern Lovers had me cruising through the pages, diving deeper and deeper into these characters' interiorities. Each page is a delightful piece of the puzzle, and the fun in this family drama is watching their lives unspool and wondering if they can be knit back together. Straub creates a story that is Brooklyn-specific but manages to elegantly balance that with universal themes, like love, identity, and growing up. If you're eyeing this book for its lovely front and back covers, you will not be disappointed by what's in between.
Member ratings (1,374)
Alexandria, VA

Really enjoyed this modern day story of a band, the love between two and the secrets that unraveled over a summer. It flowed well and kept me engaged till the end when I felt my heart swell just a bit

Winston Salem, NC

Captivated by the characters and how their lives stood out individually strong and intertwined beautifully and tangled throughout the course of a Summer. Fingers crossed for a tv series, I want more!

Shawnee, KS

I love everything this woman writes. Her characters are completely believable and so are the conundrums they find themselves in. Straub is my favorite writer. I would read her grocery list, happily.

Aliquippa, PA

Great characters! Storyline takes place over a whole summer and was interesting to see how the characters each evolved over those 3 months. Short chapters make this a quick and fun read.

Kansas City, MO

I loved this story of two couples, friends since being in a college band together, and their teenagers. It's a great look at struggling with what you want out of life at different ages.