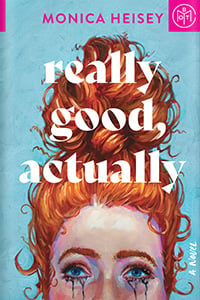 Literary fiction
Really Good, Actually
Debut
We love supporting debut authors. Congrats, Monica Heisey, on your first book!
Quick take
Sometimes after a breakup, you just need to lie facedown and let the mascara and tears flow freely. This book GETS IT.
Good to know
LGBTQ+ themes

LOL

Snarky

Marriage issues
Synopsis
Maggie is fine. She's doing really good, actually. Sure, she's broke, her graduate thesis on something obscure is going nowhere, and her marriage only lasted 608 days, but at the ripe old age of twenty-nine, Maggie is determined to embrace her new life as a Surprisingly Young Divorcée™.
Now she has time to take up nine hobbies, eat hamburgers at 4 am, and "get back out there" sex-wise. With the support of her tough-loving academic advisor, Merris; her newly divorced friend, Amy; and her group chat (naturally), Maggie barrels through her first year of single life, intermittently dating, occasionally waking up on the floor and asking herself tough questions along the way.
Content warning
This book contains mentions of eating disorders.
Free sample
Get an early look from the first pages of Really Good, Actually.
Really Good, Actually
My marriage ended because I was cruel. Or because I ate in bed. Or because he liked electronic music and difficult films about men in nature. Or because I did not. Or because I was anxious, and this made me controlling. Or because red wine makes me critical. Or because hunger, stress, and white wine make me critical, too. Or because I was clingy at parties. Or because he smoked weed every day, and I did not think it was "actually the same thing" as my drinking two cups of coffee in the morning. Or because we fell in love too young, and how could our actual lives compare to the idea we'd had of what our lives could be when we were barely twenty and our bodies were almost impossibly firm? Or because we tried non-monogamy for three months in 2011, and it was just fine, not great. Or because he put hot sauce on everything, without tasting it, even if I'd spent hours balancing the flavors from a recipe I'd had to scroll past a long and detailed story about some woman's holiday to find. Or because he forgot our anniversary once. Or because I did our laundry never. Or because his large Greek family had not quite accepted me as one of their own, even after I learned his yiayia's favorite poem for her birthday. Or because he walked in on me pooping that time. Or because, in 2015, we attended nine weddings and got carried away, and a big party where everyone told us we were geniuses for loving each other and gave us $3,000 seemed like a great idea. Or because we went to Paris and had an argument instead of falling more in love or at least rimming each other. Or because I'd stopped imagining what our children might look like. Or because he'd never started. Or because I was insecure and sometimes petty. Or because he kept insisting we go vegan, then sneaking pizzas into the apartment while I slept. Or because we finished watching The Sopranos and never started The Wire. Or because when we were first getting together, I'd kissed someone else, and sometimes still thought about her. Or because he was needlessly combative, with a pretentious streak. Or because I was a coward, whose work did not "actively seek to dismantle the state." Or because I scoffed when he said that and asked about the socialist impact of his latest Burger King commercial. Or because he called me a cunt. Or because sometimes, I was one. Anyway, it was over.
Why I love it
Anne Healy
BOTM Editorial Team
Have you ever had a book hold a mirror up to you so perfectly that it's almost uncomfortable? But not quite, because someone finally put these undefinable feelings into words? In Monica Heisey's spectacular debut novel, Really Good, Actually, I experienced just that.
Really Good, Actually tells the story of Maggie: a young woman who, you could say, is going through it. Fresh off the heels of a divorce in her late twenties, Maggie feels as though she's prematurely failed at life. She spends a year commiserating with her group chat, ordering mountains of takeout, and often trying—and failing—to date. After bottoming out and receiving some life lessons from friends, Maggie slowly but surely pulls herself together and emerges with a renewed sense of self.
Maggie's distinctive voice and dark humor perfectly encapsulate the paradoxical headspace we all so often embody during our lowest moments. Her journey teaches us that while there are moments we need to be more gentle with ourselves and moments when we need tough love, we're going to make it out the other side.
Really Good, Actually strikes a perfect balance between humor and emotion. When a book makes me laugh and cry this much in equal measure, it's clear I'm holding something special. Whether it finds you in your own downward spiral or you just want a moment to laugh and feel seen, I implore you to pick this book up.
Member ratings (3,092)
Los Angeles, CA

"i wanted to zip into their intimacy & take a nap" this book & its protagonist really won me over by the end with the journey & growth. messy women don't get space to be messy but also figure it out.

New york , NY

This brought me back to Bridget jones diary. I loved this one. It felt real and raw. I know some people hate the format and "randomness" of it but I loved that. I wanted to root for and shake Maggie

Somerville, MA

At times hilarious, maddeningly frustrating, and painfully relatable…I recommend this book for anyone who has been through a rough breakup and is far enough out to have self awareness / humor about it

Mount Rainier, MD

The protagonist is on the extreme end of the Millennial ennui spectrum, but I enjoyed this funny & nihilistic character study. Her compulsions were relatable and her journey to contentment compelling.

Ossining, NY

I want to share this with everyone and also no one because it was so relatable that, in some moments, it took my breath away. Good for anyone who has ever struggled to move on with grace and dignity!