Young adult
The Boy and Girl Who Broke the World
Quick take
An unlikely friendship between a girl who always sees the glass as half empty and a boy who sees it as half full.
Good to know
400+ pages

Multiple viewpoints

Quirky

Magical
Synopsis
Billy Sloat and Lydia Lemon don't have much in common, unless you count growing up on the same (wrong) side of the tracks, the lack of a mother, and a persistent loneliness that has inspired creative coping mechanisms.
When the lives of these two loners are thrust together, Lydia's cynicism is met with Billy's sincere optimism, and both begin to question their own outlook on life. On top of that, weird happenings including an impossible tornado and an all-consuming fog are cropping up around them—maybe even because of them. And as the two grow closer and confront bigger truths about their pasts, they must also deal with such inconveniences as a narcissistic rock star, a war between unicorns and dragons, and eventually, of course, the apocalypse.
Free sample
Check out a preview of The Boy and Girl Who Broke the World.
The Boy and Girl Who Broke the World
Prologue
Excerpt from Unicorns vs. Dragons: The Fog Approacheth (Book One) By Christie Romney
The blackberry vines are bare, and night comes early. Fog settles in a thick mantle over the land, and the unicorns know it is finally safe to come out of their summer hiding places. All across the flatlands, they stretch their sparkling white haunches as they breath the cool, refreshing air of autumn.
But still, every owl cry and fern rustle makes them tense. They are always on guard, always vigilant, always read to run. It's the only way to survive.
Moonracer's nose twitches as she sniffs the breeze. She can smell a trace of danger on the fog, a putrid scent that could only come from one place—the hot bellies of hibernating dragons.
She tosses her snowy mane as she worries to herself, I hope the dragons don't wake up early this winter. They will be ravenous. She has known this fear for as long as she can remember. It is in her blood.
"Moonracer!" her mother calls. "Time for mushroom hunting." Moonracer's stomach rumbles. She hasn't eaten since before the rhododendrons started getting their blossoms.
Ugh, Moonracer thinks to herself. Another winter of foraging mushrooms, staying out of sight, and trying not to wake up the dragons. What if there's more to life than this?
Just then, thunder rumbles noisily from the top of the mountain, and the fog thickens with the rotting stench of dragon snores. The unicorn herd trembles in unison and hides without a sound.
Why I love it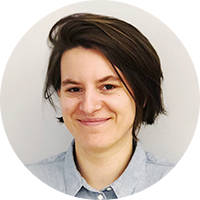 Siobhan Jones
BOTM Editorial Team
Summer means kicking back and taking a chance on something new. If you're the kind of person who mostly enjoys romance or contemporary fiction, take a risk on this madcap story that brings the best of both worlds, with a dash of fantasy thrown in.
Billy isn't exactly the most popular kid in school. He's literally from the wrong side of the tracks, basically doesn't have parents, and always says exactly what he's thinking (awkward). When he strikes up an unlikely friendship with the new girl in town, Lydia, the common ground they discover in the liminal space between his quirky personality and her offbeat pessimism is almost enough to make high school worth it. But nothing comes easy, and soon the pair have two hands' worth of challenges to deal with, including an ex-celebrity rocker, an onslaught of impossible meteorological phenomena, and, oh yeah, the apocalypse.
The bottom line: This book is bizarre, in all the best ways. Billy and Lydia are renegade weirdos in a small town that demands normality, and their conversations are by turns poignant, funny, and deep. Even if this book was 400 pages of freewheeling dialogue, I probably would've enjoyed it. But it's the plot, and all its "didn't-see-it-coming" twists, that really steals the show. Take a chance on this book. I promise it'll suck you in.