Young adult
The Boy in the Red Dress
Debut
We love supporting debut authors. Congrats, Kristin Lambert, on your first book!
Quick take
Step inside a New Orleans speakeasy and buckle up for a twisty whodunnit with a cast of swoonworthy characters.
Good to know
LGBTQ+ themes

Forbidden love

Teens

Whodunit
Synopsis
New Year's Eve, 1929.
Millie is running the show at the Cloak & Dagger, a swinging speakeasy in the French Quarter, while her aunt is out of town. The new year is just around the corner, and all of New Orleans is out to celebrate, but even wealthy partiers' diamond earrings can't outshine the real star of the night: the boy in the red dress. Marion is the club's star performer and his fans are legion—if mostly underground.
When a young socialite wielding a photograph of Marion starts asking questions, Millie wonders if she's just another fan. But then her body is found crumpled in the courtyard, dead from an apparent fall off the club's balcony, and all signs point to Marion as the murderer. Millie knows he's innocent, but local detectives aren't so easily convinced.
As she chases clues that lead to cemeteries and dead ends, Millie's attention is divided between the wry and beautiful Olive, a waitress at the Cloak & Dagger, and Bennie, the charming bootlegger who's offered to help her solve the case. The clock is ticking for the fugitive Marion, but the truth of who the killer is might be closer than Millie thinks...
Why I love it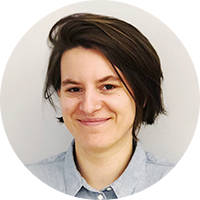 Siobhan Jones
BOTM Editorial Team
In the last few weeks, governors and other municipal leaders have been calling off pride-related festivities in response to ongoing public health concerns around COVID-19. To which I say: um fine, but actually, pride can never be cancelled. Pride is not just a parade—it's an ongoing celebration around LBGTQ+ lives and culture, and in my humble opinion, what better way to safely tap into that spirit than by diving into a fun and fantastic new queer read??
This YA murder mystery takes place in 1920s-era New Orleans, specifically in the boozy, shadowy world of speakeasies. Millie is a wisecracking teenager just trying to keep the party going smoothly at her aunt's club, the Cloak & Dagger. Her friend Marion, a.k.a. the boy in the red dress, is the club's star performer. When a young clubgoer is thrown off a balcony one rowdy night, local detectives are quick to pin the murder on Marion. Suddenly, it's up to Millie to locate and bring the real killer to justice.
Between the late-night cemetery snoopings and the glitzy Gatsby-esque soirees, this book is a whole mood. Almost all of the characters are resplendently queer and, despite all her sleuthing, there's even a little romance for Millie (oh hey, seductive co-worker Olive). Debut author Kristin Lambert has penned a glamorous, sexy, wild ride.
Member ratings (711)
Kansas City, MO

I absolutely loved reading this book! I could not stop turning the pages.. I'm not much for suspense/thriller but this one seemed interesting and I'm so glad I decided to read it! Amazing storytelling

New Hudson, MI

This book was so cute, and made me wish I could travel back in time to the 1920s. I loved all the representation from all the characters. I loved Millie and Marion! The mystery was fun to read about

West Orange, NJ

So this book was throughly enjoyed and I found myself taking my time with it. The setting 1929 New Orleans was amazing. I am not a typical reader of historical fiction but i really liked this one!

Missouri City, TX

Set in 1929 New Orleans, this mystery has all sorts of twists before the killer is found. Millie and the others are scrappy and they have to go all over the Big Easy to find who killed a deb.

Grand Rapids, MI

I read this book in like 3 days because i had to adult and go to work. Had i not it would of been dome quicker. I coupdnt put it down. The ending was a shocker!