Quick take
A TL;DR on the past and present of Egypt.
Good to know
400+ pages

Nonlinear timeline

Literary

Brainy
Synopsis
Drawn by a fascination with Egypt's rich history and culture, Peter Hessler moved with his wife and twin daughters to Cairo in 2011. He wanted to learn Arabic, explore Cairo's neighborhoods, and visit the legendary archaeological digs of Upper Egypt. After his years of covering China for The New Yorker, friends warned him Egypt would be a much quieter place. But not long before he arrived, the Egyptian Arab Spring had begun, and now the country was in chaos.
In the midst of the revolution, Hessler often traveled to digs at Amarna and Abydos, where locals live beside the tombs of kings and courtiers, a landscape that they call simply al-Madfuna "the Buried." He and his wife set out to master Arabic, striking up a friendship with their instructor, a cynical political sophisticate. They also befriended Peter's translator, a gay man struggling to find happiness in Egypt's homophobic culture. A different kind of friendship was formed with the neighborhood garbage collector, an illiterate but highly perceptive man named Sayyid, whose access to the trash of Cairo would be its own kind of archaeological excavation. Hessler also met a family of Chinese small-business owners in the lingerie trade; their view of the country proved a bracing counterpoint to the West's conventional wisdom.
Through the lives of these and other ordinary people in a time of tragedy and heartache, and through connections between contemporary Egypt and its ancient past, Hessler creates an astonishing portrait of a country and its people. What emerges is a book of uncompromising intelligence and humanity—the story of a land in which a weak state has collapsed but its underlying society remains in many ways painfully the same.
Free sample
Get an early look from the first pages of The Buried.
The Buried
Part One: The President
Chapter 1
On January 25, 2011, on the first day of the Egyptian Arab Spring, nothing happened in Abydos. There were no demonstrations, no crowds, and no problems for the police. By that point in the winter excavation season, only one unusual incident had occurred. Earlier that month, a team of archaeologists from Brown University had uncovered a hole that contained two small bronze statues of Osiris, a small stone statue of the god Horus in child form, and exactly three hundred bronze coins.
The archaeologists had been excavating a series of tombs that had been looted thoroughly during antiquity, and they had neither expected nor hoped to find such relics. For Laurel Bestock, who was directing the dig, the immediate reaction was mixed. Along with the thrill of discovery, she felt a wave of nervousness, because now the team had to deal with more intense issues of security and bureaucracy. The local police contacted their superiors, and an official from the Egyptian Ministry of Antiquities arrived. There was a great deal of paperwork to be filled out. Over a period of days, Bestock and the others worked long hours, and they painstakingly cleaned, measured, and photographed each of the coins and statues. Then everything was transported to Sohag, the capital of the region. The artifacts were locked in a wooden box that was placed in the back of a pickup truck and escorted by half a dozen policemen armed with rifles.
The objects themselves weren't especially valuable. None of the statues was taller than ten inches, which made the departing procession—the truck, the police, the guns—slightly comical. The coins dated to the mid-Ptolemaic period, between the third and second centuries BC, which is late by the standards of Egyptology. For the archaeologists, the true value of the discovery was its context, because the relics appeared to have been interred as part of some ancient ritual.
Why I love it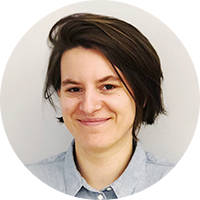 Siobhan Jones
BOTM Editorial Team
One dusty afternoon in Austin, Texas, in the back of a friend's car, I had one of those reading experiences that was so vivid, I'll remember it forever. In some tattered back issue of The New Yorker, a magazine I rarely peruse, I encountered a writer whose storytelling ability was so dazzling that I immediately tracked down one of his travel memoirs (a genre I rarely dip into) and devoured it in a few days. That writer was Peter Hessler, and from then on, I was a lifelong fan.
This month, Hessler is back with a new work of nonfiction about Egypt—from Ancient Egypt to the Arab Spring. Sounds weighty? Oh, and how. This is a biography of a nation, an introduction to archeology, a work of sociology, and a memoir all rolled into one. In pursuit of his keen interest in Egypt's history and culture, Hessler and his family move to Egypt … just as the 2011 revolution is beginning. As a result, the book is a meandering tour of past and present, war, chaos, and peace, and a whole host of real-life characters you'll root for and wonder about for weeks after reading.
This is not your typical beach read, but I think it'll find an audience among those who love serious nonfiction. Illuminating, surprising, and even newsy, The Buried is a work of cultural reporting from a master at the height of his game.
Member ratings (1,975)
Newark, DE

Ties individual stories together, weaving in the history of the Arab Spring, his own experience, and compares Egyptian revolutions with world ideologies throughout history. I thoroughly enjoyed this read

Woodbury , NJ

This was not an easy read. It is heavy, complex and dense. Took me 3 tried to read it. I'm glad i did. Beautifully woven story of a harsh political climate and the everyday citizen just trying to live

Parlin, NJ

I'm disappointed with how little I knew about the culture and history of Egypt. This book was a nice glimpse into a period of history. Now I'd love to read from the author's wife's perspective!

College Station, TX

This book is a fantastic walk through the Arab Spring. It combines both governemental, historical, and cultural aspects of the revolution and makes the reader feel connected with the Egyptian people.

Berwyn, PA

Took a really long time to read but was extremely interesting! I always was interested in ancient Egypt so I love how this describes modern Egypt along with ancient history. Loved all the people in it