Crime fiction
The Girl From Blind River
Debut
We love supporting debut authors. Congrats, Gale Massey, on your first book!
Quick take
A small-town crime story about a young poker phenom and the lengths she'll go to protect those she loves.
Good to know
Psychological

Family drama

Rural
Synopsis
Everyone says the Elders family members are nothing but cheats, thieves, and convicts?a fact 19-year-old Jamie Elders has been trying desperately to escape. She may have the natural talent of a poker savant, but her dreams of going pro and getting the hell out of the tiny town of Blind River, New York, are going nowhere fast. Especially once she lands in a huge pile of debt to her uncle Loyal.
At Loyal's beck and call until her debt is repaid, Jamie can't easily walk away?not with her younger brother Toby left at his mercy. So when Loyal demands Jamie's help cleaning up a mess late one night, she has no choice but to agree. But disposing of a dead man and covering up his connection to the town's most powerful judge goes beyond family duty. When it comes out that the victim was a beloved athlete and Loyal pins the murder on Toby, only Jamie can save him. But with a dogged detective on her trail and her own future at stake, she'll have to decide: embrace her inner criminal, or defy it?and face the consequences.
Why I love it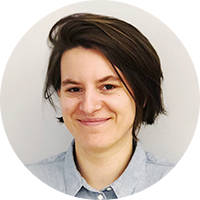 Siobhan Jones
BOTM Editorial Team
There have been dozens of great novels about the fleeting highs of gambling—BOTM has even featured one before, recommended by none other than the great Anthony Bourdain. Most of those books feature the usual bluffs and tells, big money and big losses. This month, we're offering a story that includes all that and a little more: a blue-collar tale of backroom card games, small-town politicking, and a talented young card shark in a whole lot of debt.
Jamie is a 19-year-old girl in upstate New York with nothing but a flair for poker and a disreputable last name (read: family drama, in spades). She dreams of going pro and getting out but spends her days working for her tyrannical uncle and trying to keep her younger brother out of trouble. Each day is as boring and gray as an Adirondack winter sky—until a poker game goes south, a gun goes off, and Jamie finds herself on the hook for a crime she didn't commit.
There's a death at the center of this novel, to be sure, but Blind River is as much a study in grit as it is about a murder. Jamie is the kind of plucky girl with a life story that tugs at your heartstrings and a fierceness that will leave your hands shaking each time she makes a bet. A rural story of dark woods and dark hearts, this is one book worth betting on.
Member ratings (1,805)
East Boston , MA

Jamie. I miss her. I really loved how different this story was to any other story I've read. It incorporated such truth with describing Jamie's family. I bet most people relate more than you think!

Fort collins, CO

This book broke my heart as it showed the vicious cycle many people from broken homes find themselves in and how kids who are born in that type of environment often don't stand a chance. Great story.

Auburn, WA

Interesting family drama. I liked the theme of poker and how it was a family business. I liked Jamie and felt her life struggles were realistic. Heartbreaking but very well told story. Good audio too.

Sterling Heights, MI

I read this in one day. The lead character was very strong, although flawed, which made her realistic and sympathetic. You rooted for her to come out on top. Not my typical choice, but enjoyed it.

Niceville, FL

I couldn't help but root for the siblings. The main character was very strong yet vulnerable. I couldn't put it down because I had to find out what happened next! I would love to see this as a movie!