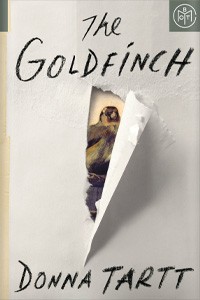 Literary fiction
The Goldfinch
Quick take
Don't let the length discourage you: The 700 pages of this part coming-of-age, part survival story fly right on by.
Good to know
400+ pages

Famous author

Critically acclaimed

Now a movie
Synopsis
Theo Decker, a 13-year-old New Yorker, miraculously survives an accident that kills his mother. Abandoned by his father, Theo is taken in by the family of a wealthy friend. Bewildered by his strange new home on Park Avenue, disturbed by schoolmates who don't know how to talk to him, and tormented above all by a longing for his mother, he clings to the one thing that reminds him of her: a small, mysteriously captivating painting that ultimately draws Theo into a wealthy and insular art community.
As an adult, Theo moves silkily between the drawing rooms of the rich and the dusty labyrinth of an antiques store where he works. He is alienated and in love—and at the center of a narrowing, ever more dangerous circle.
Member ratings (5,486)
Cumberland, RI

A lot packed into 771 pages. You forget that the narrator is actually "writing" the book. Such a wild ride of a life and a story Theo and Donna Tartt tell the reader. It lives up to the hype a must!

Indianapolis, IN

This was an epic book! Although it is long, the story is incredible and it makes the length worth it. The Goldfinch is written so lyrically - it is pleasant to read. 5/5 ⭐️ and I am happy I read it.

Riverton, UT

This book was fantastic. I absolutely adored this book. I couldn't stop reading it! The attention to detail, the storyline, the characters... It is all astounding! I can not recommend this book enough

Conifer, CO

This book was great. I love really long books, and this one is long...but it didn't feel like it, I didn't want to put it down. Really interesting, sad, charming. End leaves you pondering for sure.

Goose Creek, SC

Goldfinch is like a modern-day Catcher in the Rye. Thought provoking, and descriptive beyond belief. You feel like you're in the main character's head the whole time. Tartt is a masterful storyteller!