Quick take
Tis the season for hijinks! Twins who could both use a reset decide to revive their childhood habit and swap places.
Good to know
Happy

Quirky

Love triangle

Foodie
Synopsis
All they want for Christmas is a different life.
When chef Charlie Goodwin gets hit on the head on the L.A. set of her reality baking show, she loses a lot more than consciousness; she also loses her ability to taste and smell—both critical to her success as show judge. Meanwhile, Charlie's identical twin, Cass, is frantically trying to hold her own life together back in their quaint mountain hometown while running the family's bustling bakery and dealing with her ex, who won't get the memo that they're over.
With only days until Christmas, a desperate Charlie asks Cass to do something they haven't done since they were kids: switch places. Looking for her own escape from reality, Cass agrees. But temporarily trading lives proves more complicated than they imagined, especially when rugged firefighter Jake Greenman and gorgeous physician assistant Miguel Rodriguez are thrown into the mix. Will the twins' identity swap be a recipe for disaster, or does it have all the right ingredients for getting their lives back on track?
Free sample
Get an early look from the first pages of The Holiday Swap.
The Holiday Swap
1
Charlie
Monday: 12 Days to Christmas . . .
Los Angeles
Charlie Goodwin drew a shaky breath and tapped furiously on her phone, the screen illuminating her face in the otherwise dark storeroom. She opened an app and searched for the emergency two-minute stress-release meditation. Once the soothing voice began, she closed her eyes and took another deep breath, trying to slow her frantic heartbeat. But all that did was bring the sharp scent of peppermint extract further up her nose and into her throat. Normally she loved the smell of peppermint and all Christmas-related things. But this had been sabotage. She smelled like a giant candy cane—and she wasn't feeling very festive about it.
Her phone buzzed in her hand and she cracked an eye, glancing at the screen. Priya Basu, her friend and on-set makeup artist.
Don't let him get to you.
He's a jerk and you're YOU.
Priya was right. Sighing with frustration, Charlie leaned her head back against the wall. She whispered the mantra in time with her exhales and peppermint-scented inhales: Don't let him get to you.
Why I love it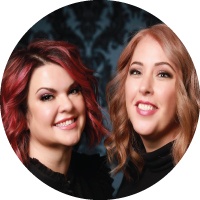 Like our favorite holiday recipes, there are specific ingredients that go into creating the perfect holiday romance: humor, a cozy location, wacky but lovable family, copious amounts of sugar, and a swoony love interest under the mistletoe. In The Holiday Swap, readers get the holiday romance fun, times two!
We've all dreamed of trading places with someone at least once in our lives, but for identical twin sisters Charlie and Cassie it's as easy as answering to the wrong name. Charlie left her small mountain town for the bright lights of LA and is cohost to a popular baking show. Cassie is trying to keep the family-owned bakery from being snowballed by the fancy new franchise moving in. But when each sister's life goes completely off the rails, they switch places and must rely on each other to make things right again. Add in one dimpled doctor and a handsome fireman, and this adorable romance is the perfect countdown to Christmas.
Full of sisterly love, big city and small-town hijinks, two love stories, and descriptions so delicious you'll practically smell the gingerbread. The Holiday Swap is the perfect addition to your holiday romance shelf!
Member ratings (31,891)
Fort Collins, CO

I am SWOONING over Cass and Charlie, their romances, Starlight Peak and of course all of the mouth-watering treats! I couldn't put this down! Please make this into a movie! Perfect for Christmas! ❤️❤️

Newark, NY

I did not expect to fall in love with this book but I enjoyed it so much. A small town bakery and a cooking competition; sign me up. Honestly this was such a delightful read. I'm in the holiday spirt!

Chicago, IL

This was super cute and kept me intrigued until the end! We all obviously know exactly what will happen, but it's one of those feel good, warm and cozy books that get you even more into the Christmas!

Grand Rapids, MI

Exactly what I was looking for right now! It wasn't over the top with the Holiday cheer and it was predictable enough while still being a new concept for me that it was the perfect cozy weekend read!

Cynthiana, KY

I absolutely adored this book. Cass and Charlie were believable characters and their swap created an enjoyable story. I could imagine the bakery and the studio where the show was filmed. Sweet story!