Historical fiction
The House Is On Fire
Quick take
Sweeping but intimate, four lives and a community are irreparably changed in this story of a 19th-century theater fire.
Good to know
Multiple viewpoints

Literary

Real-life characters

Graphic violence
Synopsis
Richmond, Virginia 1811. It's the height of the winter social season. The General Assembly is in session, and many of Virginia's gentleman planters, along with their wives and children, have made the long and arduous journey to the capital in hopes of whiling away the darkest days of the year. At the city's only theater, the Charleston-based Placide & Green Company puts on two plays a night to meet the demand of a populace that's done looking for enlightenment in a church.
On the night after Christmas, the theater is packed with more than six hundred holiday revelers. In the third-floor boxes, sits newly widowed Sally Henry Campbell, who is glad for any opportunity to relive the happy times she shared with her husband. One floor away, in the colored gallery, Cecily Patterson doesn't give a whit about the play but is grateful for a four-hour reprieve from a life that has recently gone from bad to worse. Backstage, young stagehand Jack Gibson hopes that, if he can impress the theater's managers, he'll be offered a permanent job with the company. And on the other side of town, blacksmith Gilbert Hunt dreams of one day being able to bring his wife to the theater, but he'll have to buy her freedom first.
When the theater goes up in flames in the middle of the performance, Sally, Cecily, Jack, and Gilbert make a series of split-second decisions that will not only affect their own lives but those of countless others. And in the days following the fire, as news of the disaster spreads across the United States, the paths of these four people will become forever intertwined.
Based on the true story of Richmond's theater fire, The House Is on Fire offers proof that sometimes, in the midst of great tragedy, we are offered our most precious—and fleeting—chances at redemption.
Content warning
This book contains scenes depicting sexual assault.
Free sample
Get an early look from the first pages of The House is on Fire.
The House Is On Fire
SALLY
Sally Campbell's shoes are fashionable but extremely flimsy. She ordered them from Curtis Fairchild's specifically for Richmond's winter season, but now she feels like a fool for thinking she could get away with wearing them on the half-mile walk from her brother-in-law's house to the theater.
The shoes, which are made of silk and lined with linen, are as pretty as they come, but they are no match for the terrain. It's been so cold that the earth is frozen solid, which means that every bulge and divot beneath Sally's feet feels like a knife blade through the shoes' thin leather soles. "It's possible I would have been no worse off barefoot," she says to her sister-in-law Margaret when they reach the corner of H and Seventh Streets.
A fierce wind whips at the women's faces, and they lean into each other, drawing the collars of their coats tight around their necks while they wait for Archie to catch up. "We need you, dear," Margaret calls to her husband as he lumbers toward them.
Archie, amiable as ever, seems pleased to be needed.
"Be a gentleman and walk in front of us," says Margaret. Then she winks at Sally and says in a voice loud enough for Archie to hear, "We'll let him block the wind."
Archie gives them an exaggerated bow and touches the brim of his hat, but when he rounds the corner, he has to hold on to it with both hands. The wind comes from the east and spills down Richmond's main thoroughfare, taking the last of the leaves on the trees with it. Margaret and Sally fall into formation behind Archie, tucking their chins to their chests.
As they pass the capitol, Sally can hear the church bells from a few blocks away chime seven o'clock. The capitol is an imposing Palladian structure, and its plaster of Paris facade shines under a canopy of stars. In the pastures that surround the building, Sally tries to make out the shapes of grazing cows. She can hear their irate grunts, carried in the wind, and knows that, in weather such as this, they are huddled close together, too.
"Just another block or two," says Margaret, who married into the Campbell family just a few years after Sally did and has, over the past half dozen or so years, become not just a sister to Sally but a dear friend.
Margaret is such a dear friend, that she has not uttered a single complaint about venturing out in this weather. Sally knows she'd have preferred to remain at home, in front of a warm fire, but since Sally gave her hosts the tickets to tonight's performance as a gift, Margaret is doing an admirable job pretending there is nowhere else she'd rather be.
Why I love it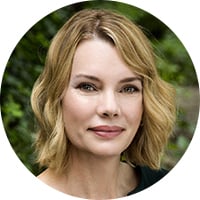 One of the reasons I love reading historical fiction is the opportunity to be transported into the heart of a period of history or shocking event I knew little about before I opened the cover. Rachel Beanland checks every box in her latest novel, set in Richmond, Virginia in 1811 and centered around a tragic theater fire that took seventy-two lives.
In haunting yet beautiful prose, The House Is on Fire depicts the fateful sequence of events from four perspectives: Sally, a recent widow with an uncertain future; Cecily, a teenage slave whose terrible treatment at the hands of her owner's son renders her far older than her years; Jack, a young stagehand desperate to perform on the stage; and a blacksmith named Gilbert whose brave actions that evening are discounted due to the color of his skin. Told over four harrowing days, the narrative structure remains taut as the multiple points of view reveal the depravity—as well as heroism—of those affected by the fire.
I bow in admiration to Beanland for all the research this book must have involved, but that's only the start. Her dazzling ability to imbue real-life events and figures with passionate detail can be found on every page, and the surprising twists of this story will keep you turning pages faster and faster.
Member ratings (1,749)
Eldred, PA

My BOTY vote so far. An absolutely beautiful written story based on true reports of the Richmond theater fire. I felt like I was right there with the characters. All I could say was "I want more!"

Natrona Heights, PA

I love historical fiction because of the peak into the past combined with quality entertainment. This was a page turner - with every chapter, I found myself rooting for the characters more and more!

Reisterstown, MD

A story of the aftermath of a tragedy told through the eyes of four people on the edge of 1800 Richmond's society. The fire destroyed dreams and created new opportunities in this heartfelt book.

Lisbon, CT

Excellent story. Loved the different perspectives. I did feel like the end just, bam, happened, and I wish it went a little further into what happened to the characters, post story. I was invested!

Apex, NC

This historical fiction novel is based on a real tragedy. On December 26, 1811, a fire broke out in the packed Richmond Theater. This is America's first great loss of over 100 lives in an accident.