Horror
The Last Time I Lied
Repeat author
Riley Sager is back at Book of the Month.
Quick take
A summer camp shuts down when four girls go missing. 15 years later, we find out the chilling reason behind their disappearance.
Good to know
Nonlinear timeline

Scary

Puzzle

Creepy
Synopsis
Two Truths and a Lie. The girls played it all the time in their tiny cabin at Camp Nightingale. Vivian, Natalie, Allison, and first-time camper Emma Davis, the youngest of the group. The games ended when Emma sleepily watched the others sneak out of the cabin in the dead of night. The last she—or anyone—saw of them was Vivian closing the cabin door behind her, hushing Emma with a finger pressed to her lips.
Now a rising star in the New York art scene, Emma turns her past into paintings—massive canvases filled with dark leaves and gnarled branches that cover ghostly shapes in white dresses. The paintings catch the attention of Francesca Harris-White, the socialite and wealthy owner of Camp Nightingale. When Francesca implores her to return to the newly reopened camp as a painting instructor, Emma sees an opportunity to try to find out what really happened to her friends.
Yet it's immediately clear that all is not right at Camp Nightingale. Already haunted by memories from 15 years ago, Emma discovers a security camera pointed directly at her cabin, mounting mistrust from Francesca and, most disturbing of all, cryptic clues Vivian left behind about the camp's twisted origins. As she digs deeper, Emma finds herself sorting through lies from the past while facing threats from both man and nature in the present.
And the closer she gets to the truth about Camp Nightingale, the more she realizes it may come at a deadly price.
Why I love it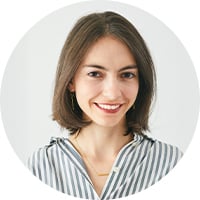 Brianna Goodman
BOTM Editorial Team
When The Last Time I Lied arrived on my desk this past May—my first reading assignment as the newest member of the BOTM editorial team—I knew it was a book I'd stay up all night to finish. As someone who's never attended your classic sleepaway camp, I find stories about this iconic summer pastime particularly absorbing. Think Lindsay Lohan in The Parent Trap, or the adorable preteen runaways in Moonrise Kingdom. There's drama, raging hormones, but by summer's end, enemies become friends and campers leave feeling pleasantly nostalgic … right?
Well, not so much at Camp Nightingale, where Emma Davis witnesses the disappearance of her three beautiful-but-damned cabinmates. Fifteen years later, haunted by their presumed deaths, she returns to the camp to seek closure. But from the start, Emma realizes she is being watched, and that beneath the camp's summer-fun veneer lie disturbing secrets about its origins … and about what happened to her friends.
What I love about this thriller is that everyone is suspect. Is the handsome son of the camp's owner a possible love interest or killer? Is his mother's desire to reopen the camp admirable or sinister? And what about Emma—can we even trust her? Racing through this book is like arriving at the last crossword clue and realizing your letters are wrong and you'll have to start from scratch. It's unpredictable, addictive, and contains all the ingredients of a perfect camp drama: female friendships, lifelong memories, and one absolutely terrifying crime.
Member ratings (32,875)
East meadow, NY

Could not put this book down, it had the right amount of suspense that kept me hooked the whole read. The twists and turns at the end left me questioning everyone and completely speechless. ⭐️⭐️⭐️⭐️⭐️

Brodhead , WI

The author did an excellent job of making me question everyone, including not so obvious suspects. And just when you thought it was all tied up? Bam! Another twist! A really great book!! ⭐️⭐️⭐️⭐️????

Lakewood, OH

Wow I was hooked on this one. I had to know what happened from the beginning and there were so many twists and turns as soon as I thought I knew what happened it took another turn ⭐️⭐️⭐️⭐️⭐️

jonesboro, GA

First and foremost I loved Theo and Em's chemistry. This really brought back memories of when I played 'truth or dare' & 'two truths and a lie'. I was always truth cause some teenage girls are mean.

Oklahoma City, OK

Not completely "scaredy cat emoji" but def chilling. Chilling enough to have to put down before bed and look at happy things on instagram. Being the 2nd book I've read of hers, I'm a fan Riley Sager.