Quick take
A surly bureaucrat and a smarmy robot walk into a bar…
Good to know
Light read

Action-packed

Puzzle

Brainy
Synopsis
In Metropolis, the gleaming city of tomorrow, the dream of the great American city has been achieved. But all that is about to change, unless a neurotic, rule-following bureaucrat and an irreverent, freewheeling artificial intelligence can save the city from a mysterious terrorist plot that threatens its very existence.
Henry Thompson has dedicated his life to improving America's infrastructure as a proud employee of the United States Municipal Survey. So when the agency comes under attack, he dutifully accepts his unexpected mission to visit Metropolis looking for answers. But his plans to investigate quietly, quickly, and carefully are interrupted by his new partner: a day-drinking know-it-all named OWEN, who also turns out to be the projected embodiment of the agency's supercomputer. Soon, Henry and OWEN are fighting to save not only their own lives and those of the city's millions of inhabitants, but also the soul of Metropolis. The Municipalists is a thrilling, funny, and touching adventure story, a tour-de-force of imagination that trenchantly explores our relationships to the cities around us and the technologies guiding us into the future.
Free sample
Get an early look from the first pages of The Municipalists.
The Municipalists
On August 7 of 1904, a flash flood hit the No. 11 Missouri Pacific Flyer as it crossed a trestle bridge on its way to Pueblo, Colorado. A wall of water carried off four of the train's six cars and the remains of finely dressed men and women were found caked in mud as far as twenty miles away. The superintendent of the train's dining service was in the forward sleeper when he saw the other cars go down and later offered the following account to the Colorado Springs Gazette: "I have never experienced anything like the awful sensation that came over me when I saw the cars, packed with human beings, floating down that flood. The water surged into the coaches so quickly there was not a sound from the passengers. I heard no calls for help." Ninety-seven people were killed that night, making it the deadliest derailment of a long-distance train in US history.
The honor of second place goes to the No. 48 Lake Shore Limited, which jumped the tracks in western New York on August 12 of 1998. The train ran at full speed over a damaged length of rail, causing the first six cars to roll down a twenty-foot embankment and plow into an empty field. The rest jackknifed into one another and scattered themselves along the tracks.
I can't help but remember the words of the man from the Flyer and imagine the scene as eerily quiet once the wreck settled. Torn steel. Clouds of dust rising up. Maybe at the edge of the field above the cottonwoods a flock of birds that had been startled from their branches by the sudden disaster were already beginning to circle back down to rest. Eighty passengers died that day, securing the Limited its second- place rank. If my parents hadn't been on board, it would have only come in third.
Why I love it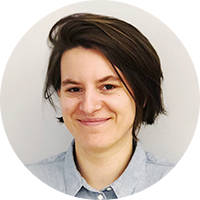 Siobhan Jones
BOTM Editorial Team
A civil servant and a supercomputer team up to stop terrorists. A Dark Matter-esque take on the life and death of great cities. A touching and funny story about an unlikely friendship. I've been trying, for weeks now, to come up with a zinger of a sentence that perfectly describes this book and makes everyone want to read it. Yet the words have eluded me. I'm beginning to think The Municipalists—a humorous sci-fi adventure with a mystery at its core—cannot be summed up so easily.
In the near-future, in a cramped office of the United States Municipal Survey, Henry Thompson—efficient, diligent, and generally disliked—spends his days solving the abundant problems of city improvement projects all over the country. When the agency suddenly comes under attack, he's dispatched to Metropolis, a teeming city resembling New York, to find out why. A true loner, Henry is dismayed to be assigned a partner for the mission: a smarmy, fast-talking, alcoholic supercomputer-in-human-form named OWEN. Can they overcome their differences and find the criminals trying to destroy their agency—not to mention millions of lives—in time?
If that sounds like a simple premise, let me add that there are a host of other elements—forbidden love, ticking time bombs, gentrification, etc.—complicating this story in all the right ways. Having finished writing this piece, I feel simultaneously disheartened and elated; disheartened at not being able to fully describe the weirdness, the originality, the sheer heart within this book, and elated because thousands of readers are about to experience it for themselves. Why am I still talking? Just read it.
Member ratings (2,487)
Aledo, TX

This book is fabulous...but I didn't realize it until the end. It's a thinker that gets into your soul, disguised in a funny and ridiculous package. A rare gem that I look forward to reading again.

Arkansas City, KS

Did not expect to fall in love with a buddy cop style of book about a train-loving man and a flamboyant AI but here I am absolutely in love with it. Expected hilarity to ensue and was not disappointed

portsmouth, VA

Very good read. OWEN is very fresh. Plot is easy to follow. Smart tones underneath. Gadgets and tomfoolery aplenty, which is good. Morale choices. Change of mindset. Good plot arc. Very recommend. Yes

Mountain House, CA

This book was hilarious, brilliantly written, and creatively set. I enjoyed every aspect of this book (apart from the swearing), and found myself laughing out loud at some parts. Thoroughly enjoyed!

Cherry Hill, NJ

I loved everything about this book, from the story line to the characters. It has been a while since I read a book where I actively laughed out loud while still maintaining interest in the story line.