Contemporary fiction
The Music Shop
Quick take
A harmonious (get it?) love story between an gifted music shop owner and an enigmatic customer.
Synopsis
It is 1988. On a dead-end street in a run-down suburb there is a music shop that stands small and brightly lit, jam-packed with records of every kind. Like a beacon, the shop attracts the lonely, the sleepless, and the adrift; Frank, the shop's owner, has a way of connecting his customers with just the piece of music they need. Then, one day, into his shop comes a beautiful young woman, Ilse Brauchmann, who asks Frank to teach her about music. Terrified of real closeness, Frank feels compelled to turn and run, yet he is drawn to this strangely still, mysterious woman with eyes as black as vinyl. But Ilse is not what she seems, and Frank has old wounds that threaten to reopen, as well as a past it seems he will never leave behind. Can a man who is so in tune with other people's needs be so incapable of connecting with the one person who might save him? The journey that these two quirky, wonderful characters make in order to overcome their emotional baggage speaks to the healing power of music'"and love'"in this poignant, ultimately joyful work of fiction.
The Music Shop
Prologue
There was once a music shop.
From the outside it looked like any shop, in any backstreet. It had no name above the door. No record display in the window. There was just a homemade poster stuck to the glass. For the music you need!!! Everyone welcome!!! We only sell VINYL! If closed, please telephone—though after that it was anyone's guess because, along with more happy exclamation marks, the only legible number was an 8 that could well be a 3; there were two other things that might be triangles.
Inside, the shop was cram-packed. Boxes everywhere, stocked with every kind of record in every speed, size, and color, and not one of them classified. An old counter stood to the right of the door and, at the back, two listening booths towered either side of a turntable, looking more like bedroom furniture than regular booths. Behind the turntable sat the owner, Frank, a gentle bear of a man, smoking and playing records. His shop was often open into the night—just as it was often closed into the morning—music playing, colored lamps waltzing, all sorts of people searching for records.
Classical, rock, jazz, blues, heavy metal, punk ... As long as it was on vinyl, there were no taboos. And if you told Frank the kind of thing you wanted, or simply how you felt that day, he had the right track in minutes. It was a knack he had. A gift. He knew what people needed even when they didn't know it themselves.
"Now, why not give this a try?" he'd say, shoving back his wild brown hair. "I've got a feeling. I just think it will work—"
There was a music shop.
Why I love it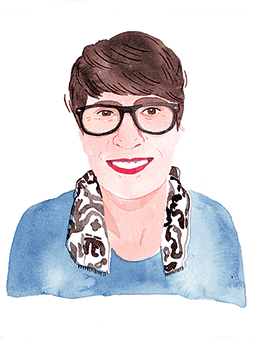 Kim Hubbard
People Magazine
What is it about music "whether it's the soaring majesty of a Beethoven symphony or James Brown's just-gotta-dance funk" that touches the human heart so deeply? How can artfully arranged notes cheer you up when you're down, remind you we're all connected, or break your heart? (And why, since there aren't that many notes to choose from, hasn't every possible song already been written? I've always wondered—but I digress.)
This charmer of a novel doesn't exactly answer those questions, but if pondering them interests you, you're going to love it. It's the late 1980s, and Frank Adair, a youngish man who's been damaged in ways that aren't immediately made clear, owns a record shop on a rundown street in a British suburb. CDs are threatening to make vinyl obsolete, yet Frank refuses to sell anything but the latter. It would be a disastrous business plan if he didn't have a singular talent: Whenever a customer walks in, Frank can "hear" exactly what music that person needs. A sad sack demanding only Chopin? Frank says he'll groove to Aretha. ("Who?" asks the sad sack. But as it turns out, Frank's right.)
But when a lovely woman named Ilse Brauchmann appears in the shop one day and promptly faints, Frank learns the limits of his gift—he "hears" nothing from Ilse at all. What follows is a love story wrapped in a mystery, in a rapidly changing neighborhood. Why is Ilse, who signs up for regular music lessons with Frank, so evasive about her past, and about the fiance who's never in evidence? Will Frank lose her along with his shop, which, like the small businesses run by his quirky friends, is ever more threatened by gentrification?
As the story moves forward, flashbacks illuminate both Frank's genius and the reason for his sorrows, and Ilse's secrets are slowly revealed. You'll root for these two wounded, wary souls and for music's potential to heal them, and finish the book humming everything from Handel's Hallelujah chorus to Nick Drake.
Member ratings (2,721)
Endicott , NY

Imaginative, witty, and addicting, THE MUSIC SHOP's quirky (and borderline stereotypical) characters could only exist in a novel. But what a novel this is, one which plays out like your favorite song.

Post Falls , ID

This is definitely a romance, though it's not a typical one by any means. There is some mystery in this story but it is a beautiful love story with a very unique plot and style with a very moving end.

Lincoln Park, NJ

Very enjoyable read. Loved the characters and the music lessons. Wanted to listen to every record mentioned in the book and am now searching for a player and tons of vinyl! I love Frank! I love vinyl!

Hudson, WI

I'm a music teacher and so naturally this title sprang out at me. I found it to be a very fast read and absolutely adorable! Seeing the power of music come to life in these characters was beautiful!

Birmingham, AL

This book hit all my sweet spots: quirky little romance set in the U.K., tons of wonderful music references both old and new but mostly old, and interesting flawed characters with mysteries to unfold.