Nonfiction
The Oregon Trail
Quick take
Rinker Buck has... gone off on a totally ridiculous journey just for the hell of it. The good news is that he left a book behind so the rest of us can follow him.
Why I love it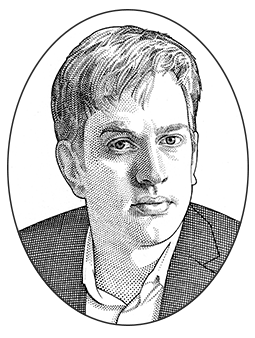 Stephen Marche
Esquire Magazine
Rinker Buck has done what I have long dreamed of doing: he's gone off on a totally ridiculous journey just for the hell of it. The good news is that he left a book behind so the rest of us can follow him.
Buck's journey is more ridiculous than most, crossing the two thousand miles of the Oregon Trail from Missouri to the Pacific Coast, a route that was once traversed by 400,000 pioneers in search of free land. Of course many of them driven to this journey by economic need and legal troubles, as Buck writes: "Frequently, to be an American then was to be periodically unmoored, transient, so bereft of options that moving on was the only choice."
That's exactly what the journey is for Buck too. He begins his journey divorced, nearly bankrupt, and drunk. Is he running away from something or running to something else? I love that that question is never fully answered. He travels the old-fashioned way, by mule and caravan, with a Jack Russell Terrier named Olive Oyl and his brother Nick. This cantankerous company makes the journey not only more historically accurate but more entertaining too.
As the motley crew trundles down the road, Buck offers wonderful little pocket histories of the period and the region. These are my favorite parts. The book is worth reading if only for the loving descriptions of mules. Mules don't have a lot of history to their credit, and they deserve more. Buck gets downright ornery when it comes to preconceived notions about mules. "It is a lot more prestigious for professional academics to sound learned about Senator Thomas Hart Benton or the Missouri Compromise than to actually know something about America's basic means of transportation for a century," Buck writes.
These little histories, told in Buck's unpretentious and comic narration, add up to a portrait of a country, and a people, in deep transition. And that transition is as much about the present as the past. At its core are people exactly like Buck—rollicking men who head west for reasons they can't explain even to themselves. Heading West just seems to be the only option left.
Member ratings (132)
Edmeston , NY

I've worked excerpts from this into more conversation than from anything else I've read in the past year. I'm smitten--with the book, the trail, those who first traversed it, & the Buck bros to boot!

Kansas City, MO

Two very different brothers go on a modern trip of the trail on a covered wagon with a team of mules, this memoir also offered a funny and fair history on the white settling of the American West.

Frederick, MD

Interesting parallels between the economy of 19th century America and what we are experiencing today. This book put a smile on my face with every chapter. It is raw and relatable, a real treat!

Richmond, VA

An unusual story by a very unusual man who decided in middle age to travel the historic Oregon trail in a covered wagon pulled by mules. It was by turns touching, amusing, and thoughtful.

Winston salem, NC

This book is a hilarious and fascinating take at American history in the west. This book gave me faith in this country when I needed it the most, and I cannot recommend it more.