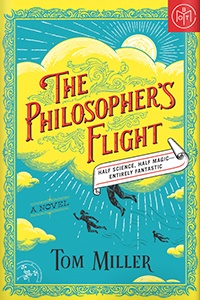 Fantasy
The Philosopher's Flight
Debut
We love supporting debut authors. Congrats, Tom Miller, on your first book!
Quick take
In an alternate world where only women are strong enough to wield magic, a gifted boy goes where no man has gone before: Radcliffe, a prestigious female-only school of sigilry.
Good to know
400+ pages

Feminist

Light read
Synopsis
A thrilling debut from ER doctor turned novelist Tom Miller, The Philosopher's Flight is an epic historical fantasy set in a World-War-I-era America where magic and science have blended into a single extraordinary art.
Eighteen-year-old Robert Weekes is a practitioner of empirical philosophy—an mysterious, female-dominated branch of science used to summon the wind, shape clouds of smoke, heal the injured, and even fly. Though he dreams of becoming the first male to join the elite US Sigilry Corps Rescue and Evacuation Service—a team of flying medics—Robert is resigned to mixing batches of philosophical chemicals and keeping the books for the family business in rural Montana, where his mother, a former soldier and vigilante, aids the locals.
When a deadly accident puts his philosophical abilities to the test, Robert rises to the occasion and wins a scholarship to study at Radcliffe College, an all-women's school. At Radcliffe, Robert hones his skills and strives to win the respect of his classmates, a host of formidable, unruly women.
Robert falls hard for Danielle Hardin, a disillusioned young war hero turned political radical. However, Danielle's activism and Robert's recklessness attract the attention of the same fanatical anti-philosophical group that Robert's mother fought years before. With their lives in mounting danger, Robert and Danielle band together with a team of unlikely heroes to fight for Robert's place among the next generation of empirical philosophers—and for philosophy's very survival against the men who would destroy it.
In the tradition of Lev Grossman and Deborah Harkness, Tom Miller writes with unrivaled imagination, ambition, and humor. The Philosopher's Flight is both a fantastical reimagining of American history and a beautifully composed coming-of-age tale for anyone who has ever felt like an outsider.
Member ratings (3,831)
Omaha, NE

From the first sentence, I couldn't put the book down and finished reading it in two sittings. It is a brilliantly realized novel and features an incredibly imaginative world that rivals Harry Potter. I was surprised and delighted at the novel's focus on a discipline in which women are the victors, and an alternate history in which women were more respected and educated. If you're looking for a fantasy-tinged historical novel, or a historically-tinged fantasy novel, you've found your book.

Bothell, WA

This fun historical altered fantasy, rakes gender roles and flips them in some key roles and deals with the after math of that. Where it could be dense its actually a really fun, different and thoughtprovokingreadloveit

Monrovia, IN

This was a fun, alt-history (steampunk-ish) read. But it's not a feminist story. Ultimately it's a book about a guy overcoming prejudice in a female-driven society, written by a guy. It's not feminist

Odessa, TX

#Girlpower ????✨As soon as I turned the final page I had to jump on the internet and make sure there will be a sequel. Thankfully all is well in the world and there is an additional book coming in 2019.

Lone Jack, MO

This book was wrote with great detail & imagination. It takes you to a completely different version of what we know as normal—and I loved it! You'll be rooting for the main character the whole time.