Thriller
The Push
Debut
We love supporting debut authors. Congrats, Ashley Audrain, on your first book!
Quick take
A nightmarish look at what happens when a mother's little bundle of joy becomes her greatest source of fear.
Good to know
Family drama

Critically acclaimed

Mama drama

Unsettling
Synopsis
Blythe Connor is determined that she will be the warm, comforting mother to her new baby Violet that she herself never had.
But in the thick of motherhood's exhausting early days, Blythe becomes convinced that something is wrong with her daughter—she doesn't behave like most children do.
Or is it all in Blythe's head? Her husband, Fox, says she's imagining things. The more Fox dismisses her fears, the more Blythe begins to question her own sanity, and the more we begin to question what Blythe is telling us about her life as well.
Then their son Sam is born—and with him, Blythe has the blissful connection she'd always imagined with her child. Even Violet seems to love her little brother. But when life as they know it is changed in an instant, the devastating fallout forces Blythe to face the truth.
Free sample
Get an early look from the first pages of The Push.
The Push
Your house glows at night like everything inside is on fire.
The drapes she chose for the windows look like linen. Expensive linen. The weave is loose enough that I can usually read your mood. I can watch the girl flip her ponytail while she finishes homework. I can watch the little boy toss tennis balls at the twelve-?­foot ceiling while your wife lunges around the living room in leggings, reversing the day's mess. Toys back in the basket. Pillows back on the couch.
Tonight, though, you've left the drapes open. Maybe to see the snow falling. Maybe so your daughter could look for reindeer. She's long stopped believing, but she will pretend for you. Anything for you.
You've all dressed up. The children are in matching plaid, sitting on the leather ottoman as your wife takes their picture with her phone. The girl is holding the boy's hand. You're fiddling with the record player at the back of the room and your wife is speaking to you, but you hold up a finger—you've almost got it. The girl jumps up and your wife, she sweeps up the boy, and they spin. You lift a drink, Scotch, and sip it once, twice, and slink from the record like it's a sleeping baby. That's how you always start to dance. You take him. He throws his head back. You tip him upside down. Your daughter reaches up for Daddy's kiss and your wife holds your drink for you. She sways over to the tree and adjusts a string of lights that isn't sitting quite right. And then you all stop and lean toward one another and shout something in unison, some word, perfectly timed, and then you all move again—this is a song you know well. Your wife slips out of the room and her son's face follows robotically. I remember that feeling. Of being the needed one.
Why I love it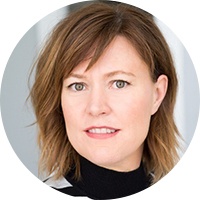 Confession: it's been a while since I've been able to read a book cover to cover. No matter how much I've longed to read, or how many worthy books have found their way to me, I've been too distracted by the state of the world to stick with anything for long. And then, behold, I received a copy of The Push by Ashley Audrain. I'll just take a peek, I thought. Hours later, there I was, reading the last page by iPhone flashlight, unaware of anything other than the world I'd just inhabited.
The premise: A woman named Blythe, who is disinclined to motherhood, gets married and then pregnant. Her daughter Violet arrives and, overwhelmed and exhausted, Blythe decides there's something very wrong with the child. Her husband disagrees, accuses Blythe of imagining things. But he's out of the house most of the day and doesn't see what she does—a young girl, devoid of empathy and incapable of affection.
Blythe's complicated feelings for her daughter are made more complicated by the arrival of a second child, a son she adores. Blythe narrates as if she's speaking directly to her husband and the technique provides for a wonderfully immersive and intimate read that culminates in one of the best last lines I've read in years, hands down.
Bottom line: This debut is a masterful mix of suspense and inventiveness, captivating from the first page—in other words, the exact thing we could all use right now.
Member ratings (21,822)
Birmingham, AL

I wouldn't call this a thriller, it's a psychological, character study of a woman who believes her child is evil. This was heart wrenching & terrifying. A taboo subject done well. ⭐️⭐️⭐️⭐️⭐️\5

Miramar, FL

This book is an amazing, hot, twisted mess! I could not put this book down. It had me under its spell from the first page. I definitely want to reread this ASAP. ☆☆☆☆☆ for a magnificent debut novel!

Modesto , CA

This book has so many twist and turns in it i couldn't put it down. This book did not disappoint me. I might be rereading this again & id recommend it also. ⭐⭐⭐⭐⭐ Going to be adding it to my fav books

Tamarac, FL

Wow!! Finished in 2 days, I wouldn't consider this a "thriller". It's a psychological drama, with a lot of tiggers! Nonetheless, it's hard to put down, happy I finally got this one off my TBR list!

Chilhowie, VA

Wow! This book was so good! I was sucked in from the very beginning and was so invested in the characters. The story was definitely so sad. And the ending left me wanting more! ⭐️⭐️⭐️⭐️⭐️