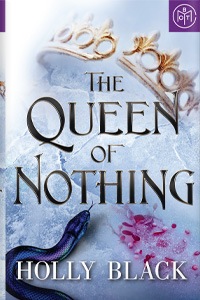 Young adult
The Queen of Nothing
Quick take
The Queen of Faerie is back with a delicious, revenge-filled finale. Just make sure you've read the first two books.
Good to know
Famous author

Buzzy

Magical

Third in series
Synopsis
Power is much easier to acquire than it is to hold onto. Jude learned this lesson when she released her control over the wicked king, Cardan, in exchange for immeasurable power.
Now as the exiled mortal Queen of Faerie, Jude is powerless and left reeling from Cardan's betrayal. She bides her time determined to reclaim everything he took from her. Opportunity arrives in the form of her deceptive twin sister, Taryn, whose mortal life is in peril.
Jude must risk venturing back into the treacherous Faerie Court, and confront her lingering feelings for Cardan, if she wishes to save her sister. But Elfhame is not as she left it. War is brewing. As Jude slips deep within enemy lines she becomes ensnared in the conflict's bloody politics.
And, when a dormant yet powerful curse is unleashed, panic spreads throughout the land, forcing her to choose between her ambition and her humanity…
Why I love it
Juliann Nelson
Content Producer, Fortune
Like most kids who grew up with Harry Potter and the Pevensies, I longed for evidence of the fantastical, hoping that somewhere just around the corner was the magic I found in books. With The Queen of Nothing, the finale to the Folk of the Air trilogy, Holly Black has built a fantasy world so entangled with reality, blurred the line between human and creature so convincingly, I felt myself settling right back into that unwavering adolescent belief that there's something more out there.
After being banished to the mortal world, Jude Duarte risks returning to Elfhame to help her twin, Taryn, and (who's she kidding?) see Cardan again. But the tense political environment of the Faerie realm has only worsened in Jude's absence, and she finds herself in a precarious position among the Folk as war approaches and an ancient curse is unleashed.
Holly Black has done something truly special with her Folk of the Air series, and The Queen of Nothing concludes the trilogy perfectly. For anyone looking for immersive world-building, cleverness unmatched, and complicated but entirely unforgettable characters, for all the dreamers out there still waiting to turn that corner: this is the book for you.
Member ratings (1,505)
Middle River, MD

The Queen of Nothing was amazing! Holly Black grabbed my attention and wouldn't let it go! The action, romance, intrigue and plot twists were fantasfic. :) I'd highly recommend this series to anyone!

Philmont , NY

While tons of aspects of this book was predictable I enjoyed it nonetheless. I loved Jude and Cardan's relationship and how far they've come with accepting each other. It was one of the best series.

Fort Lauderdale, FL

I heard so much about this book from friends that when I saw it was BOTM I went out and bought the previous 2. I'm SO GLAD I did!! I loved every second of this trilogy and was glad I had all 3 at once

Orlando , FL

Holly Black concluded the Folk of the air series in less than 300 pages! Not once sacrificing the unique storyline, world, and characters that we first fell in love with in the Cruel Prince. Amazing!

Willow Grove, PA

This was a great end to the Folk of the Air! My sister suggested this series and I'm glad she did. I loved every book and they each came with twists! This book made me laugh and cry. So worth it!!!