Quick take
Unsettling, spooky, and a little gruesome at times. Read with the lights on because the creep factor is real here.
Good to know
Police

Multiple viewpoints

Scary

Creepy
Synopsis
After the sudden death of his wife, Tom Kennedy believes a fresh start will help him and his young son Jake heal. A new beginning, a new house, a new town. Featherbank.
But the town has a dark past. Twenty years ago, a serial killer abducted and murdered five residents. Until Frank Carter was finally caught, he was nicknamed "The Whisper Man," for he would lure his victims out by whispering at their windows at night.
Just as Tom and Jake settle into their new home, a young boy vanishes. His disappearance bears an unnerving resemblance to Frank Carter's crimes, reigniting old rumors that he preyed with an accomplice. Now, detectives Amanda Beck and Pete Willis must find the boy before it is too late, even if that means Pete has to revisit his great foe in prison: The Whisper Man.
And then Jake begins acting strangely. He hears a whispering at his window...
Free sample
Get an early look from the first pages of The Whisper Man.
The Whisper Man
Part One
JulyOne
The abduction of a child by a stranger is every parent's worst nightmare. But statistically it is a highly unusual event. Children are actually most at risk of harm and abuse from a family member behind closed doors, and while the outside world might seem threatening, the truth is that most strangers are decent people, whereas the home can be the most dangerous place of all.
The man stalking six-year-old Neil Spencer across the waste ground understood that only too well.
Moving quietly, parallel to Neil behind a line of bushes, he kept a constant watch on the boy. Neil was walking slowly, unaware of the danger he was in. Occasionally he kicked at the dusty ground, throwing up chalky white mist around his sneakers. The man, treading far more carefully, could hear the scuff each time. And he made no sound at all.
It was a warm evening. The sun had been beating down hard and unrestrained for most of the day, but it was six o'clock now and the sky was hazier. The temperature had dropped and the air had a golden hue to it. It was the sort of evening when you might sit out on the patio, perhaps sipping cold white wine and watching the sun set, without thinking about fetching a coat until it was too dark and too late to bother.
Even the waste ground was beautiful, bathed in the amber light. It was a patch of shrubland, edging the village of Featherbank on one side, with an old disused quarry on the other.
Why I love it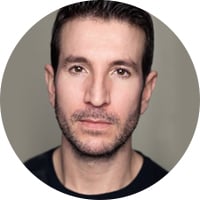 While writing The Silent Patient, I spent a lot of time thinking about what exactly makes characters iconic—and I came to the conclusion that it comes down to a kind of simplicity, clean lines and vivid imagery. And yet, it is so much more than that. There is something that cannot be mathematically manufactured—a kind of alchemy, a murky and mysterious process whereby something comes alive, much in the way Mary Shelley gave Frankenstein's monster life. Such characters are rare. You could be forgiven for thinking we have seen the best of them—I certainly thought so. There have been so many generic copies of villains such as Hannibal Lecter, or Dracula, and so I approach most thrillers or horrors with justified trepidation.
But The Whisper Man is a triumph. In the title character, Alex North has created a monster who comes alive in your imagination, who lingers in the shadows of your mind even after you've closed the book. The Whisper Man tells the story of Featherbank, a small town shaken 20 years ago by a serial killer who whispered outside windows at night, stealing sons and then melting into the darkness. When Tom, a widow, and his son move to the town for a fresh start, that dark time is long over—until another little boy disappears in a similar manner to those taken by The Whisper Man many years ago. As terrifying as this book can be, what makes it extra special is that the horror is counterbalanced by Tom and Jake's father/son relationship, a connection that is full of heart and accurately observed human emotion.
I should warn you, The Whisper Man has the kind of villain you don't want to think about too much, particularly at night or when alone in your bed. This book genuinely has one of the most chilling last lines I have ever read. When asked about endings, a famous writer—I think it was Neil Simon—said the curtain should come down at the beginning of the fourth act, with a further series of actions implied and reverberating in the imagination of the audience. And The Whisper Man has that quality—its final line made me shudder and back away from imagining what happened next. In other words, Alex North has created that rare thing, an iconic villain—and something truly scary.
Member ratings (20,996)
Farmington, UT

The Whisper Man by Alex North ⭐️⭐️⭐️⭐️☆ Holy Moly is this a FUN, CREEPY, SPOOKY thriller or WHAT?? Definitely as good as all the hype! This one gave me even more chills than Lock Every Door and The Chain

New York, NY

ABSOLUTELY LOVED!! Could not put it down it was so good. It was also very eerie and a bit spine tinglingly scary—I read tons of thrillers so surprised it had that effect! Highly recommend! ⭐️⭐️⭐️⭐️⭐️

Glen Burnie , MD

I really like how you questioned if there were supernatural elements occurring in the story or not. I thought that the reveal could have been a little stronger, however I really enjoyed the author's writing style.

Fairfax, VA

So amazingly creepy- perfect "spooky season" read! The storytelling was well crafted, smartly organized twists and turns, fast paced, and the endings (mind blown)! Unputdownable. ⭐️⭐️⭐️⭐️⭐️

San Ramon, CA

Without a doubt The Whisper Man is in my top 5 favorite books. I couldn't put it down when I was reading it and when I wasn't, it's all I could think about. Can't wait to read more of A. North's books