Young adult
Throw Like a Girl
Quick take
A softball-fueled fistfight leads one girl to a new school, with new friends, and a whole new sport to try out.
Good to know
Romance

Feminist

Inspirational

Light read
Synopsis
When softball star Liv Rodinsky throws one ill-advised punch during the most important game of the year, she loses her scholarship to her fancy private school, her boyfriend, and her teammates all in one fell swoop. With no other options, Liv is forced to transfer to the nearest public school, Northland, where she'll have to convince their coach she deserves a spot on the softball team, all while facing both her ex and the teammates of the girl she punched... Every. Single. Day.
Enter Grey, the injured star quarterback with amazing hair and a foolproof plan: if Liv joins the football team as his temporary replacement, he'll make sure she gets a spot on the softball team in the Spring. But it will take more than the perfect spiral for Liv to find acceptance in Northland's halls, and behind that charming smile, Grey may not be so perfect after all.
Free sample
Check out a preview of Throw Like a Girl.
Throw Like a Girl
1
In every baseball movie ever, it's the same.
Bottom of the ninth. Bases loaded. Two out.
The crowd breathless at the batter's back. The players in the dugout on their feet. The opposing pitcher staring daggers from the mound with steam pouring from flared nostrils.
At the plate: the team's star, bat pointed toward the wall, challenge clear.
In real life—in softball—it doesn't exactly work out that way.
It's close.
But not as if penned by a writer's hand.
It's the bottom of the seventh—there aren't nine innings in high school softball. But the bases are loaded. And there are two out.
The crowd is breathless, the players in the dugout are on their feet, and the opposing pitcher has got the raging-bull thing going on from the mound.
But the team's star isn't at the plate.
She's on it.
Wilted in the dirt after taking a sixty-mile-per-hour fastball to the back. Motionless. Eyes stunned open. All senses on pause, a rolling clap of pain drowning out everything else.
As the crowd holds its collective breath, I search for mine. My lungs don't seem to be working, and the catcher and umpire both loom over me, outlines blurry with the same fuzzy energy as a 3-D movie left to the naked eye.
Why I love it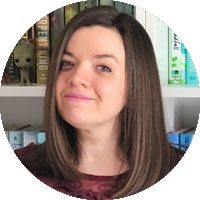 Brittany Lutes
BOTM Ambassador, @bookswrotemystory
It is a truth universally acknowledged that I love sports romance books way more than I enjoy watching and/or participating in any kind of sporting event. Baseball, football, hockey—I love to read about them all! That was why I was so excited to see that Sarah Henning was going to tackle (pun intended!) this genre.
Liv, a softball star in the making, finds herself in a bit of trouble after a hot-headed reaction during a critical game. The consequence of this leads to losing her private school scholarship and being forced to enroll in public school—the very school that she faced in that ill-fated game. Now, with a coach who doesn't trust that Liv can truly be a team player, she needs a plan to get back into everyone's good graces. Which is exactly what the school's charming quarterback has for her: an opportunity to fill in for him on the football team while he works through an injury. Liv desperately wants to prove herself as a teammate and athlete. But does she have what it takes to become a football star, as well?
I thoroughly enjoyed the unique premise of Throw Like a Girl. What could have easily been a story about the challenges a girl faces trying to play on a boy's football team was so much more in Henning's hands. If you enjoy a story with an underdog you can't help but root for, then this is a must-read book!
Member ratings (534)
West Babylon, NY

Really fast read, I love how badass Liv is. She's not afraid to push her limits and go hand in hand with the boys proving that girls are just as good at sports, even ones seemingly dominated by men.

Lawndale, CA

This book has an amazing balance between sports and romance, family and friendship. Sports knowledge is very impressive. I loved the main character Liv - she was strong, courageous, and passionate.

Cortland, NY

It was kind of very cliche, I've read a lot of things similar to it. But I think the only thing pulling it from the side from other books Is that she doesn't take any crap and shown as a girl.

Fryeburg , ME

Books about girls in football can either be cringy or really well done. This book was very well written with chacters you want to root for. The romance was super cute and I loved the family bond.

FORT WORTH, TX

I loved this funny and easy read, because it delivered just what I was expecting. If you're looking for a good read on a Friday night that will make you laugh and swoon, this is the one for you!