Contemporary fiction
Troubles in Paradise
Repeat author
Elin Hilderbrand is back at Book of the Month.
Quick take
Need more after What Happens in Paradise? This final book in the series is the cherry on top (of your piña colada).
Good to know
Famous author

Light read

Movieish

Third in series
Synopsis
After uprooting her life in the States, Irene Steele has just settled in at the villa on St. John where her husband Russ had been living a double life. But a visit from the FBI shakes her foundations, and Irene once again learns just how little she knew about the man she loved.
With help from their friends, Irene and her sons set up their lives while evidence mounts that the helicopter crash that killed Russ may not have been an accident. Meanwhile, the island watches this drama unfold—including the driver of a Jeep with tinted windows who seems to be shadowing the Steele family.
As a storm gathers strength in the Atlantic, surprises are in store for the Steeles: help from a mysterious source, and a new beginning in the paradise that has become their home. At last all will be revealed about the secrets and lies that brought Irene and her sons to St. John—and the truth that transformed them all.
Free sample
Get an early look from the first pages of Troubles in Paradise.
Troubles in Paradise
St. John
The gossip recently has been as juicy as a papaya, one that gives just slightly under our fingertips and is fragrant on the inhale, the inside a brilliant coral color, bursting with seeds like so many ebony beads. If you don't fancy papaya, think of a mango as we crosshatch the ripe flesh of the cheeks with a sharp knife or a freshly picked pineapple from the fertile fields of St. Croix, deep gold, its chunks sweeter than candy. Like these island fruits, the talk around here is irresistible.
The drama began on New Year's Day with tragedy: a helicopter crash a few miles away, in British waters. One of our own was killed, Rosie Small, whom some of us remember back when she was in LeeAnn's belly. Because LeeAnn's first husband, Levi Small, left the island when Rosie was a toddler, we'd all had a hand in raising her. We sympathized with LeeAnn when the cute Rosie girl we doted on turned into the precocious Rosie teenager LeeAnn couldn't quite control. At the tender age of fifteen, Rosie dated a fella named Oscar Cobb from St. Thomas who drove the Ducati that nearly ran our friend Rupert off Route 107 right into Coral Bay. We were all overjoyed when Oscar went to jail for stabbing his best friend. Good riddance! we said. Throw away the key! A group of us took LeeAnn out for celebratory drinks at Miss Lucy's. We thought we'd dodged a bullet; Rosie would not waste her life on a good-for-nothing man with shady business dealings like Oscar Cobb.
Why I love it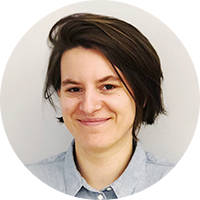 Siobhan Jones
BOTM Editorial Team
It's officially fall, which means it's time for another breezy installment in the Paradise series. If you're one of the loyal Hilderbrandies (do her fans have a name yet? Well, they do now.) patiently waiting to find out how this trilogy wraps, don't neglect to add this final outing with Huck, Irene, Ayers, and the gang to your box this month.
When we last left our worthy heroes on St. John, they were forging friendships, occasionally indulging in love triangles, and trying to solve the mystery of that helicopter accident / possible instance of foul play. (If you're new to the series, check out the first book and the second to get caught up.) Now at last, we have the satisfying conclusion in which secrets will out, lies will be laid bare, and soul mates will finally find each other.
We're hard-pressed to come up with a better binge read than this pleasing story featuring flawed yet lovable characters wrapped in a picturesque escape to, well, paradise. Cheers!
Member ratings (5,748)
Inglewood , CA

This was an amazing ending to a drama filled trilogy that will stay with me until the end of time! Hilderbrand's love for the Virgin Islands and the people shine in this series. I'm so sad it's ended.

Colorado Springs, CO

This was a good farewell to the trilogy! The end seemed to happen really fast so I'm stil left wondering how Maia is doing, but for overall I'm pleased! Im glad we finally got to meet Ayer's parents!

Arden, NC

Loved it! Devoured this entire series. Sad it's over but it is a series I will recommend to anyone who loves a good drama beach read. Thank you Elin! I will miss Irene, her sons, Huck, and Ayers. ❤️

Bird City, KS

What an amazing series! I'm going to miss reading about Irene, Huck, Cash, Baker and everyone else! Such a great story and an even better ending, just to see it end. Quickest I've ever read 3 books!

Atlanta, GA

When your world falls apart, you have two choices (& a myriad in between) fall apart & not function or figure out a new life for yourself. I couldn't put down this book & loved learning about St. John