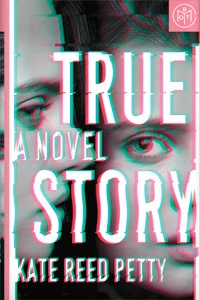 Contemporary fiction
True Story
Quick take
Genre-bending at its finest. Horror, revenge, and suspense are all mixed into one feminist tale with a serious edge.
Good to know
Feminist

Puzzle

Literary

Brainy
Synopsis
A gifted and reclusive ghostwriter, Alice Lovett makes a living helping other people tell their stories. But she is haunted by the one story she cannot tell: the story of, as she puts it, "the things that happened while I was asleep."
Back in 1999, Nick Brothers and his high school lacrosse team return for their senior year in a well-to-do Baltimore suburb as the reigning state champs. The afterglow of their big win is bound to last until graduation; not even the pressure of college applications can get in the way of their fun. But when a private school girl attempts suicide in the wake of one of the team's "legendary" parties, and a rumor begins to circulate that two of Nick's teammates sexually assaulted her, it seems like it might ruin everything—until the team circles the wagons, casts doubt on the story, and the town moves on.
But not everyone does. Fifteen years later, four people—Alice, Nick, a documentary filmmaker, and a wealthy entrepreneur—remain haunted by the roles they played, the things they still don't understand, and how the story has shaped their lives. In sections told from different points of view, each more propulsive than the last, the layers of mystery are gradually peeled back as we barrel toward the truth of what really happened that night... and what came after.
Content warning
This book contains mentions of sexual assault.
Free sample
Get an early look from the first pages of True Story.
True Story
Prologue
Barcelona, 2015
When you last came to ask for this story, I'd already been hiding out in Barcelona for years. I live in an airy studio on the top floor of a five-story building, with tile floors and a big sliding glass door that opens onto a patio; the patio is lined with terra-cotta pots too heavy to move, left by the previous tenants and overflowing with succulents. The apartment is inexpensive and private; the neighbors keep to themselves and the landlord likes her checks in the mail. It took a little while, but now I feel safe enough here that on hot nights I don't close the patio door, leaving my bedroom open to the breeze whispering up from the city streets and to the phantom intruders that used to haunt my dreams.
I love this apartment the way astronauts love their ships. My only complaint is the display in the window of the pharmacy downstairs, which I pass every day on my morning run. It features three female mannequins with rounded onyx surfaces where their faces should be, their arms and legs cut off at the biceps and thighs. They've been arranged in come-hither poses, hips torqued out as though they were modeling bikinis—but instead, they model first-aid equipment. The one closest to my apartment door has a black lumbar support belt strapped around her waist like a corset and a blue sling for a broken arm draped around her neck. Perched in a wheelchair to her left, another has a knee brace attached at the thigh. The third leans stiffly against the far wall, a sleep mask covering the place where her eyes should be.
For months and months now, this display hasn't changed. Try as I might to look away, I can't help glancing at it as I pass, the way a woman in a horror movie can't resist going upstairs. Don't take this the wrong way, but whenever I look at the mannequins I think of you. My oldest friend, you have always stood by me in the face of casual misogyny and bad taste.
Why I love it
Mona Awad
Author, Bunny
I remember picking up True Story last fall, devouring it in two sittings, and thinking about it long after. It has everything I love in a novel: a propulsive voice, a brilliantly dark sense of humor and play, and a sense, too, from the very first page, that the storyteller has a dangerous and urgent secret to tell me.
Petty's novel is the story of an assault and a rumor that shapes one woman's life. Alice Lovett is a ghost writer who is haunted by the events of one fateful night from her high school years. Other figures in the sinister orbit of this night are Nick Brothers, a Lacrosse player who bears a kind of witness, and Haley Moreland, Nick's crush and Alice's friend. Playing boldly with genre, form, and perspective, Petty reveals the true story and how it shadows and dogs each of their lives.
True Story was a singular and spellbinding reading experience for me—it kept me gripped until the very end, seeping eerily into my dreams. Not only is it a profoundly empathetic exploration of victims and perpetrators, lies and truth, and how stories both can destroy and empower us, but I love how it darkly shimmers with shades of thriller, fairy tale, campy horror, and urban legend in order to give powerful voice to its unspeakable and timely truth. Think the baleful nostalgia and fever dreaminess of Twin Peaks with a feminist heart blazing at its core.
Member ratings (1,645)
Chicago , IL

I've never read anything like this! Loved the unique storytelling and mash-up of genres and writing styles. It won't work for everyone, but it was a very fun reading experience for me. ⭐️⭐️⭐️⭐️

Lawrence, KS

I wasn't sure how I'd feel about this book as most of us know "that girl." But the story feels so real and has so many turns it felt satisfying. Good example how the truth lied somewhere in the middle

Peoria, AZ

I love the mashup of writing styles of this book. It's amazing how trauma, whether it's "real" or not, can shape your whole entire life. Often times my heart was pounding as I read. What a great read!

Norman, OK

This one was wild. I didn't know what was coming next—it jumped from narrative to screenplay and back and forth in time—the end was a reveal that I wasn't expecting. It won't be everyone's pick.

Savage, MN

⭐️⭐️⭐️⭐️⭐️! Wow finally a twist I didn't see coming. The read can be confusing at times but stick with it! The end makes jt make sense. Not a typical thriller twist, I loved this book!