Contemporary fiction
What Happens in Paradise
3peat author
Elin Hilderbrand is officially a 3-time author at BOTM, which is a pretty big deal!
Quick take
Here's your ticket to a summer state of mind. Just make sure to read Winter in Paradise before you dive in.
Good to know
Fast read

International

Whodunit

Second in series
Synopsis
A year ago, Irene Steele had the shock of her life: her loving husband, father to their grown sons and successful businessman, was killed in a helicopter crash. But that wasn't Irene's only shattering news: he'd also been leading a double life on the island of St. John, where another woman loved him, too.
Now Irene and her sons are back on St. John, determined to learn the truth about the mysterious life—and death—of a man they thought they knew. Along the way, they're about to learn some surprising truths about their own lives, and their futures.
Free sample
Get an early look from the first pages of What Happens in Paradise.
What Happens in Paradise
Part One
Irene
She wakes up facedown on a beach. Someone is calling her name.
"Irene!"
She lifts her head and feels her cheek and lips dusted with sand so white and fine, it might be powdered sugar. Irene can sense impending clouds. As the sun disappears, it gains a white-hot intensity; it's like a laser cutting through her. The next instant she feels the lightest sprinkling of rain.
"Irene!"
She sits up. The beach is unfamiliar, but it's tropical—there's turquoise water before her, lush vegetation behind, a rooster and two hens strutting around. She must be back on St. John.
How did she get here?
"Irene!"
A man is calling her name. She can see a figure moving toward her. The rain starts to fall harder now, with intention; the tops of the palm trees sway. Irene dashes for the cover of the tree canopy and wishes for a towel to wrap around her naked body.
Naked?
That's right; she forgot to pack a swimsuit.
The man is getting closer, still calling her name. "Irene! Irene!" She doesn't want him to see her. She tries to cover up her nakedness by hunching over and crossing her arms strategically; it feels like an impossible yoga pose. She's shivering now. Her hair is wet; her braid hangs like a soggy rope down her back.
The man is waving his arms as if he's drowning. Irene scans the beach; someone else will have to help him because she certainly can't. But there's no one around, no boats on the horizon, and even the chickens are gone. There will be a confrontation, she supposes, so she needs to prepare. She studies the approaching figure.
Why I love it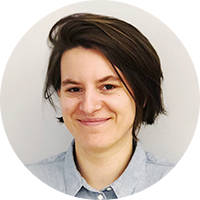 Siobhan Jones
BOTM Editorial Team
What Happens in Paradise is Elin Hilderbrand's wonderful follow-up to the first book in her romantic mystery series set on a sleepy—or not so sleepy?—Caribbean island. It's also the second book that BOTM has featured by Hilderbrand this year, and the one that establishes her as our second-ever "threepeat" author.
Longtime fans of the author and her cozy yet elevated books—and I know there are millions of them out there—are probably delighted to see this as a selection, while others may be wondering if we chose this book simply because there are millions of them out there. All I have to say about that is: Don't knock this book until you've read it. The Paradise series is a treasure chest of can't-guess-it plot twists, salty family drama, and pure reading bliss.
This book picks up where Winter in Paradise left off: Iowa housewife Irene is struggling to accept the unexpected death of her jetsetting businessman husband, her sons Cash and Baker are each struggling with their girl dramas, and Ayers—the deeply relatable St. Johns local—is making bad decisions. If you didn't read Winter, I encourage you to grab both books now and dive in, because this trilogy is heating up, and you can tell it's only going to get better. Intricate plotting, a diverse cast of likeably flawed characters, and a beachy setting right as I'm swapping my summer clothes for sweater weather are all I need right now—surely you can't disagree?
Member ratings (9,450)
Muskego, WI

Enjoyed this book. I did read Winter in Paradise first and can't wait for the third book. Can't imagine living through this nightmare and not knowing my fate that I'll be facing because of my husband.

Iowa City, IA

I loved the first book and the second didn't disappoint. Reading from each character's viewpoints you get everyone's story. Once you start reading, you're hooked. I can't wait for the final book!

Oklahoma City, OK

I couldn't put this book down! I finished it in two days. I find myself sad when a character's perspective changes to the next because I get so involved in their story. Can't wait to get the 3rd book!

Laguna Vista, TX

Loved this book. I didn't realize it was a part of a series, so had to scramble to read the first one. So glad I did, and can't wait for the third and final book in this series. The characters are ????

Savannah, GA

Great #2 in the trilogy - maybe even better than the first! Unlike so many books, I'm vested in every character. Hilderbrandt's writing is so easy and smooth, her books are like fresh air for the mind