Mystery
When the Stars Go Dark
Quick take
Ann only wants to disappear. But when a missing persons case hits a nerve, the sleuth is forced to confront her past.
Good to know
Emotional

Slow build

Creepy

Whodunit
Synopsis
Anna Hart is a seasoned missing persons detective in San Francisco with far too much knowledge of the darkest side of human nature. When tragedy strikes her personal life, Anna, desperate and numb, flees to the Northern California village of Mendocino to grieve. She lived there as a child with her beloved foster parents, and now she believes it might be the only place left for her. Yet the day she arrives, she learns that a local teenage girl has gone missing.
The crime feels frighteningly reminiscent of the most crucial time in Anna's childhood, when the unsolved murder of a young girl touched Mendocino and changed the community forever. As past and present collide, Anna realizes that she has been led to this moment. The most difficult lessons of her life have given her insight into how victims come into contact with violent predators. As Anna becomes obsessed with saving the missing girl, she must accept that true courage means getting out of her own way and learning to let others in.
Weaving together actual cases of missing persons, trauma theory, and a hint of the metaphysical, this propulsive and deeply affecting novel tells a story of fate, necessary redemption, and what it takes, when the worst happens, to reclaim our lives—and our faith in one another.
Content warning
This book contains mentions of a death of a child, drug use, and sexual assault.
Free sample
Get an early look from the first pages of When the Stars Go Dark.
When the Stars Go Dark
Prologue
The mother who tore off her dress when the police came to her house with the news and then ran down the street in only her shoes, while her neighbors, even the ones who knew her well, hid behind their doors and windows, afraid of her grief.
The mother who clutched her daughter's purse as the ambulance sped away. The purse pink and white, shaped like a poodle and smeared with blood.
The mother who began to cook for the detectives and her neighborhood priest while they were still trying to explain to her what had happened, her hands raw as she chopped a mountain of onions, washed dishes in scalding water. No one could get her to sit down. Sitting down meant she had to know it. Accept it.
The mother who left the mortuary after ID'ing her child's body and walked in front of a live Muni, the jolt throwing her twenty feet straight backward, her fingertips smoking where the current blew through, her lips black. But she had lived.
The mother who used to be a famous actress, but now waited for news the way glaciers wait at the far tip of the globe, frozen and quiet, half alive.
Why I love it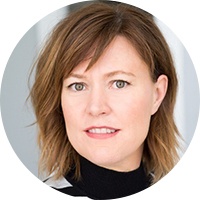 Paula McLain has written a thriller. Yes, you read that right. Paula McLain—the author of Circling the Sun and other well-known standouts of historical fiction—has written a thriller, the kind that only Paula McLain could write: a haunting, irresistible crime story with shades of historical truth, as if told by a poet.
When the Stars Go Dark is the story of Anna Hart, a seasoned missing persons detective in San Francisco. In the wake of a personal tragedy that has possibly destroyed her marriage, she returns to the small Northern California town of Mendocino, where she was raised by beloved foster parents, to bury herself in the work of locating a missing teenage girl. As she digs deeper into this mystifying disappearance, she finds herself revisiting the unsolved murder of a childhood friend decades earlier, an event that shook her community, and changed Anna forever.
As I read, I became entrenched in this town, these characters, and an unforgettable heroine who takes on a beautiful and heart-breaking adventure. You'll both want to speed through the pages, and savor every moment—a rare feat for a book, and one that proves Paula McLain a master in any genre.
Member ratings (7,678)
Santa Fe, NM

Paula McLain is amazing! She's able to write such different books, each as good as the next. It brought back the horror of the Klaus murder and the fear that gripped California. Read it in 1 sitting!

Noblesville , IN

Such an amazing read. Full of emotion, mystery, history, and intrigue. I couldn't put it down. McLain creates a setting and historical fiction mystery that pulls you and makes you feel you are there!

Winchester, VA

Beautifully written mystery involving a missing teen, profiling predators, repressed memories, nature survival lessons, community, mind-body connection, healing spirituality, forgiveness & resilience

Dallas, TX

This is an atmospheric, slow burn thriller with absolutely gorgeous writing. I loved Anna as the protagonist too. I cannot recommend this one enough and if it is not on your radar it really should be.

Bean Station, TN

My apologies to Ms. McLain for taking so long to read her unbelievable work of art. An emotional journey with such descriptive perfection, that I felt like I was part of this heartbreaking storyline.