Young adult
Wicked Saints
Debut
We love supporting debut authors. Congrats, Emily A. Duncan, on your first book!
Quick take
A darkly gothic story of war, magic, and the thin line between good and evil.
Good to know
400+ pages

Multiple viewpoints

Forbidden love

Graphic violence
Synopsis
A girl who can speak to gods must save her people without destroying herself.
A prince in danger must decide who to trust.
A boy with a monstrous secret waits in the wings.
Together, they must assassinate the king and stop the war.
In a centuries-long war where beauty and brutality meet, their three paths entwine in a shadowy world of spilled blood and mysterious saints, where a forbidden romance threatens to tip the scales between dark and light.
Free sample
Check out a preview of Wicked Saints.
Wicked Saints
1
Nadezhda Lapteva
The calming echo of a holy chant filtered down from the sanctuary and into the cellars. It was late afternoon, just before Vespers, a time where psalms to the gods were given up in an effortless chorus.
Nadezhda Lapteva glared up at the mountain of potatoes threatening to avalanche down over the table. She twisted her knife hard against the one in her hand, narrowly missing skin as she curled the peel into a spiral.
"A cleric's duty is important, Nadezhda," she muttered, mimicking the dour tone of the monastery's abbot. "You could change the tide of the war, Nadezhda. Now go wither in the cellars for the rest of your life, Nadezhda."
The table was covered in potato peel spirals. She hadn't anticipated losing her entire day to remedial labor, yet here she was.
"Did you hear that?" Konstantin acted like she hadn't spoken. His paring knife hung limp in his fingers as he listened.
There was nothing but the service upstairs. If he was trying to distract her, it wasn't going to work. "Is it our impending death by potato avalanche? I can't hear it, but I'm certain it's coming."
She received a withering look in response. She waved her knife at him. "What could it possibly be? The Tranavians at our doorstep? They have seven thousand stairs to climb first. Perhaps it's their High Prince and he's finally decided to convert."
Why I love it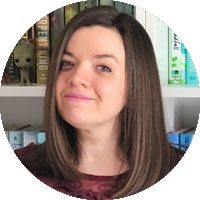 Brittany Lutes
BOTM Ambassador, @bookswrotemystory
Want to know what topic gets my attention every time? Dark magic. Throw in "gothic fantasy" and, well, you have just guaranteed my interest in a book. There was simply no way around finding Emily Duncan's debut novel, Wicked Saints, on the top of my (lengthy!) TBR.
From page one, Wicked Saints sets the stage with some powerful players. There's a young cleric, blessed with unfathomable power. There's a prince and powerful blood magician, trying to escape the plots of his own deadly court. And finally, there's a refugee, harboring a very dark secret. As these characters fight toward their own goals and agendas, their intersecting lives weave a dark and tangled web.
The best part about this book is its gothic setting. It was all too easy for me to get swept into the mystery of the world and to never look back. And have I mentioned how atmospheric and strange it all is? Because that bears repeating. This book is dark, dark, dark and lush with magic, religion, and intrigue. If that's your cup of tea, this needs to be your next read.
Member ratings (697)
Nantucket, MA

enjoyed this so much, I am already planning a reread — no joke. Most of all I am looking forward to discussing this with other readers. This is so compelling, I just know there is going to be a huge.

Newnan, GA

Emily A. Duncan has created a masterpiece. As you read, you get to know more and more about Nadya and her world. It makes you want more. The characters are amazing, the story, the telling, everything.

Fairfax, VA

I loved the immersive and complex world that the author created! The prose caught my attention. I also love the internal struggles of the characters and how the author played with light and darkness.

Strattanville , PA

Duncan created a world that kept readers guessing. Even though you thought you knew who was who and what was coming next, there was always a slight twist in the plot. Can't wait for the next book!

Baton Rouge, LA

OH MY LANTA THIS BOOK! I regret not reading it sooner, my inner teenage self was squealing and squirming with joy. The ending although totally heartbreaking, was perfect and I highly recommend it!